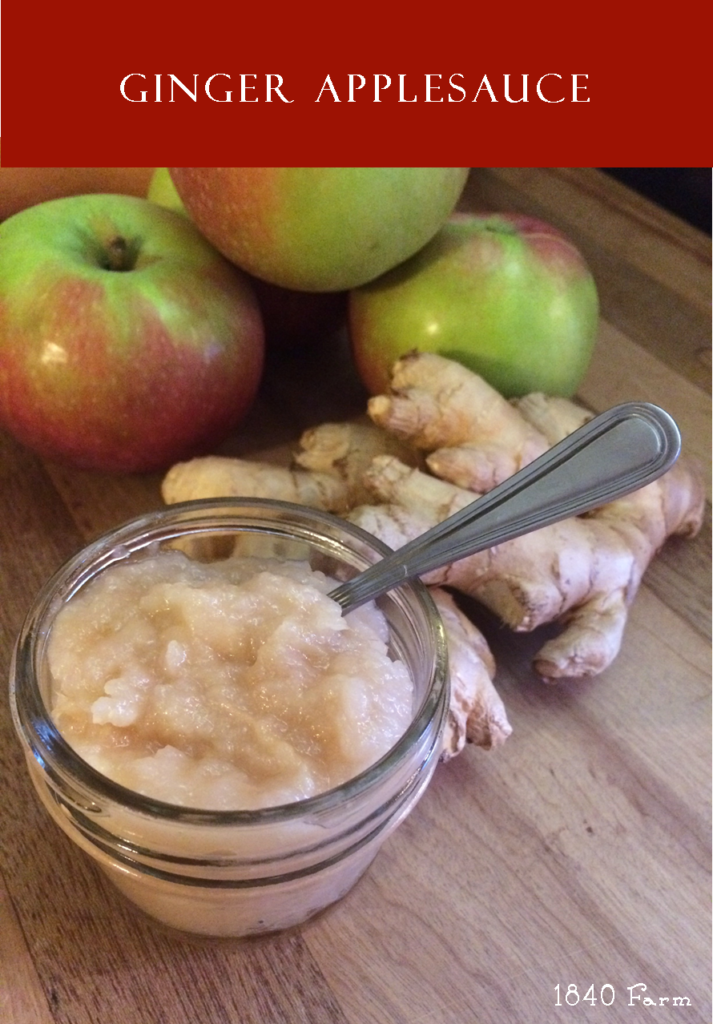 I love the taste of fresh ginger. I use fresh ginger in both sweet and savory dishes here at the farmhouse. For me, there's simply no such thing as too much ginger. Luckily, my daughter shares that belief, so she keeps me company.
I keep a jar of our Candied Ginger Slices in Ginger Simple Syrup in the refrigerator at all times. The syrup is delicious in icy cold lemonade in the summer or in a cocktail to celebrate the end of a warm day. Spicy Ginger and Garlic Quick Pickles are also a constant in our farmhouse kitchen. They top burgers, sandwiches, and wraps all year long.
When the weather turns cold, I turn to homemade Golden Milk with Turmeric, Ginger, and Ghee to warm me from the inside out. The ginger adds such a delicious zing, a bright note to the earthy flavor of the turmeric and richness of the ghee. Together, they're delicious, comforting perfection with every sip.
So, when I was making batch after batch of applesauce using the local harvest of apples this fall, I began dreaming of a ginger applesauce to add to our dinner table. After a little tinkering, this simple recipe emerged as our clear favorite. It's a lovely blend of the sweetness of fresh apples paired with the zip of ginger and just enough sugar to balance it all.
This ginger applesauce is so easy to prepare and full of flavor. It will be featured on our Thanksgiving table this year. I can't wait to enjoy it alongside our roast turkey and all of our favorite side dishes. I hope that you'll enjoy it just as much as we do!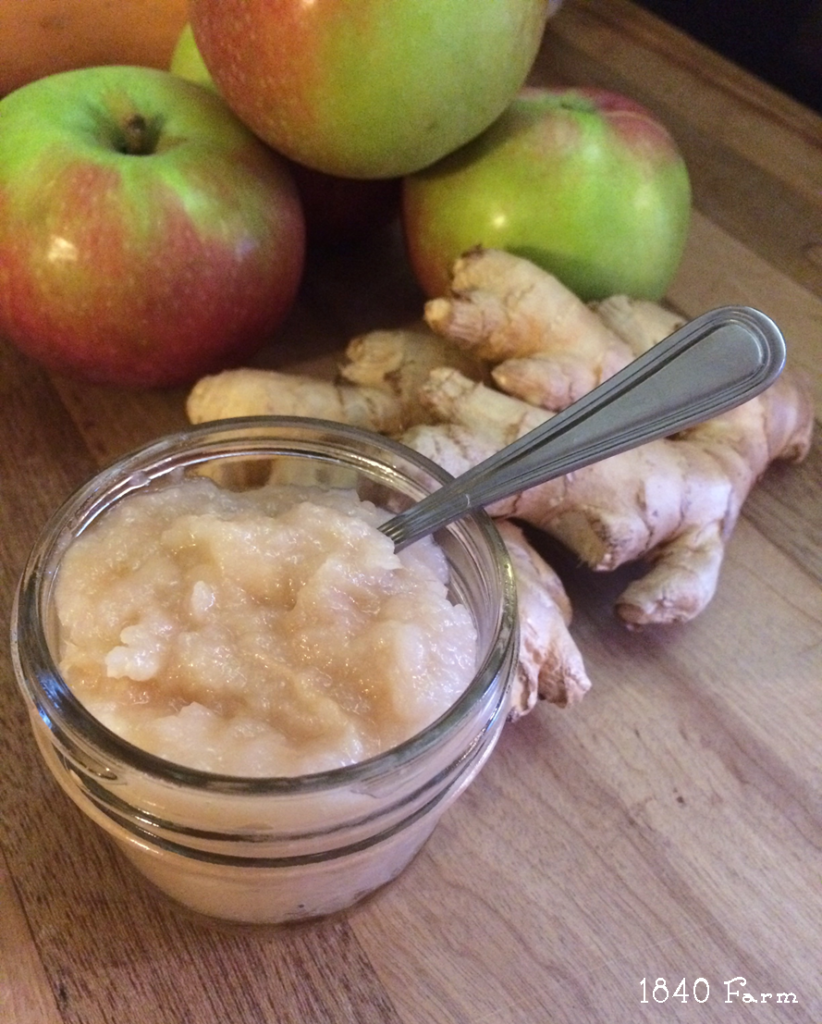 Ginger Applesauce
2016-11-17 07:36:42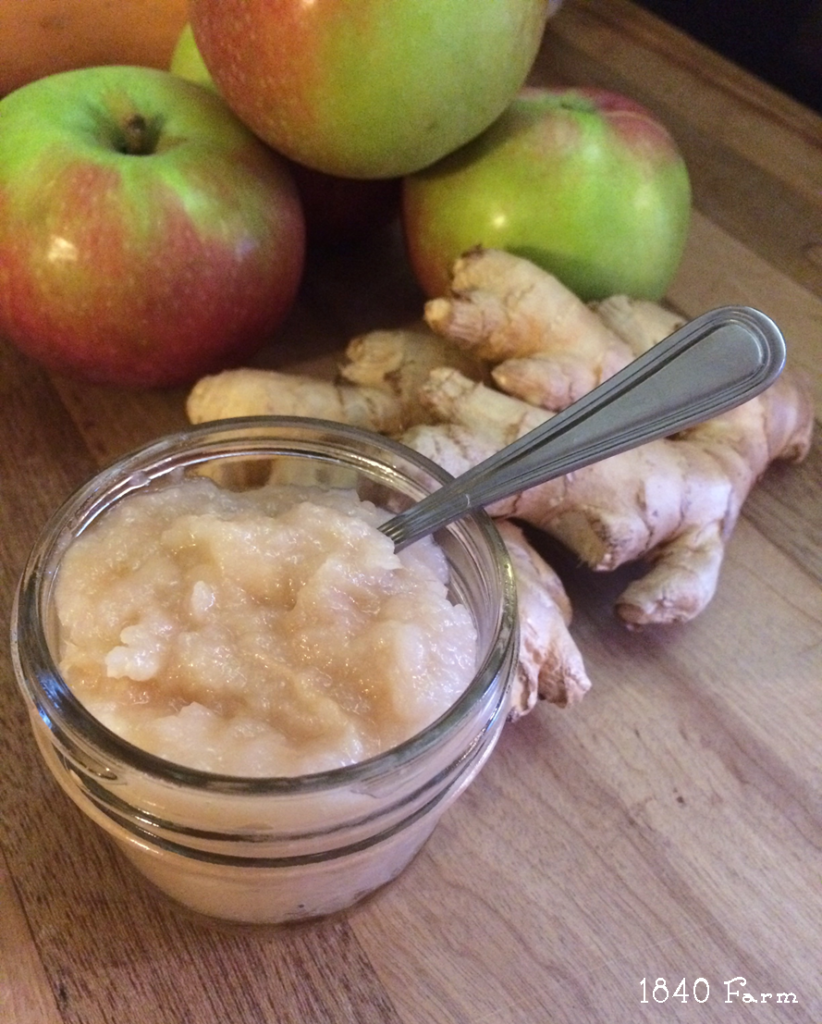 Ingredients
6 - 8 medium to large apples, peeled and cored (should yield around 1 pound of flesh)
1 Tablespoons butter
1/2 cup (96 grams) granulated sugar
1 Tablespoon fresh ginger, peeled and grated
pinch salt
Instructions
Wash, peel, and core the apples. The apples can be left in quarters or cut into chunks. They will break down as they cook, making fine chopping unnecessary.
Place the butter in a large pot over medium heat. Allow the butter to melt. Add the sugar and ginger, stirring to combine. Add the apples and pinch of salt to the pot and stir to coat.
Reduce the heat to low and continue to cook until the apples begin to fall apart, approximately 20-30 minutes depending on the variety. You can speed up this process by crushing the cooked apples with the back of a wooden spoon or by using a potato masher.
Remove the pot from the heat. Taste for seasoning, adding additional sugar if necessary. I prefer my applesauce to have a chunky texture, but you can puree the sauce using an immersion blender if you prefer a smoother texture.
Allow the applesauce to cool to room temperature before transferring to a storage container with a tight fitting lid. This applesauce can be stored in the refrigerator for two weeks. It's delicious served with your Thanksgiving dinner or other hearty meals.
Notes
The amount of sugar needed in this recipe can be adjusted to match the tartness of the apples you are using. Simply add a bit of sugar during the final stages to adjust it to your liking.
1840 Farm http://1840farm.com/
---
This post is included in our 1840 Farmhouse Thanksgiving Gallery.
You'll find our favorite Thanksgiving recipes all gathered in one place so that you can easily include them in your family's celebration. I'll be adding new recipes right up until the big day, so check back to see even more delicious and fabulous Thanksgiving posts.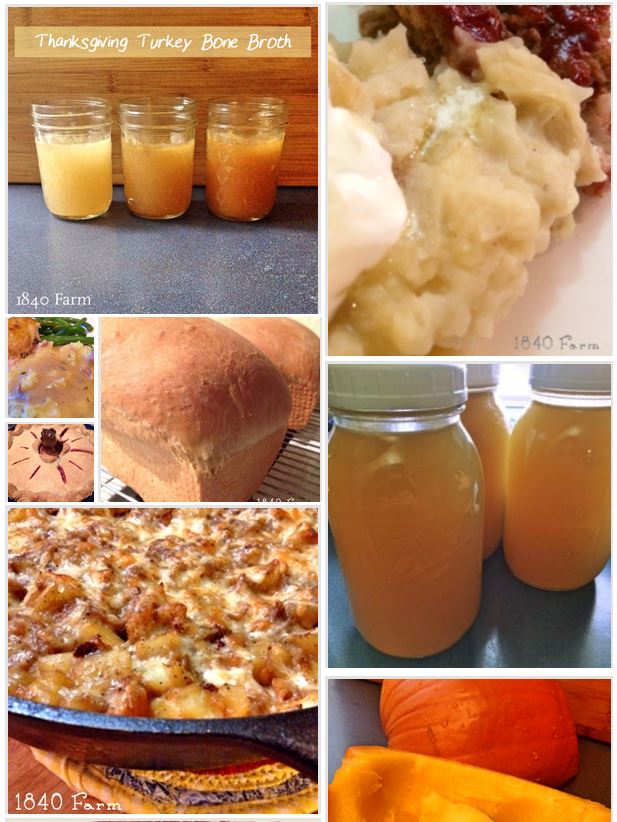 ---
Comments
comments