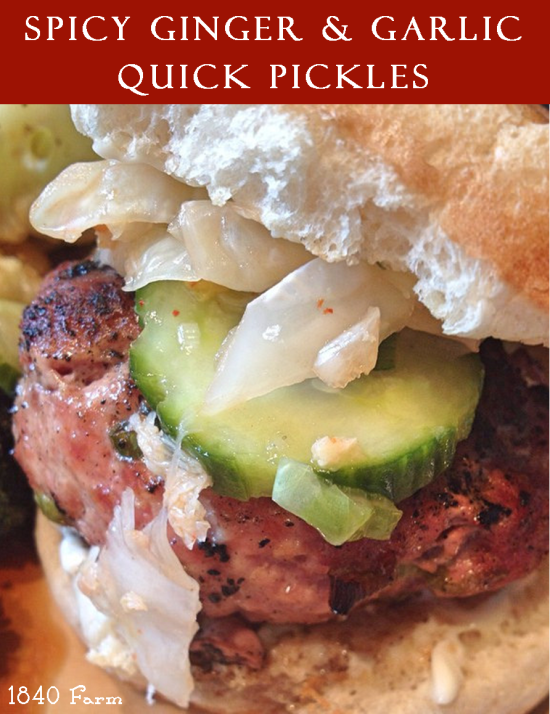 Do you ever discover a new recipe and know immediately that you simply have to try it? When there's just something about the ingredients, method, or photo of the dish that calls to you? This was the case when I found myself reading the Sunday paper last March.
By the time I had finished reading Curtis Stone's recipe for Spicy Ginger Pickles served on Pork Burgers, I knew that whatever plans I had for dinner had been postponed. Suddenly, it was burger night.
I have been making pickles of both the canned, traditional type and quick pickle variety for several years. We plant our favorite heirloom cucumbers in the garden each year, hoping to have a bumper crop so that we can fill the pantry with rows of glistening glass jars filled with bread and butter slices and dilled garlic spears. We also keep the refrigerator stocked with our briny, fresh refrigerator dill pickles. We love pickles as a snack, on sandwiches and burgers, and as a topping for the cheese and charcuterie we often serve as snack dinner.
During the last year, I gradually modified Curtis' pickle recipe to create a version that we love even more. I make these pickles almost weekly, making sure that we always have them on hand and at the ready. The process is simple and the results are crisp and delicious. In a matter of minutes, I can create a quart sized jar full of these quick pickles. After a few hours of chilling in the refrigerator, each slice is full of flavor and ready to enjoy.
If you're looking for other delicious ways to add flavor to your sandwiches and burgers, we love to add homemade Classic Sauerkraut and Farmhouse Kimchi. They're full of flavor and add taste and crunch to each delicious bite.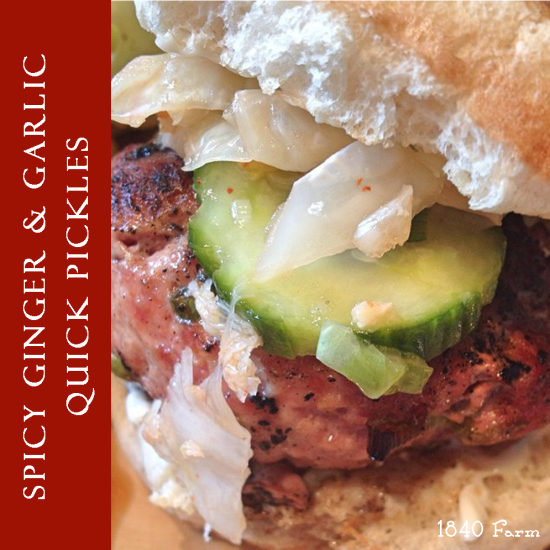 Spicy Ginger and Garlic Quick Pickles
2016-03-11 08:07:27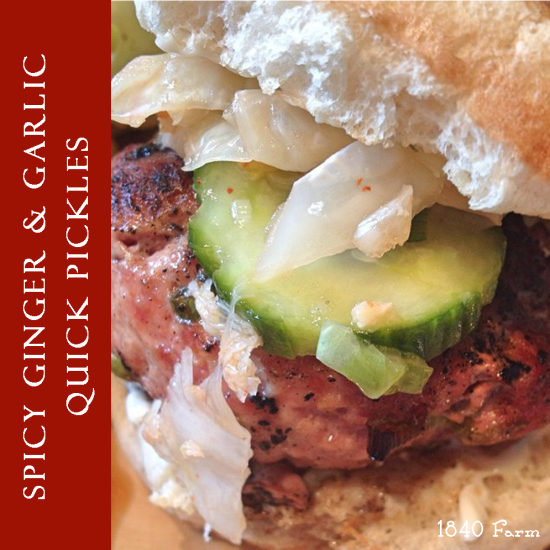 Because these pickles are refrigerated instead of prepared for long term storage, the recipe can be adjusted to your preference. The amount of ginger, onion, garlic, and jalapeño can be adjusted to your preference. If you like your pickles with a more pronounced vinegar zing, replace a portion of the water with vinegar to intensify the briny flavor.
Ingredients
1 cup (8 ounces) white vinegar
1 cup (8 ounces) water
3 Tablespoons sugar
1 Tablespoon kosher salt
1 medium jalapeño pepper, sliced thinly
1 Tablespoon fresh ginger, peeled and chopped finely
2 green onions/scallions, thinly sliced
1 clove garlic, peeled and minced
1 English hothouse cucumber, ends removed and sliced thinly
Instructions
Prepare the brining liquid by combining the vinegar, water, sugar, and salt in a saucepan. Simmer gently over medium heat until the salt and sugar are fully dissolved. Remove the pan from heat and set aside.
To a clean quart sized canning jar, add the jalapeño pepper, ginger, onion, and garlic. Add the cucumber slices, filling the jar and pressing lightly if needed to fit as many cucumber slices as possible into the jar. Slowly pour the brining liquid into the jar to cover the cucumbers slices.
Cover the jar and refrigerate until ready to use. The flavor of these pickles will be delicious after a few hours chilling in the refrigerator.
Notes
These pickles should be stored in the refrigerator and used within 14 days. I often use a splash of the pickling liquid to brighten salad dressing, fresh slaw, or a batch of egg salad. With just a spoonful, the flavor of these dishes gets a great boost.
Adapted from Curtis Stone's Spicy Ginger Pickles
1840 Farm http://1840farm.com/
Comments
comments