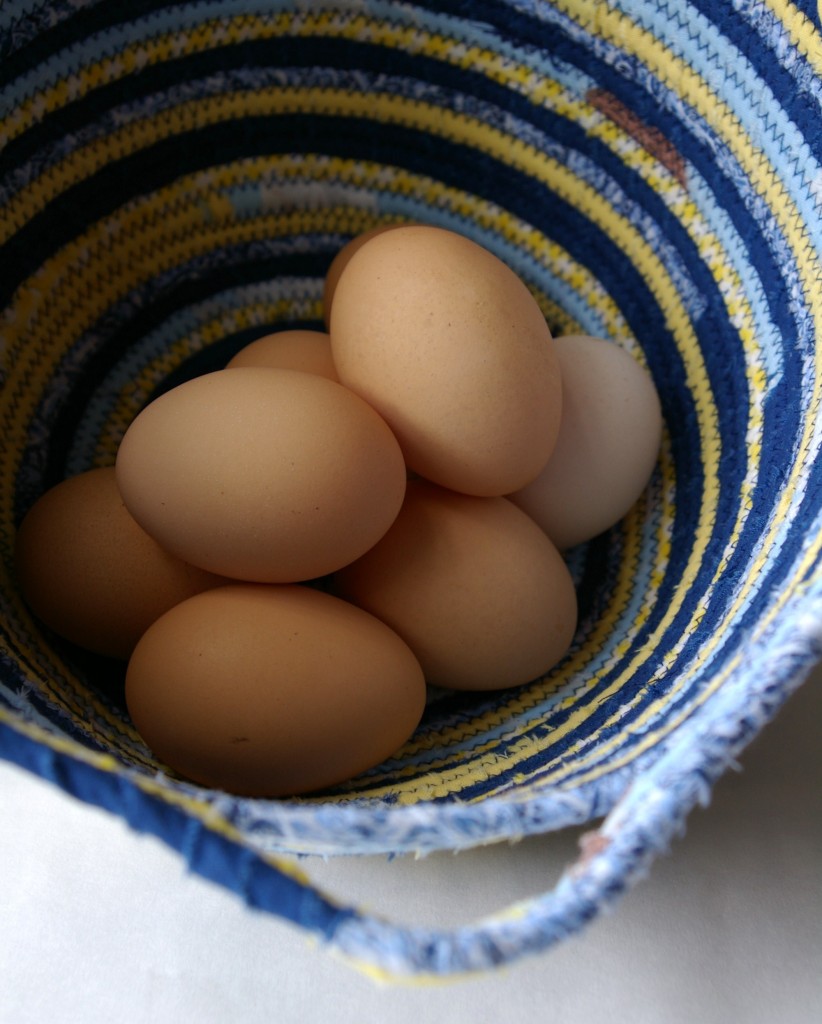 Each basket in the 1840 Farm Basket Collection comes with a hand signed product tag that includes the date that the basket was finished. Each basket is numbered and displayed in the photo gallery on 1840Farm.com.
The coiled fabric basket are made by hand at 1840 Farm. I tear each fabric strip by hand before wrapping them around 100% cotton cording. The fabric wrapped cord is then coiled and stitched together using a zigzag stitch on my sewing machine. I continue to wrap the coil and shape the basket as it is stitched, ending in our trademark spiral design. Because the baskets are hand shaped, each one is a true original.
I use repurposed fabrics purchased at local charitable thrift stores. The purchase of these fabrics benefits local charities and gives back to the community. Your purchase will help to support the charitable organizations that provide these recycled fabrics for sale. I blend new fabrics and materials with the recycled fabric to create a pleasing color palette for each basket. Each basket has its own unique color pattern and slight variation in shape.
I make these baskets using the same technique my Great Grandmother used over 50 years ago. She lovingly transformed worn out clothing into useful household items that were used in their New England farmhouse. While her items were made for utility purposes, it is my goal to create beautiful handmade items that can serve a useful purpose in your home.
Our coiled fabric egg baskets feature two handles. Because the baskets are lightweight and flexible, the two handles can be used to hold the basket with one hand. This makes them perfect for collecting fresh eggs from the coop or produce from your garden.
We use these baskets to collect the eggs laid by our flock of heritage breed hens. The Egg Basket easily holds two dozen eggs with room to spare. The basket is sturdy and allows us to safely transport our fresh eggs from the coop to the farmhouse.
The Egg Basket is also the perfect place to store your one skein knitting project. The free edge of yarn can easily pass through one of the handles, allowing the ball of yarn to remain in the basket as yarn is pulled through the handle and onto your knitting needle.
Our Table Basket is perfect for keeping your keys, cell phone and other small items safely together. The Table Basket makes a beautifully unique centerpiece on your family table. There are as many uses for these baskets as there are people who can't wait to use them!
The 1840 Farm Coiled Fabric Egg Basket displays the raw edge of the fabrics used to create it. They are handmade in my nonsmoking home.
Our fabric baskets can be cleaned by spot washing or in the gentle cycle of your washing machine. Gently reshape the basket while still damp and allow to air dry. Overturning the damp basket on top of a bowl will ensure that it retains its shape while drying.
To view our current selection of baskets available for purchase, please visit The 1840 Farm Mercantile Shop.
Click on an image in the gallery to enlarge.