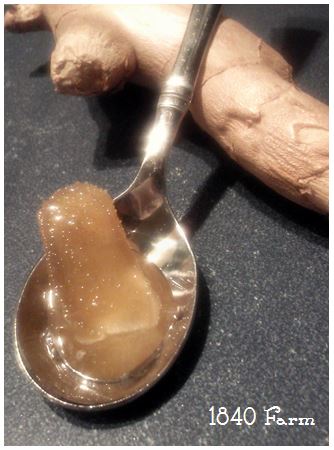 As a student in the Intermediate Herbal Course offered by The Herbal Academy of New England, I have been learning about the use of herbs to promote good health and well-being.  As part of my second unit of study, I was asked to make an herbal preparation that put the unit's curriculum into practice.
The second unit of the course focused on food.  The central theme was that the food we eat every day holds the ability to be used as a powerful force for promoting good health.  I have subscribed to this theory for years and couldn't wait to create a recipe to share.
In fact, I was so happy to be in the kitchen using my new-found herbal knowledge that I couldn't seem to narrow my focus down to a single recipe.  Over the coming weeks, I will be sharing a collection of recipes with you that are packed with beneficial properties and delicious flavors.
The first recipe is simple and delicious. Using only a few ingredients and simple techniques, you can create lovely candied ginger slices and a ginger infused simple syrup.  I have been using both the slices and syrup for a few weeks.  I am still amazed by their incredible flavor and the myriad of uses I am finding for both in our farmhouse kitchen.
I love the flavor and health benefits of candied ginger.  We live and eat around food allergies here at 1840 Farm and were never able to find a brand of candied ginger that was safe for us to eat.  Luckily, our search is over.  This homemade version is delicious and safe for the whole family to enjoy.
Boiling the ginger helps to produce a finished product with a lovely texture and not so much as a hint of bitterness.  Discard the water after each boil in order to achieve a deliciously smooth and sweet flavor with that lovely zing that ginger is known for.
Ginger can be used as a natural pain reliever, anti-inflammatory, and to calm an upset stomach.  It can also simply be eaten for its delicious, unique flavor.  No matter the reason, I'm sure that you will enjoy having these candied ginger slices and delicious ginger simple syrup at the ready in your refrigerator just like I do.
| | | |
| --- | --- | --- |
| Component | Characteristics | Actions |
| Ginger   | Warm to combat chills associated with cold or flu, soothing to digestive system | Anti-inflammatory, expectorant, antibacterial, fever reducing, analgesic, carminative, intestinal spasmolytic |
| Honey | Powerful humectant, helpful in soothing dry and sore throat | Antibiotic, antiviral, anti-inflammatory, expectorant, immune system stimulant |
Candied Ginger*
8 ounces fresh ginger root
2 cups water plus more for boiling
1 ½ cups (288 grams) granulated sugar
½ cup honey
Peel the ginger root.  I like to use a spoon to easily scrape the skin away, but a sharp paring knife or vegetable peeler can also be used.  Using a sharp paring knife, slice the peeled ginger root thinly.
Place the thin slices of ginger in a nonreactive pot.  Add enough water to cover the slices and place the pot over medium heat.  Bring the water to a boil, reduce the heat, and continue to simmer for fifteen minutes.
Drain the ginger slices and discard the water.  Return them to the pot and cover with cold water.  Repeat the process of bringing the water to a boil, reducing the heat to a simmer, and cooking for another 10 to 15 minutes.  Drain the ginger slices and discard the boiling water.
Return the ginger slices to the pot with 2 cups of fresh water along with the sugar and honey.  Place the pot over medium heat and bring to a boil.  Adjust the heat to continue cooking at a low boil to gently reduce the liquid.  I like to reduce the liquid until it coats a spoon and is the consistency of slightly thickened maple syrup.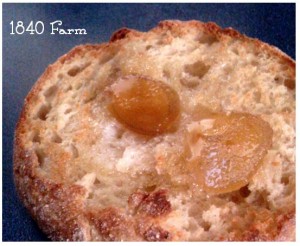 When the syrup has reduced to your liking, remove the pot from the heat and allow the ginger slices and syrup to cool to room temperature.  At this point, the ginger can be removed from the syrup, drained on paper towels, coated in granulated sugar, and stored in an airtight container at room temperature.
I prefer to simply transfer the ginger and the syrup to a mason jar and store it in the refrigerator.  The slices are delicious on their own and the syrup can be used to flavor recipes for cocktails, desserts, and even with a slice or two as a topping for toasted bread with butter.
As the slices and syrup are stored, the sugars will begin to crystallize and form crunchy little bits on the ginger slices.  Look closely at the photo above and you'll see those tiny crystallized gems clinging to the surface of the ginger slice.  They're beautiful and delicious!
Sources and Related Content:
http://www.motherearthliving.com/health-and-wellness/the-best-herbs-for-pain-relief.aspx
http://www.whfoods.com/genpage.php?tname=foodspice&dbid=72
I invite you to learn more about the Intermediate Herbal Course offered by The Herbal Academy of New England. Registration for the self-paced course is still open, so you're welcome to join me and the other students as we learn more about the benefits of the natural world around us.
*This information is presented solely for general informational purposes only.   Nothing contained on this site is intended to constitute medical advice or serve as a substitute for the advice of a physician or health care provider.
Comments
comments