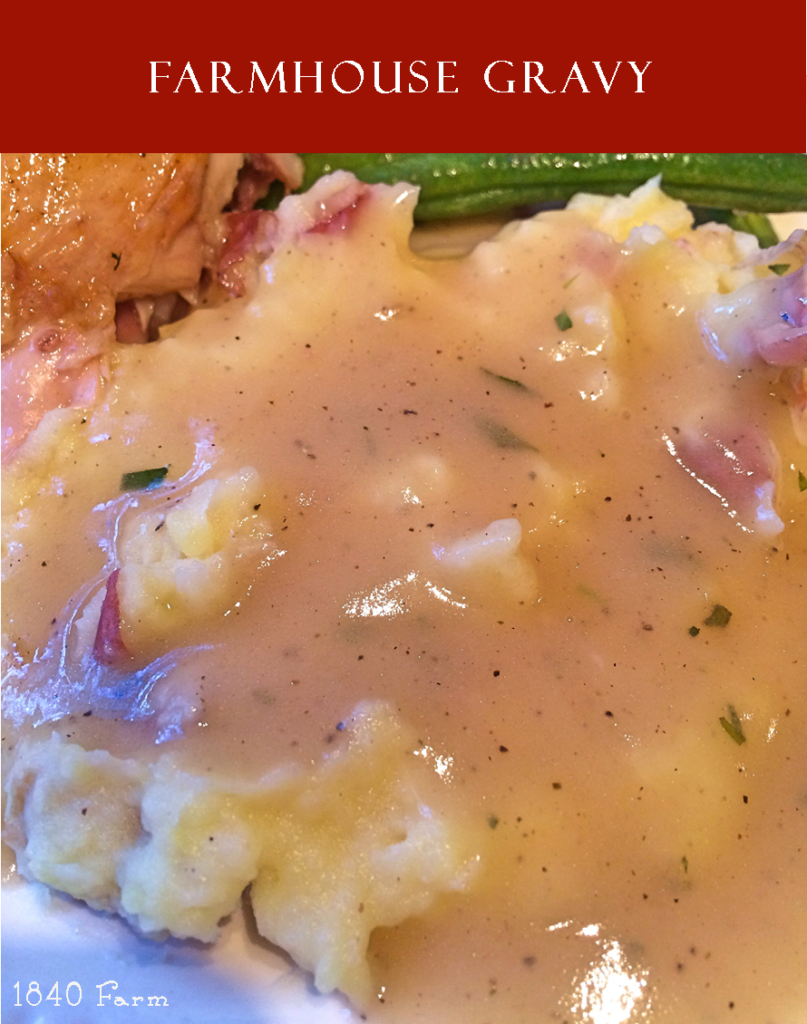 For me, there are few recipes more rustic and comforting than gravy. It adds flavor and velvety texture to roasted meats, mashed potatoes, and anything else it happens to touch on a dinner plate. With very little effort, simple ingredients can be coaxed into a thick, delicious gravy perfect for a holiday table or family dinner. It's a true farmhouse staple in our home just like it was in my great grandparent's farmhouse a century ago.
Cooking gravy certainly isn't a modern technique. It is believed that gravy dates back to ancient Egypt and the time period around 3000 B.C. When you think about it, that makes perfect sense. Spit roasting meat produced fatty, delicious liquid that simply couldn't be allowed to go to waste. A dripping pan resting underneath the cooking meat would collect the juices as they ran out of the meat when pierced with a fork or blade. That liquid could be served as a thin dipping sauce or "jus" for chunks of meat eaten by hand or it could be reduced, salted, and poured over meat eaten with a fork.
Fast forward to the 1960s when gravy became something made using a premade mix. Simply add water, whisk, and heat to create a gravy with very little effort. Add in canned gravies, and gravy making became something that few people practiced. Perhaps homemade gravy would be made for Thanksgiving dinner, but even then it was just as likely to come from a can or pouch. That trend continued. In 2008, Food Technology magazine reported that 40 percent of American households served gravy made from a mix when adding it to their dinner plates.
Ironically, gravy making is incredibly easy. It requires no special equipment, no fancy ingredients. The process is simple and can be mastered easily. From a flavor perspective, you just can't beat gravy made from scratch, flavored to your liking.
Unlike our ancient ancestors, I prefer to roast our meat in the oven. The pan collects the rich liquid which can be cooled slightly while the roast meat rests before skimming the fat from the top. I use homemade bone broth added to the pan drippings and the resulting gravy is rich and delicious. You can use a combination of broth, stock, and pan drippings to make gravy, adjusting seasoning to yield a delicious batch of gravy.
I hope that you'll give gravy making a try. I also hope that you'll make our Velvety Mashed Potatoes to serve with it! One taste and I'm willing to bet that you'll be making a homemade version for years to come.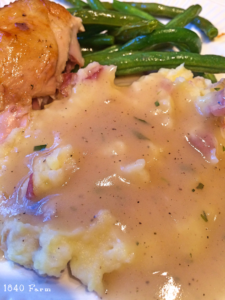 Farmhouse Gravy
2016-10-05 06:26:08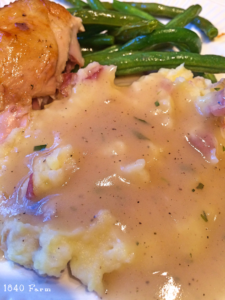 You can use any combination of pan drippings, bone broth, broth, or stock to make delicious gravy. I keep bone broth on hand and add it to the pan drippings as needed to have enough liquid needed for this gravy. I like a very peppery gravy, so I season it liberally with black pepper and often add minced fresh thyme, rosemary, and tarragon from the garden which is often left over from seasoning the roast meat.
Ingredients
2 Tablespoons lard or butter
3 Tablespoons all-purpose flour
1 ½ cups (12 ounces) warm pan drippings, bone broth, broth, or stock (or a combination)
salt
freshly ground pepper
finely minced fresh herbs (I use thyme, rosemary, and tarragon from the garden)
Instructions
Make the roux to thicken the gravy by adding the lard or butter to a small saucepan set over medium heat. Melt the fat before adding the flour. Whisk to combine and reduce the heat to low. Continue to whisk until the roux is smooth and takes on a bit of color, approximately 2 minutes. If you are using herbs, add them to the roux and cook for 1 minute.
Add the 2 cups of warm drippings, bone broth, stock (or combination of liquids) to the roux. Whisk to incorporate and increase the heat to medium. Bring the mixture to a simmer, stirring often to prevent scorching. Simmer gently for 3-5 minutes to thicken the gravy to your desired consistency. Reduce the heat to low. Season with salt and black pepper. Taste for seasoning and adjust as needed.
Gravy can be kept warm over low heat, stirring often before serving.
1840 Farm http://1840farm.com/
---
This post is included in our 1840 Farmhouse Thanksgiving Gallery.
You'll find our favorite Thanksgiving recipes all gathered in one place so that you can easily include them in your family's celebration. I'll be adding new recipes right up until the big day, so check back to see even more delicious and fabulous Thanksgiving posts.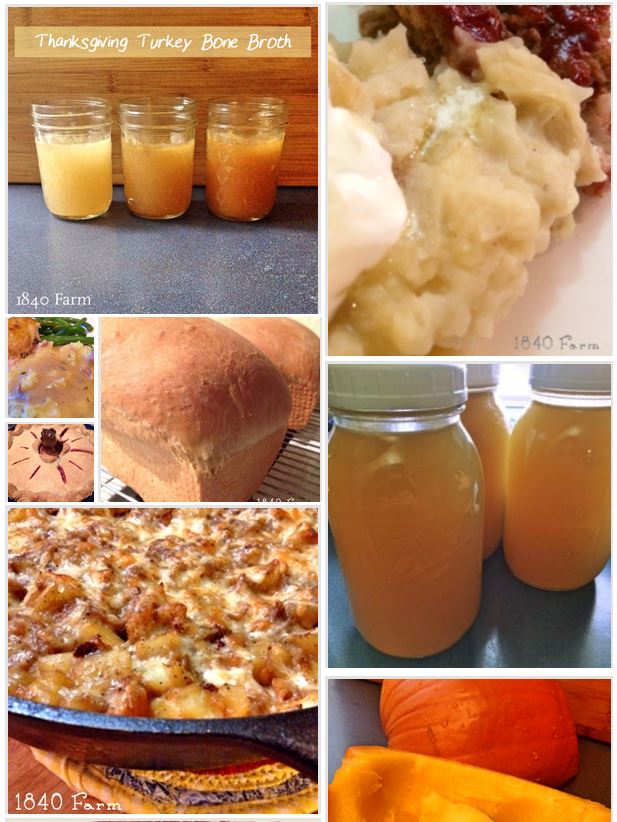 ---
Comments
comments