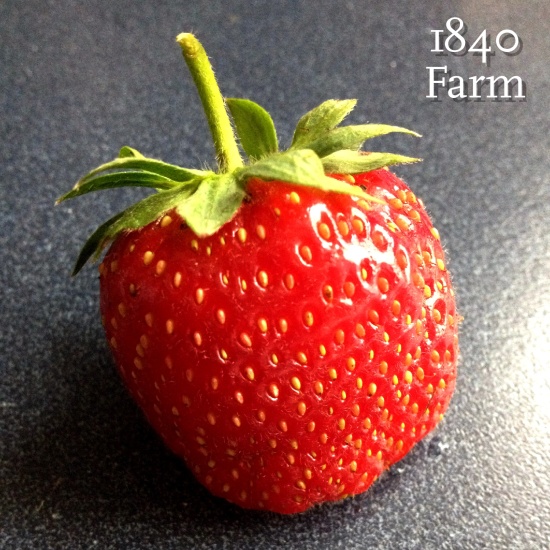 The flavor of a ripe strawberry. is always welcome at our farmhouse table.  During strawberry season, we enjoy our strawberries eaten freshly picked from the berry patch, added to a few of our favorite baking recipes, and preserve many more as jam to last us through the long New England winter.  On a blustery snowy day, that burst of strawberry flavor is a delicious reminder that we're one day closer to the next strawberry season.
Several years ago, I decided to try making a strawberry syrup that could be used to flavor cocktails, nonalcoholic drinks, and baked goods.  It was so delicious that we've been making it ever since. It's not overly sweet, with just the right hint of tartness and a lovely earthy sweetness courtesy of the homemade vanilla extract.  It adds that wonderful ripe strawberry flavor to any dish it is paired with.  It's also divine when drizzled over Great Grandma's Daffodil Cake or vanilla bean ice cream.   I even use it to make my Chocolate Cupcakes with Strawberry Buttercream Frosting.
This is such a simple recipe to prepare and keep at the ready.  It can be stored for several weeks in the refrigerator.  It can also be prepared for long term storage in a water bath canner.  I process this syrup in half pint jars with 1/4 inch headspace for 10 minutes.  While it can be stored for a year when properly canned, our jars never last that long.
Added to lemonade, it can transform an ordinary beverage into something extraordinary.  If you prefer your beverage to be carbonated, I have added soda water to lemonade concentrate and a healthy dose of this syrup to make a delicious bubbly strawberry lemonade that is always a hit with our friends and family.
I can't wait to hear how you put this delicious syrup to use!
Strawberry Simple Syrup
1 pound strawberries, washed and stems removed
2 cups (384 grams) granulated sugar
1 Tablespoon fresh lemon juice
1 Tablespoon vanilla extract
Slice or roughly chop the strawberries before adding them to a medium pot with the remaining ingredients.  Using a large wooden spoon or potato masher, crush the berries slightly.  Set them aside for 20 to 30 minutes in order to allow the berries to begin releasing their juice.
Place the pot over low heat and bring to a simmer, stirring occasionally.  Simmer over low heat until the sugar has completely dissolved, approximately 5 minutes.  Remove the pot from the heat and allow the syrup to cool to room temperature.  Add the vanilla extract and stir to combine.  At this point, you can choose to strain the mixture or leave the remaining pieces of strawberry in the syrup.  If you strain the syrup, the berries can be added to a recipe or served as a topping over yogurt, ice cream, or a slice of cake.
The syrup can be stored in the refrigerator for up to one month.  I like to store a batch of strained syrup in a clean, repurposed bottle with a pourer spout in the refrigerator for adding to lemonade or using as a base for cocktails.  Syrup with berries can be stored in the refrigerator in a mason jar or other glass container with a lid or canned as mentioned above.
---
To make sure that you don't miss any of our original content or favorite recipes, DIY projects, and homesteading advice, subscribe to The 1840 Farm Community Newsletter. Visit our subscription form to become the newest member of The 1840 Farm Community.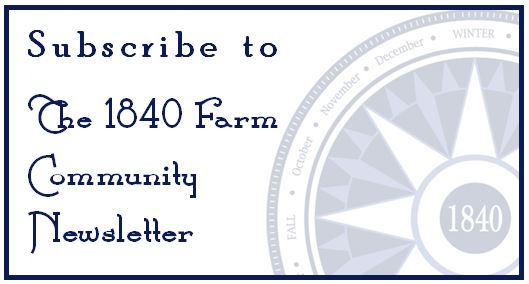 Our newsletter isn't the only way to follow what's happening here at 1840 Farm.
You're always welcome at 1840 Farm and at The 1840 Farm Mercantile Shop on Etsy.
You can also find 1840 Farm throughout the social media universe on
Facebook, Twitter, Pinterest, Flickr, and Bloglovin'.
We even created a new 1840 Farm Community Newsletter Pinterest board to catalog
our newsletter content so that you could easily pin your favorites to your own boards.
Come add your voice to our conversation!
We'll hope to see you there!
---
Comments
comments