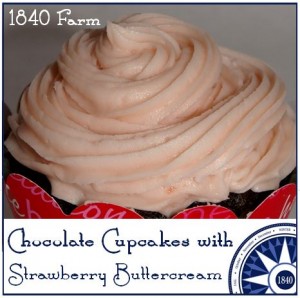 There's something about the flavor combination of chocolate and strawberry that seems perfect for Valentine's Day, or any day for that matter,   We do our best to eat seasonally here at 1840 Farm.  Eating seasonally during February in New England dictates that fresh strawberries are not on our dessert plates.
Luckily, we preserve pounds of fresh strawberries during berry season here at 1840 Farm.  All winter, we enjoy our own strawberry jam, strawberry syrup, and mixed berry preserves.  Every bite reminds us that each long winter day brings us one day closer to the next berry season.
Using a few Tablespoons of our strawberry syrup brings the sweet, earthy flavor of strawberries to the buttercream frosting that tops these cupcakes.  If you don't have homemade strawberry syrup, an easy substitution can be made.  You can use a few Tablespoons of pureed strawberry preserves or strawberry ice cream topping found at the grocery store.  You will still have a delicious, strawberry flavored buttercream perfect for adding to cupcakes or cookies just in time to surprise your Valentine.
Chocolate Cupcakes with Strawberry Buttercream Frosting
makes 24 frosted cupcakes
1 cup granulated sugar
1/4 cup vegetable oil
2 large eggs
1 cup (8 ounces) milk
6 Tablespoons sour cream
2 Tablespoons apple cider vinegar
1 teaspoon vanilla extract
1 1/4  cup (150 grams) all-purpose flour
1/2 cup unsweetened cocoa powder
1 1/2 teaspoon baking soda
3/4 teaspoon baking powder
3/4 teaspoon sea salt
4 ounces butter, softened
2-3 Tablespoons strawberry syrup
1 teaspoon vanilla extract
1 1/2 cup powdered sugar
Preheat oven to 350 degrees Fahrenheit. Position the oven racks in the top and bottom third of the oven. If you are using silicone cupcake liners, lightly oil them or line with paper wrappers and place the silicone cups on two baking sheets. If using a cupcake tin, line each cavity with a cupcake wrapper.
In a large bowl, combine the sugar and oil. Mix vigorously using a wire whisk until the mixture is light and fluffy. Add the eggs and whisk to fully combine. Add milk, sour cream, apple cider vinegar and vanilla extract and whisk until combined.
Measure the cocoa, flour, baking soda, baking powder, and salt into a medium bowl. Use a spatula or whisk to combine the dry ingredients. Add the dry ingredients to the large bowl and mix well using a whisk or spatula until the batter is completely smooth.
Fill the prepared cupcake wrappers 2/3 full with batter. Place the cupcakes in the oven and set the timer for 20 minutes. Halfway through the baking time, rotate the baking sheets. The cupcakes are done when a toothpick inserted in the middle comes out clean or with small crumbs attached. Remove the cupcakes from the oven and set on a wire rack to cool completely.
To prepare the buttercream, place butter, 2 Tablespoons of strawberry syrup, and vanilla in a large bowl. Using a mixer, beat on high speed until the mixture is light and fluffy without any lumps. Add the powdered sugar and mix on low speed to blend. Once the sugar has begun to incorporate into the butter, mix on high speed for 1 – 2 minutes until the buttercream is completely smooth. Taste the buttercream to gauge the strawberry flavor, adding another Tablespoon of strawberry syrup if necessary.  Strawberry buttercream can be stored in an airtight container for several days.
Once the cupcakes are completely cool, frost each one with the strawberry buttercream using a spatula or piping bag with desired tip. Frosted cupcakes can be kept in the refrigerator, but the cold, dry environment of the refrigerator will eventually dry out the moist cake. For longer shelf life, store the cupcakes at room temperature and frost them as needed.
Want to make a decorative cupcake wrapper like those featured in the photo?  You can view the free template and make your own using any kind of paper you have on hand!
1840 Farm Cupcake Wrapper Template
---
To make sure that you don't miss any of our original content or favorite recipes, DIY projects, and homesteading advice, subscribe to The 1840 Farm Community Newsletter. Visit our subscription form to become the newest member of The 1840 Farm Community.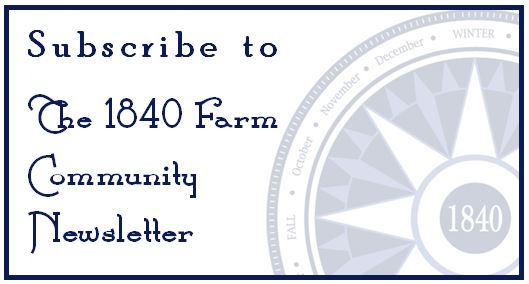 Our newsletter isn't the only way to follow what's happening here at 1840 Farm.
You're always welcome at 1840 Farm and at The 1840 Farm Mercantile Shop on Etsy.
You can also find 1840 Farm throughout the social media universe on
Facebook, Twitter, Pinterest, Instagram, Flickr, and Bloglovin'.
We even created a new 1840 Farm Community Newsletter Pinterest board to catalog
our newsletter content so that you could easily pin your favorites to your own boards.
Come add your voice to our conversation!
We'll hope to see you there!
---
Comments
comments