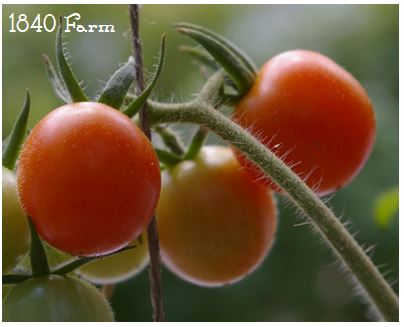 2006 was the first summer we lived at 1840 Farm.  That year, we planted a small garden with a handful of heirloom tomato varieties.  We were new to heirloom gardening and selected the varieties for that year's garden in a very non-scientific manner.  We simply chose heirlooms with names that drew us to them.  A tomato named "Isis Candy Cherry" sounded beautiful and sweet, a combination that we couldn't wait to watch ripen in our tiny garden.
We were thrilled when an Isis Candy Cherry was the very first tomato to ripen.  It was indeed beautiful and sweet.  Sliced in half, my children eagerly ate that first tomato while still warm from the sunshine.  We have been growing Isis Candy Cherry now for eight seasons and it is predictably the very first tomato that is ripe enough to harvest from our heirloom garden.
While its early ripening habit make this variety popular here at 1840 Farm, we would continue to plant it regardless.  The flavor of this tomato is the real reason it keeps finding its way into our tomato patch every year.  Knowing that it ripens in less than 70 days is merely icing on the proverbial cake.
These beautiful orbs are packed with sweet, jammy tomato flavor.  They ripen to a beautiful red-orange with lighter golden shoulders and a trademark starburst pattern on the blossom end of the fruit. This is the perfect tomato for the person in your life who doesn't think that they like tomatoes.  One bite of this lovely heirloom should be all it takes to convince them that they love this tomato!
The Isis Candy Cherry Heirloom Tomato is one of the six varieties included in our Tomato Lover's Garden Heirloom Seed Collection available in The 1840 Farm Mercantile Shop on Etsy.  The 2014 Heirloom Seed Collection is a collaboration between 1840 Farm and Fresh Eggs Daily.  Together, we have curated our favorite heirloom varieties into collections that are ideally suited for growing together.  The heirloom, non-GMO seeds in our collection are from family owned seed purveyor Baker Creek Heirloom Seed Company.
We invite you to join The 1840 Farm Community on Facebook and Fresh Eggs Daily on Facebook to share updates from your garden and keep up to date on what we're harvesting from our heirloom gardens. We'll also be sharing regular garden updates along with fresh, seasonal recipes in our 1840 Farm Community Newsletter and The Fresh Eggs Daily Newsletter.  In the meantime, you can view photos from the gardens at 1840 Farm by visiting our Garden Photo Tour.  More photos will be added as we progress through the 2014 growing season.
Comments
comments