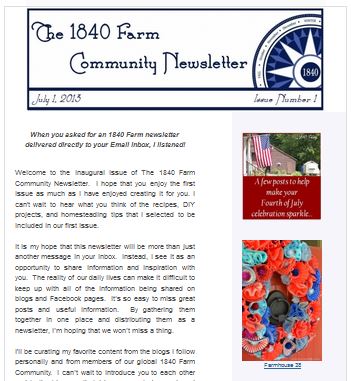 We're thrilled that you would like to have The 1840 Farm Community Newsletter delivered to your Email inbox.  In the newsletter, I share my favorite fresh and seasonal blog posts from 1840 Farm and blogs that I follow personally.  You'll be sure to find a great new recipe, DIY project, or homesteading advice in each issue.
The information you provide in this form will be kept private.  It will not be sold or used for any purpose other than delivering our newsletter or contacting you regarding your subscription.
It's easy to subscribe.  Just visit our
subscription form
.  In a few seconds, you'll be the newest member of The 1840 Farm Community.  Welcome!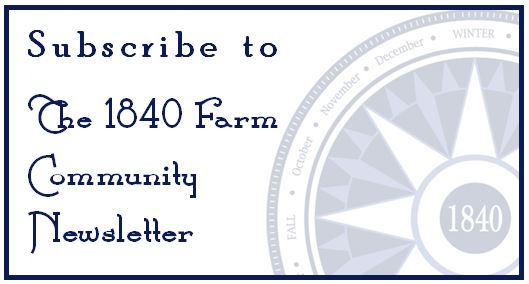 ---
Our newsletter isn't the only way to follow what's happening here at 1840 Farm.
You're always welcome at 1840 Farm and at The 1840 Farm Mercantile Shop on Etsy.
You can also find 1840 Farm throughout the social media universe on
Facebook, Twitter, Pinterest, Flickr, and Bloglovin'.
We even created a new 1840 Farm Community Newsletter Pinterest board to catalog
our newsletter content so that you could easily pin your favorites to your own boards.
Come add your voice to our conversation!
We'll hope to see you there!