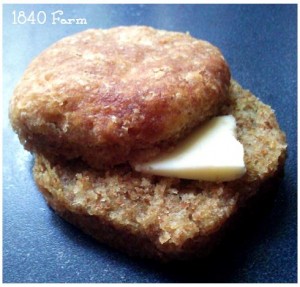 Fall is in the air here at 1840 Farm and another homeschooling semester is underway.  This year, one of our homeschooling goals is to spend more time together in the kitchen baking and cooking.  We'll be learning the basics and adding in a few family and holiday favorites for good measure.  We'll also be sharing many of the recipes and techniques with you so that you can try them in your kitchen.
I decided to start with a simple recipe and a bit of kitchen science for good measure.  So, we gathered around our kitchen table to learn more about baking soda and baking powder.  You can learn all about the subject by reading my post:  Kitchen Science:  Baking Soda vs Baking Powder.
In my opinion, few recipes highlight baking powder in the way that a great homemade biscuit does, so we started gathering our ingredients and preparing to make a batch of buttermilk biscuits from scratch.  In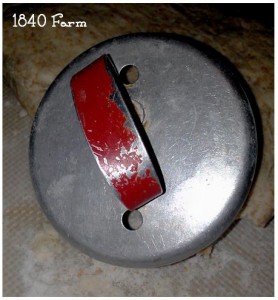 moments, we had our ingredients and tools.  We were ready to mill a batch of organic, non-GMO flour, make our own baking powder, and finish the biscuits by using a biscuit cutter that had been passed down from my Great Grandmother.
 First, we milled a batch of whole wheat flour using our WonderMill.  If you don't mill your own flour, a high quality whole wheat flour can be substituted or you can use All-purpose flour if you prefer.  We mixed up enough fresh baking powder for each child to make their own batch of biscuits and started weighing our ingredients.
Then it was time to mix up the dough and break out our rolling pins.  We talked while we rolled out the dough.  We couldn't help but discuss the generations of our family that had come before us as we used a biscuit cutter that showed signs of wear from its decades of use.  I watched them fill with pride
as they gently transferred each round of biscuit dough to the baking pan.
That evening, we gathered around our family table and enjoyed the biscuits as the centerpiece of our meal.  They were delicious used as the bread for our heirloom Green Zebra Tomato BLT sandwiches.  They had a light, flaky texture that was just as delicious when enjoyed for breakfast the next morning, warm with a pat of butter and drizzle of our own maple syrup.
These biscuits were so popular that we have already enjoyed them a second time.  I'm quite certain that we'll be making them again soon.  I hope that your family will enjoy them as much as mine did.
Buttermilk Biscuits
makes 8 biscuits
The key to making a light, flaky biscuit is to mix the dough enough to break the butter into very small pieces without mixing it so much as to develop the gluten in the flour.  Don't worry, there's a simple trick to ensuring that you achieve that state consistently when making biscuits.  Simply grate the butter before adding it to the dry ingredients.  While it may sound unconventional, grating the butter makes all the difference.  The butter will be in small shards and easily distributed through the dry ingredients with little effort.
Take care not to over flour the dough while rolling.  Too much flour will create a dry, heavy biscuit.  I like to use a seasoned french rolling pin or silicone covered rolling pin and rolling mat when making biscuits.  Both are less likely to need excess flour in order to prevent sticking.
1 cup (120 grams) whole wheat flour
1 cup (120 grams) All-purpose flour
1/2 teaspoon salt
2 Tablespoons baking powder
6 Tablespoons butter, grated
3/4 cup (6 ounces) buttermilk
In a large bowl, combine the flours, salt, and baking powder..  Use your dry fingers or a whisk to combine the dry ingredients before adding the grated butter to the bowl.  Using your fingers, gently toss the grated butter and the dry ingredients until the small shards of butter are evenly distributed through the dry ingredients..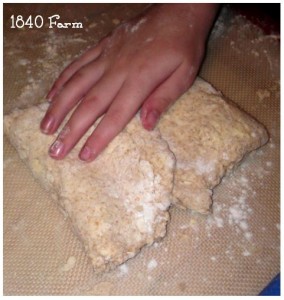 Make a well in the center of the dry ingredients before adding the buttermilk all at once.  Use a spoon or your hands to mix the dry ingredients into the buttermilk.  Continue to mix until the dry and wet ingredients are fully combined .Take care not to overmix, stopping as soon as the dough is evenly moist.
Transfer the dough to a lightly floured surface.  Add a sprinkling of flour to the top of the dough and pat into a rectangular shape.  With a rolling pin, roll the dough into a rectangle approximately 1/2 inch thick. Fold the top third down to the middle of the dough.  Fold the bottom third up to the middle of the dough.  Turn the dough 90 degrees and roll until 1/2 inch thick.  Repeat this folding and turning two more times.  The folding and turning will help to create buttery layers in the dough and yield a very flaky biscuit.
Roll the dough into a final rectangle 1/2 inch thick.  Dip a biscuit cutter in flour and cut out each biscuit, disturbing the dough as little as possible.  Gently transfer each round to a baking tray or pan.
Place the pan of biscuits in the refrigerator for at least 30 minutes to allow the butter to solidify.  Take any remaining scraps of dough and gently shape into a rectangle before wrapping with plastic wrap and placing in the refrigerator.  If allowed to rest, this dough can be rolled and cut into biscuits or pressed into the bottom of a pie pan to serve as the crust for sweet or savory dishes.
Preheat the oven to 400 degrees Fahrenheit.  Remove the biscuits from the refrigerator and allow them to come to room temperature as the oven preheats.  Transfer the biscuits to the hot oven.  Bake for 12-16 minutes or until lightly browned with a dry exterior.  Remove from the oven and brush the tops of the biscuits with melted butter if desired.  Serve warm.
Comments
comments