1840 Farm was selected to be Farmmade.com's Featured Farmer this week.  As part of the process, I completed a Q&A.  Yesterday, the answers were shared with the Farmmade Community on Facebook.  In case you missed it…
Farmmade.com's Featured Farmer this week is Jennifer Burcke of 1840 Farm! Jennifer and her family produce as much of their own food as possible on their 3.2 acres suburban farm in Dover, New Hampshire. Thank you Jennifer for taking time out to share your farm story with the FarmMade community of farmers and friends!
FARMMADE: WHAT IS THE STORY BEHIND 1840 FARM?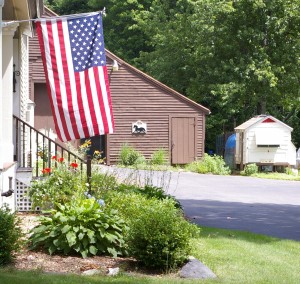 JENNIFER: The original farmhouse and barn were built in the 1840s. At one time, the farm encompassed over 100 acres of farmland. Over the years, it was subdivided little by little. By the time that we purchased the farm in 2005, the farmhouse and barn were situated on just over three acres. Over a decade ago, three generations of my family made the life changing decision to move from our home in Kansas to the Seacoast of New Hampshire. A few years later, we purchased what was then an abandoned farm and began the difficult work of bringing it back to life. It's no coincidence that it is located a mere 100 miles from the dairy farm that my great grandparents proudly called home.
I spend my days living and writing about my passion to embrace the traditions of my past. I wasn't raised to be a farmer and I would have never imagined that I would feel the gravitational pull to live a country cottage farming lifestyle. Yet here I am, living on a farm with my parents, husband, and two children. Today, it is hard for me to imagine living any other way.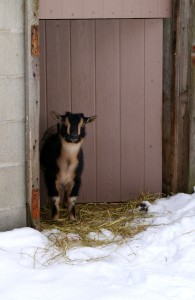 FARMMADE: WHO INFLUENCED YOU TO BECOME A FARMER?
JENNIFER: I was inspired to become a farmer by my family past and present. The memory of my grandparents and great grandparents inspired me to dare to attempt to become a farmer. The daily encouragement and support of my husband, children, and parents motivates me to continue to improve my skills and develop my craft. My goal is to raise food for our table while raising two children who will always hold their food supply firmly within their grasp.
FARMMADE: WHAT DO YOU GROW AND RAISE AT 1840 FARM?
JENNIFER: We keep a flock of 17 heritage breed hens, three Nigerian Dwarf dairy goats, and a French Angora rabbit on our farm. We also tend a large heirloom vegetable garden as well as blueberry and raspberry fields. Last winter, we made our own maple syrup for the first time, collecting 123 pounds of Maple sap before boiling it down into syrup. During the last year, we have collected over 72 dozen eggs and harvested 300 pounds of fruits and vegetables from our gardens. Following the birth of our first goat kids last October, we officially became dairy farmers and have since collected over 40 gallons of raw goat's milk.
FARMMADE: WHY DO YOU LOVE GROWING FOOD & RAISING FARM ANIMALS?
JENNIFER: I love living and working on our farm with three generations of my family. The work of producing our own food and tending our farm feeds my soul and produces delicious food to be shared while gathered around our family table. The fresh, homegrown food on our dinner plates is the most meaningful reward I can think of for a job well done.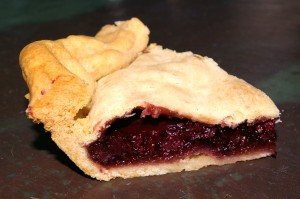 How about biting into a piece of warm 1840 Farm's Berry Pie or freshly baked Blueberry Gooey Butter Cake? Jennifer shared two delicious seasonal berry dessert recipes in last Friday's FarmMade newsletter. Check out yesterday's post for those recipes and enjoy making one (or both!) of these summer time treats in your kitchen for dessert after dinner tonight!
Meet the farm animals of 1840 Farm and see what's growing in the garden. JOIN US TOMORROW FOR A TOUR OF 1840 FARM!
Comments
comments