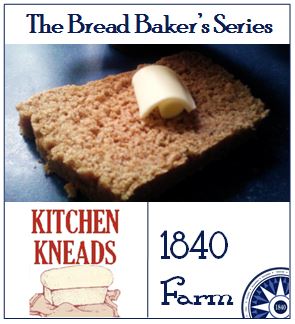 The Bread Baker's Series is a collaborative series of posts from Kitchen Kneads and 1840Farm.   Together, we're hoping to help provide you with the encouragement and information to become a more confident bread baker.  Whether you're a seasoned pro or trying to gather the courage to make your first loaf, this is the place where you'll find links to the equipment I use here at 1840 Farm to make loaves for my family and the recipes that I keep close at hand.
It's easy to make sure that you don't miss a single post in The Bread Baker's Series. Subscribe to The 1840 Farm Community Newsletter or join The 1840 Farm Community on Facebook, Twitter, or Pinterest. Be sure to subscribe to Kitchen Kneads Email updates and follow them on Facebook and Pinterest.
By following Kitchen Kneads and 1840 Farm, you'll be the first to see each post in our collaborative Bread Baker's Series. If you have a great bread baking tip or recipe to share, we invite you to leave a comment and add your voice to the conversation!
---
These are the kitchen tools and ingredients that I use in the kitchen at 1840 Farm when I make homemade bread.  I have provided these links to enable you to learn more about the tools and specialty ingredients that I personally use on a daily basis.  These links will take you to exterior sites in order for you to learn more about each product.  Some of these links are of the affiliate variety.  Those links have not influenced my honest opinion or recommendation of these products.

---
These are the recipes and techniques that I refer to time and time again when baking bread for my family.