So many of you wanted to know more about the grilled Romaine salad I was preparing for dinner last week. I love this dish for its simplicity and amazing flavor. Add in that I can make it from start to finish in less than ten minutes and that it is beautiful on the plate and it's really no wonder that I make it so often!

Grilled Romaine Salad
Romaine lettuce heart (one per person)
olive oil
salt and pepper to taste
salad dressing

Prepare the grill.  Slice the Romaine lengthwise in half and drizzle a little olive oil over the top before seasoning with salt and pepper. This is a great time to use a premium olive oil.  My favorites are the selections from the Fresh-Pressed Olive Oil Club.  Place the Romaine cut side down on the grill. A spot around the edge or not directly over the flame is best.
Grill for 4-6 minutes.  The surface of the Romaine will char a bit as the core softens. Remove the grilled Romaine from the grill, drizzle with dressing and serve. It's really delicious and makes such a beautiful side dish. For me, the unique flavor and texture are a really nice change of pace.
In the winter, I often make this salad under the broiler. I use the same process, just place the lettuce cut side up on a foil lined baking sheet under the broiler for a few minutes.
---
To make sure that you don't miss any of our original content or favorite recipes, DIY projects, and homesteading advice, subscribe to The 1840 Farm Community Newsletter. Visit our subscription form to become the newest member of The 1840 Farm Community.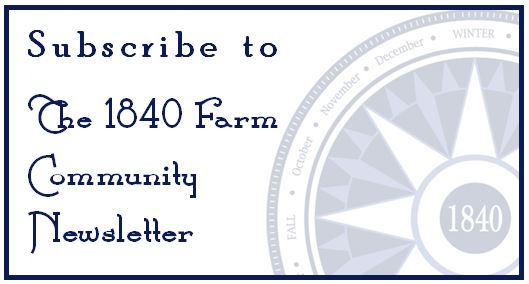 Our newsletter isn't the only way to follow what's happening here at 1840 Farm.
You're always welcome at 1840 Farm and at The 1840 Farm Mercantile Shop on Etsy.
You can also find 1840 Farm throughout the social media universe on
Facebook, Twitter, Pinterest, Instagram, Flickr, and Bloglovin'.
We even created a new 1840 Farm Community Newsletter Pinterest board to catalog
our newsletter content so that you could easily pin your favorites to your own boards.
Come add your voice to our conversation!
We'll hope to see you there!
---
Comments
comments