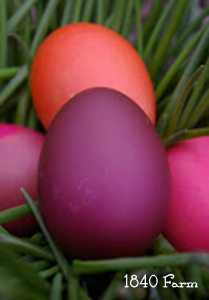 Every holiday has its own unique food traditions. Easter has many. Creating brightly colored eggs would be near the top of the list.
For a few years, we were unable to participate in this tradition due to a food allergy to eggs. Those egg free Easter celebrations were every bit as joyous and memorable. We made new egg free traditions.
Shortly after we had accepted that egg coloring would not be a part of our Easter celebration, we learned that the egg allergy had cleared. Chicks were ordered, a coop was built, and we entered the world of chicken keeping.
The following February, we collected our first fresh egg. A few weeks later, we had enough of them to make a batch of colored eggs. It wasn't Easter, but we had plenty to celebrate, so we gathered in the farmhouse kitchen to make a batch of colored eggs together. Since then, we've been known to color a batch of eggs for reasons other than celebrating Easter. Why not? There's no reason to relegate all the egg coloring fun to one holiday a year.
When we returned to coloring eggs for our family table, we decided to put our own spin on it, creating our own method for adding intense color to the shells. We have been making our own egg dye for a few years now. It is an easy process that yields incredibly colorful, beautiful eggs.
Our hens are all brown egg layers. We find that beginning the egg coloring process with brown shelled eggs results in a more deeply colored egg. Pastel colors are more difficult to achieve without a white eggshell. That's fine with me. I love the look of these rich, jewel toned eggs on our Easter table.
Before we get started adding beautiful color to the shells of our freshly gathered eggs, they need to be cooked. I have tried every method and none of them work as well for me as steaming by following the steaming method from Fresh Eggs Daily. It is my preferred way to prepare hard-cooked eggs. It has never failed to produce beautifully cooked eggs that are easily removed from their shells.
Once our eggs have been steamed using this method, I like to cool in the ice bath for approximately ten minutes. After ten minutes, remove the eggs from the icy water and allow them to air dry on a clean kitchen towel. Once the eggs have dried, they can be dyed immediately or refrigerated overnight until you are ready to decorate them.
Gather a collection of small bowls or coffee cups to hold the colored solution. In each cup or bowl, mix four to six ounces of warm water with a Tablespoon of vinegar and enough liquid or paste food coloring to achieve the desired color. More food coloring will create a deeper, darker colored egg. Make sure that you are using a cup or bowl that can hold your colored liquid along with an egg. A container that is too small will overflow when you add your egg and leave you with a very colorful mess to clean up.
Gently transfer an egg to each of the cups and allow them to rest fully submerged in the colored liquid. We usually set a kitchen timer and check the eggs in ten minute increments. When the eggs are colored to your liking, remove them to a paper towel and allow them to dry completely. Colored, dry eggs can be stored in the refrigerator for three days or until you are ready to use them.
Comments
comments