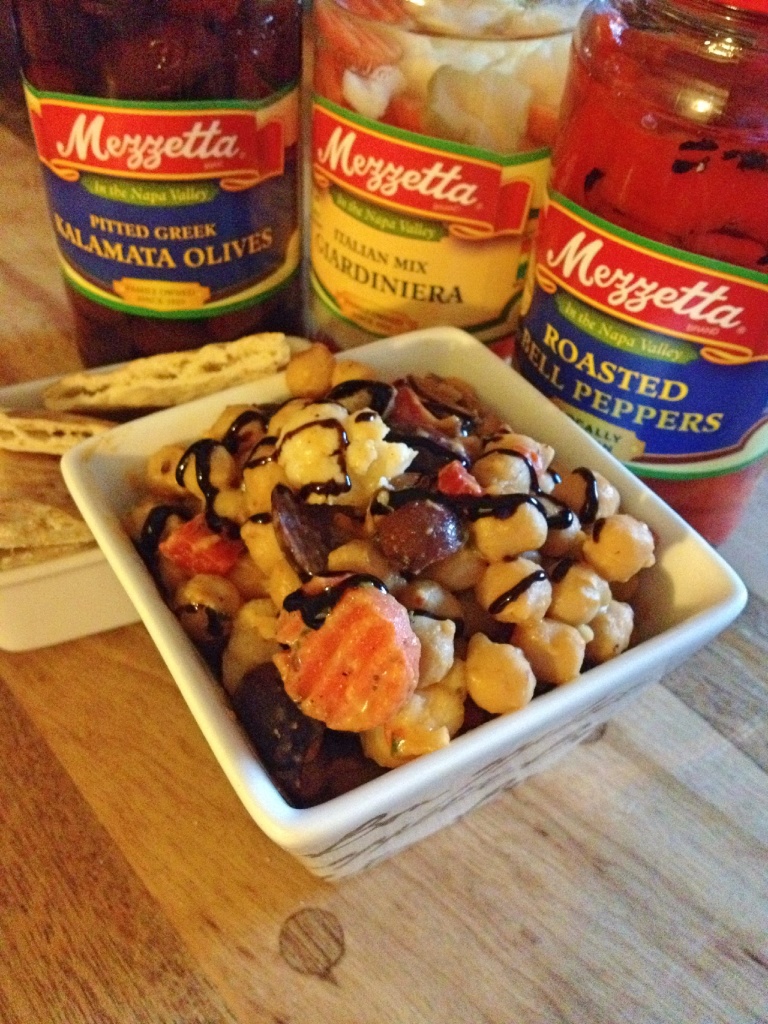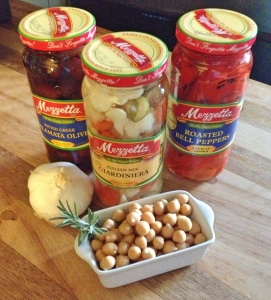 During the busy holiday season, I find myself looking for recipes that are simple to prepare for our family table.  I find that this time of year is all about finding time to spend together and creating holiday memories that will last a lifetime.
While I may be short on time during the last month of the year, I still want to serve something full of comfort, flavor, and nourishment to my family. Creating a dish using pantry and refrigerator staples makes that a much simpler task.  It also allows me to spend more time with my family whether we're gathered at the dinner table or finding ways to celebrate the season together.
When Mezzetta invited me to share a recipe using their products with the members of The 1840 Farm Community, I was thrilled.  We love their products and keep a supply of them in our pantry all year long.  I love to add them to recipes or serve them as part of our afternoon cheese course.
Warm Chickpea Salad is just that type of dish. It is delicious, full of flavor, and simple to prepare. It can be served as a main course with pita bread or chips and a green salad or as a side dish paired perfectly with grilled meats or a burger.  This warm salad is also perfect for entertaining and serving with appetizers or a cheese course.  When entertaining, I prepare a double batch and serve the remaining kalamata olives and Giardiniera to accompany the other nibbles we've prepared for our guests.
These ingredients work so well together that you can adjust the quantities to suit your taste or make use of what you happen to have on hand. I love the combination of the earthy chickpeas and hummus with the briny kalamata olives, smoky sweet roasted bell peppers, and the brightness of the crunchy cauliflower, carrots, and celery from the Giardiniera. Together, they combine to make a delicious dish that my family is happy to see during the holiday season and beyond!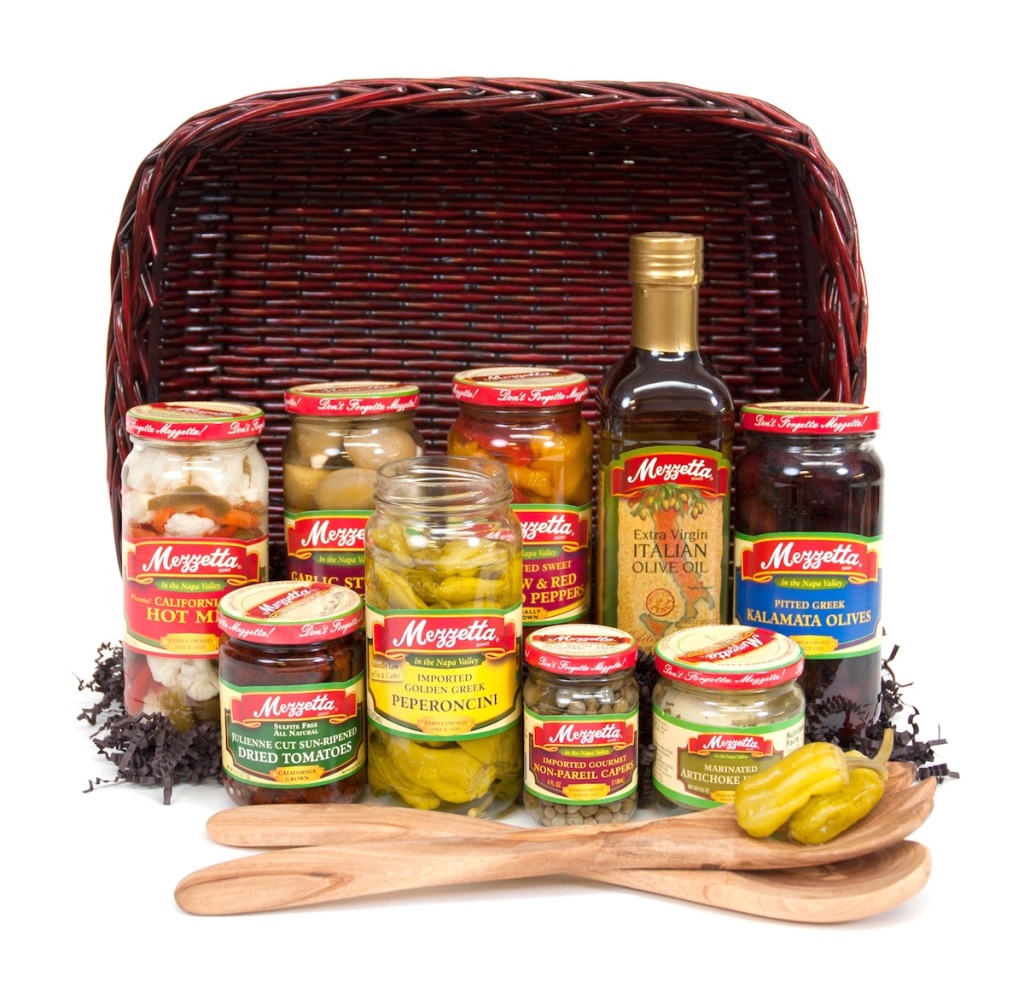 If you'd like to try Mezzetta products, then you'll want to be sure to enter Mezzetta's Daily Holiday Gift Basket Giveaway is going on now. They're generously giving away a fabulous prize package each day during the month of December. To enter, visit Mezzetta and share one of your favorite holiday memories. Each day a winner will be selected at random. Prizes will be shipped within 2 weeks.
Mezzetta Favorites Holiday Gift Basket  includes:
100% Italian Estate Grown Extra Virgin Olive Oil
Golden Greek Peperoncini
Garlic Stuffed Olives
Castelvetrano Olives
Pitted Greek Kalamata Olives
Roasted Marinated Red & Yellow Sweet Bell Peppers
Cocktail Onions
1 Apron (from House Party contents)
1 Metal Olive Spoon (from House Party contents)
1 Tote Bag (from House Party contents)
1 Ceramic Bowl
Warm Chickpea Salad
This recipe can be made using canned chickpeas or dried chickpeas that have been fully cooked. When using dried chickpeas, I like to cook them in the oven. Bring a large pot of water to boil in an oven safe pot with a lid. Boil the water on the stove top for five minutes before covering and transferring to a preheated 350 degree Fahrenheit oven. Allow the chickpeas to cook until tender. The length of cooking time will vary slightly due to oven temperature and the age of the dried beans. I check the chickpeas after 60, 90, and 120 minutes, removing them from the oven when they are nearly tender. I allow the covered pot to sit on the stove top and cool to room temperature before using in any recipe that calls for chickpeas.
1 Tablespoon extra-virgin olive oil
2 cloves garlic, minced
1 teaspoon fresh rosemary, minced (or ½ teaspoon dried)
2 cups chickpeas, rinsed and drained
2 Mezzetta Roasted Bell Pepper halves, diced
12 Mezzetta Pitted Greek Kalamata Olives, halved
2 Tablespoons hummus
¼ cup Mezzetta Italian Mix Giardiniera, cut into bite sized pieces
salt and pepper to taste
balsamic glaze to garnish
warm pita bread
Warm a large skillet over medium-high heat. Add the olive oil, swirling to coat the bottom surface of the pan. Add the garlic and rosemary and cook until fragrant, approximately one minute. Add the chickpeas and cook for until warm, stirring to prevent sticking, approximately 4 minutes. Add the bell peppers, olives, and hummus, stirring to warm the hummus and coat all of the ingredients.
Remove the pan from the heat. Stir in the Giardiniera and season with salt and pepper to taste. Drizzle with a bit of balsamic glaze and serve with toasted triangles of pita bread.
Mezzetta is offering a downloadable $.50 off coupon on any Mezzetta products. The coupon is located here and is available from December 1st through December 31st.
---
This recipe was sponsored by Mezzetta.  We're thrilled to have the opportunity to share one of our favorite brands with our readers.  1840 Farm abides by word of mouth marketing standards. We believe in honesty of relationship, opinion and identity.  Compensation received from sponsors will not influence the topics or posts made on this blog.  Sponsored posts will be clearly labeled as such. Product reviews will include our honest opinions about the product(s) reviewed.  Products that do not meet our standards of daily use on our farm will not be reviewed. Samples of the products that I review are sent to me at no expense in order to allow me to use the product and evaluate its performance.  The framework of our review process does not guarantee a positive review in exchange for the product provided.  Our product reviews contain both facts about the product and my personal opinion of its performance while it was used at 1840 Farm.
Comments
comments