I have many fond memories of this dish from my childhood. My mother made this recipe for countless holiday morning breakfasts. It was always topped with fresh strawberries, sour cream, and a sprinkling of brown sugar. It was always called Strawberry Puff Pancake.
The name made sense given that the dish was topped with strawberries and the batter puffed dramatically while it baked in the oven. It seemed magical to me that you could pour a thin batter into the pie plate, slide it in the oven and watch as it transformed into an airy, delicate concoction.
For a chicken keeper, this is a delicious celebration of the fresh eggs that we collect from our heritage breed hens. The resulting pancake is full of the fresh, rich flavor of fresh eggs. The flavor is paired with the beautiful golden color of the yolks provided by hens that enjoy sunshine, fresh air, and plenty of fresh green grass and treats.
I know now that this dish bears a remarkable resemblance to the German Dutch Baby or Dutch Pancake. No matter its name, the recipe is similar to a popover and yields a light, eggy, custard-like pancake that is delicious when topped with fresh fruit. While the combination of sour cream and brown sugar with the fresh strawberries may seem curious at first, I promise that it won't disappoint. We have tried topping this pancake with whipped cream and syrup, but this is our favorite trio of toppings.
This is a family favorite here at 1840 Farm and sure to become one around your family table. I hope that you'll enjoy it just as much as we do!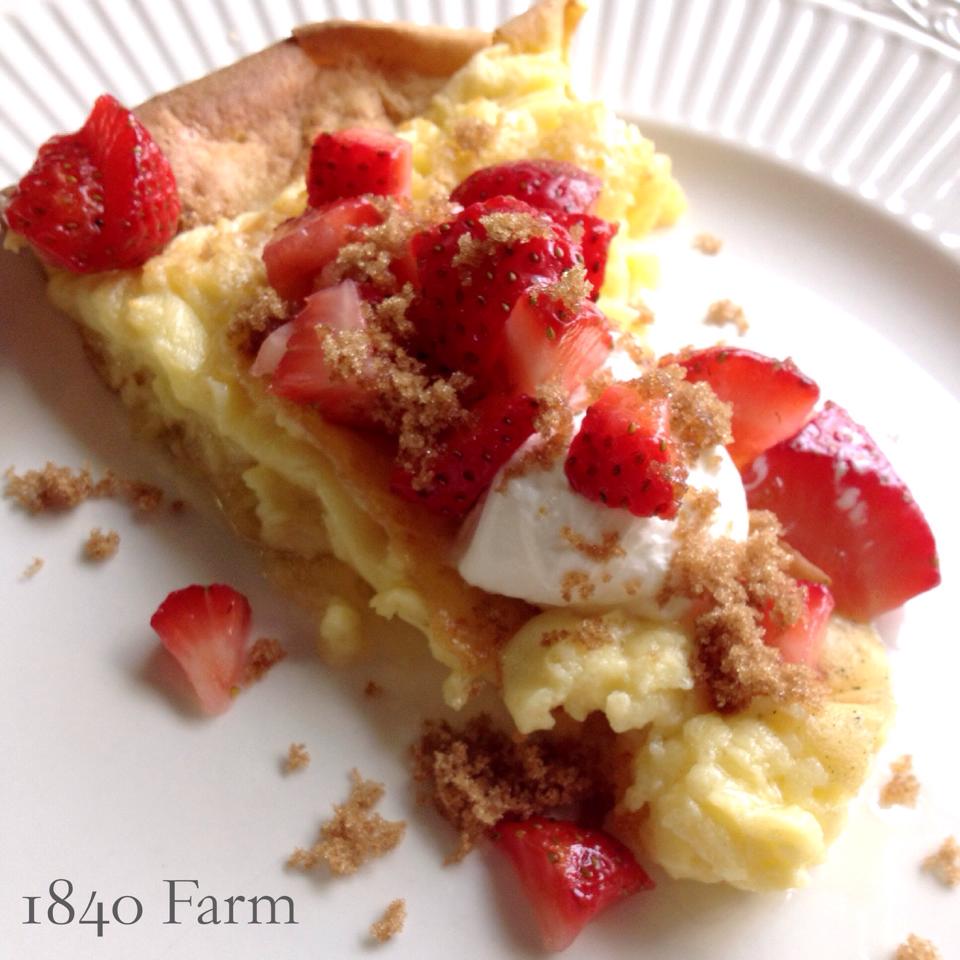 Strawberry Puff Pancake (German Dutch Baby)
2016-05-04 07:33:11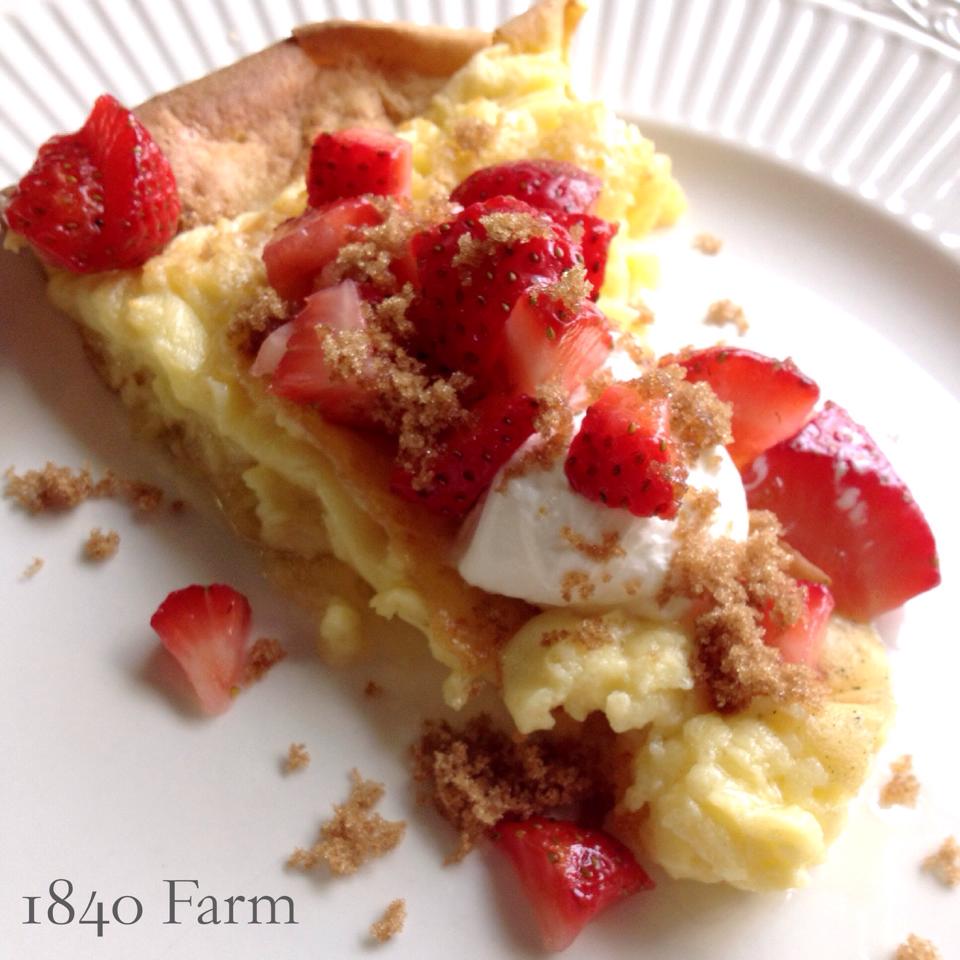 Ingredients
3 Tablespoons (1 ½ ounces) butter
3 large eggs
1 ½ cups (12 ounces) whole milk
6 Tablespoons (72 grams) granulated sugar
¾ cup (90 grams) All-purpose flour
¼ teaspoon salt
For Serving
strawberries
brown sugar
sour cream
Instructions
Preheat the oven to 425 degrees Fahrenheit. Place the butter in a glass pie pan, 9 inch cast iron skillet, or similarly sized casserole dish and transfer to the warm oven as you prepare the batter. I like to place the baking dish or skillet on top of a cookie sheet to catch any excess batter that might overflow the pan as it bakes.
In a large bowl, beat the eggs using a whisk until they are light and frothy. Add the milk and whisk until well combined. Add the sugar, flour, and salt and whisk until the mixture is completely smooth.
Remove the warm baking dish from the oven. Pour the batter into the pan and return it to the oven. Bake for 25-30 minutes or until the edges are puffed and lightly brown. When the pancake is fully baked, a sharp knife inserted into the middle of the pan will come out clean.
Remove the pancake from the oven and serve topped with a sprinkling of brown sugar, fresh sliced strawberries, and a dollop of sour cream. Enjoy!
1840 Farm http://1840farm.com/
Comments
comments