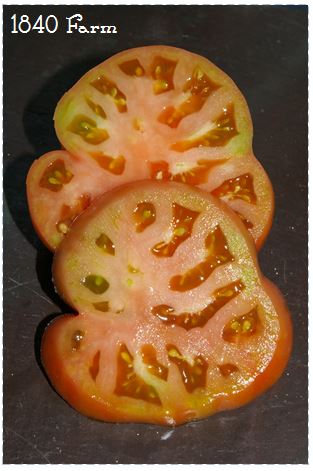 This tomato comes with a story the likes of which legends are made.  It all starts with a man named M.C. Byles who friends affectionately called Charlie in West Virginia.  He ran his own radiator repair business and was struggling to make it through the Great Depression.  He took it upon himself, with no prior plant breeding experience mind you, to cross ten tomato plants with a German Johnson tomato.
Several years later, he had what he believed was the perfect tomato.  He sold seedlings for $1.00 each and the plants were soon so popular that gardeners drove as far as 200 miles to purchase his plants.  In only six years had earned the $6,000.00 needed to pay off the mortgage on his house.  The legend was born, the name "Mortgage Lifter" was earned and a delicious tomato was born.
This plant produces large, slightly flattened beefsteak type fruits.  It has an extremely meaty flesh and contains very few seeds.  These tomatoes have a tendency to develop cracks along their shoulders, but the flavor will not be affected. Ripe fruits weigh upwards of one pound each.  It is not uncommon for a plant to develop fruits that weigh three pounds each!
This is a truly delicious slicing tomato and is listed on Slow Food USA's Ark of Taste.  Their description of the flavor is "a spicy flavor and low acidity. The taste starts off mild and then builds, with a long finish on the palate. It has a roasted, fruity and slightly salty flavor."  We think you'll agree that this tomato is as delicious as its story is unforgettable.
The Mortgage Lifter Heirloom Tomato is one of the six varieties included in our Tomato Lover's Garden Heirloom Seed Collection available in The 1840 Farm Mercantile Shop on Etsy.  The 2014 Heirloom Seed Collection is a collaboration between 1840 Farm and Fresh Eggs Daily.  Together, we have curated our favorite heirloom varieties into collections that are ideally suited for growing together.  The heirloom, non-GMO seeds in our collection are from family owned seed purveyor Baker Creek Heirloom Seed Company.
We invite you to join The 1840 Farm Community on Facebook and Fresh Eggs Daily on Facebook to share updates from your garden and keep up to date on what we're harvesting from our heirloom gardens. We'll also be sharing regular garden updates along with fresh, seasonal recipes in our 1840 Farm Community Newsletter and The Fresh Eggs Daily Newsletter.  In the meantime, you can view photos from the gardens at 1840 Farm by visiting our Garden Photo Tour.  More photos will be added as we progress through the 2014 growing season.
Comments
comments