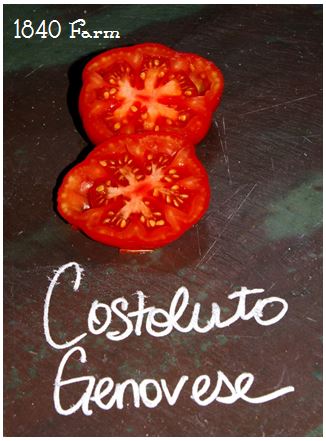 If you're looking for a tomato to thrive in the summer heat, look no further. The Costoluto Genovese variety hails from the Mediterranean.  For centuries, gardeners living along the Mediterranean found that this tomato loved the intense summer heat and sunshine.  The gardeners loved the fantastic flavor that this tomato brought to their dinner plates.
The Costoluto is also a strikingly beautiful tomato.  It's fruit exhibits deep fluting along the shoulders.  When used as a slicing tomato, each slice will exhibit a beautiful scalloped edge.  I can't be sure, but perhaps Thomas Jefferson grew the Costoluto Genovese for its beauty as much as its flavor.  I can only imagine how striking they must have been while growing in his beloved garden at Monticello.
Costoluto Genovese tomatoes are delicious eaten fresh as a slicing tomato.  This tomato also performs well when skinned and used in slow simmered sauces.  The flesh is meaty with an abundance of juice and tart tomato flavor.
At 1840 Farm, we love the Costoluto Genovese for its striking beauty and old-fashioned tomato flavor.  Every summer, we celebrate heirloom tomato season with the Costoluto Genovese.  Somehow, I think that Thomas Jefferson would have wanted it that way.
Comments
comments