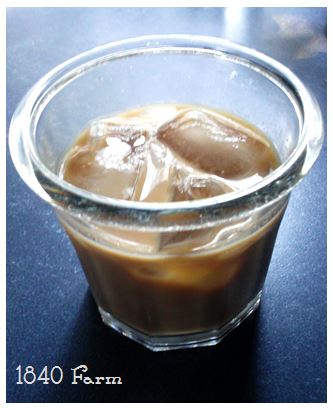 It's been painfully hot and humid here this week.  I have lived in New England for over a decade now, but I grew up in the Midwest.  In fact, I lived there for 30 years.  So believe me, I know all about hot and humid summer days.  The weather here has been a little too reminiscent for my taste.  I'm ready for this heat wave to break and for New England to return to a more pleasant number on the thermometer.
When it's this hot, I try to avoid doing anything that is sure to raise the temperature in our farmhouse.  I do make one exception:  the coffee maker.  I can live with cold salad for dinner.  I can do laundry at midnight when the temperature has fallen a few degrees.  I cannot, under any circumstances live without coffee.
True, the coffee maker doesn't generate too much heat.  On days as hot as we have been experiencing, I'm not in any rush to drink something hot either.  Luckily, I mastered the art of making iced coffee at home several years ago.
Making a great iced coffee is easy.  You don't need special equipment and the technique is simple.  If you take your coffee black, then you only need to chill the hot coffee and serve over ice.  If, like me, you prefer your coffee regular with cream and sugar, then you might need a little trial and error to perfect the amount of sweetener and milk that is just to your liking.  Trust me; it's not a bad way to spend a very hot day.
Iced Coffee
8 Tablespoons coffee (I prefer whole beans that are ground just before brewing)
3 cups (24 ounces) cold water
ice
granulated sugar (start with 1/2 cup and adjust to your liking)
milk/cream if desired
First, we'll start with the coffee.  Because your iced coffee will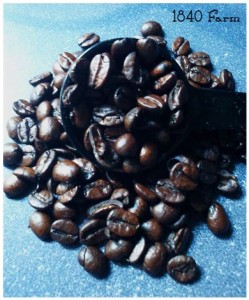 be served over ice, the brewed coffee needs to be brewed with different proportions than your usual cup of hot morning Joe.  That's the secret to making perfect iced coffee at home.
While it seems like a simple adjustment, it's the difference between a delicious cup of iced coffee and one that is watered down and tasteless.  Typically, a full Tablespoon of coffee is used for every six ounces of water.  In this case, we'll reduce the liquid by half in order to allow for the ice that will be added to the final cup.
By reducing the water, we'll have removed three full cups of liquid from our coffee.  That will allow us to add back the three cups in the form of ice and milk or cream without diluting the coffee.
Using the guidelines above, brew your double strength coffee.  If you don't use sugar or cream in your coffee, you can chill the brewed coffee in the refrigerator for later use or drink immediately poured over a glass of ice.
If you prefer coffee with sugar and cream, the sugar should be added while the coffee is still hot.  This will allow the sugar to fully dissolve before the coffee has been chilled.  Add the sugar to the hot coffee and stir until the sugar has dissolved completely.
At this point, the sweetened coffee can be stored in the refrigerator to be enjoyed later.  If you wish to enjoy it immediately, add a cup of ice to the hot coffee in order to cool it down quickly.  Stir the mixture in order to cool it slightly before pouring over a glass of ice, leaving room for milk or cream to be added.  Add milk or cream to the glass and stir to fully incorporate.
If you are making a batch of iced coffee for a group and want to allow guests to sweeten their own glass of coffee, my vanilla bean simple syrup is perfect for sweetening the chilled coffee.  It's also a wonderful way to add vanilla flavor to your iced coffee or iced tea.
---
To make sure that you don't miss any of our original content or favorite recipes, DIY projects, and homesteading advice from around the web, subscribe to The 1840 Farm Community Newsletter. Visit our subscription form to become the newest member of The 1840 Farm Community.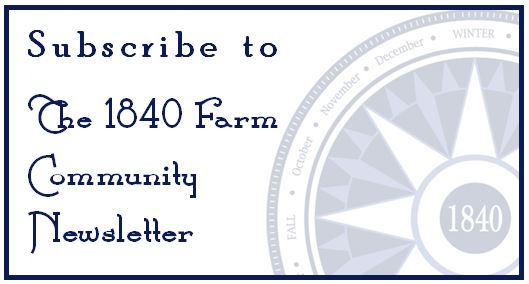 Our newsletter isn't the only way to follow what's happening here at 1840 Farm.
You're always welcome at 1840 Farm and at The 1840 Farm Mercantile Shop on Etsy.
You can also find 1840 Farm throughout the social media universe on
Facebook, Twitter, Pinterest, Flickr, and Bloglovin'.
We even created a new 1840 Farm Community Newsletter Pinterest board to catalog
our newsletter content so that you could easily pin your favorites to your own boards.
Come add your voice to our conversation!
We'll hope to see you there!
---
Comments
comments