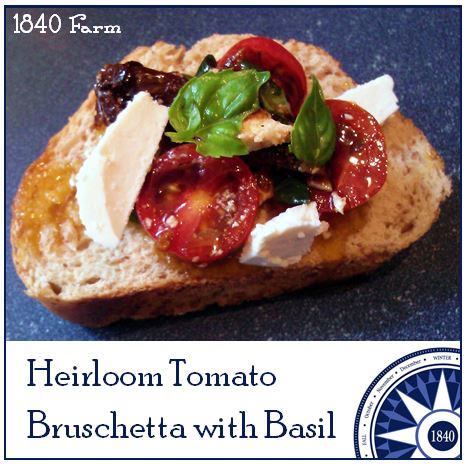 In the early days of writing this blog, I shared a recipe for traditional tomato bruschetta. It's a family favorite during heirloom tomato season here at 1840 Farm. On days that we come back to the kitchen with pounds of freshly picked tomatoes, this is what's for dinner.
When the day is long and I'm tired from a full day's work on the farm, I make a simpler, more rustic version of bruschetta. I don't slice the bread and toast it in the oven. Instead, I place the whole loaf in a 400 degree oven for about 10 minutes to warm it slightly and freshen the crust.
As the bread is warming, I prepare a lovely warm bruschetta topping. By the time the bread is warm, the topping is ready and we can start enjoying that delicious combination of earthy heirloom tomatoes, bright basil, and a great loaf of bread.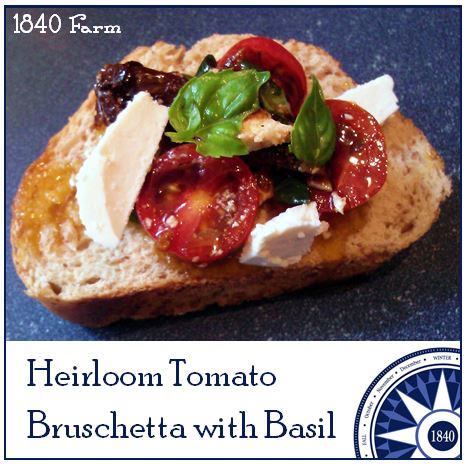 Rustic Heirloom Tomato Bruschetta with Basil
2017-01-01 12:08:55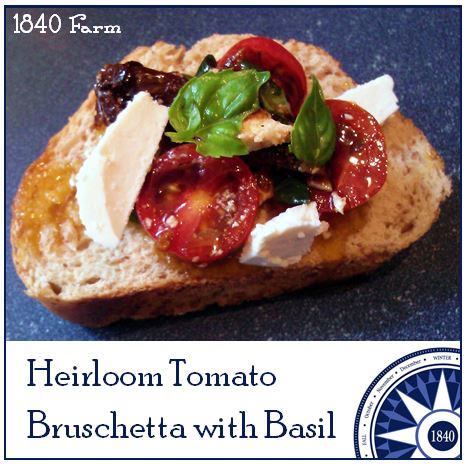 Ingredients
1 loaf of crusty French or Italian bread
2 cloves garlic, minced
8 ounces fresh heirloom tomatoes
1 ounce sun-dried tomatoes packed in oil
1 Tablespoon oil from sun-dried tomatoes
1 Tablespoon extra virgin olive oil
1/4 cup fresh basil leaves, roughly chopped
1/4 teaspoon sea salt
1/4 teaspoon freshly cracked black pepper
1 ounce ricotta salata or Parmesan cheese
Balsamic Vinegar Glaze
Instructions
Preheat oven to 400 degrees. Prepare the tomatoes by chopping roughly or slicing cherry tomatoes into thirds. Place in a medium serving bowl and set aside.
Place the loaf of bread in the warm oven and set the timer for 10 minutes. As the bread warms, prepare the topping by combining the oil from the jar of sun-dried tomatoes with the olive oil and minced garlic. Warm gently over low heat until the garlic is fragrant. Remove from heat and allow to cool slightly.
Roughly chop or julienne the sun-dried tomatoes before adding them to the fresh heirloom tomatoes. Add the basil, salt, and black pepper to the tomatoes before pouring the warm oil mixture over the top. Gently stir the mixture. Taste for seasoning and add more salt or pepper if needed. Add the crumbled ricotta salata or shaved Parmesan cheese and stir to combine. Drizzle with balsamic glaze if desired.
Slice the warm bread and serve with the bruschetta topping, spooning the topping over the bread and eating while it is still warm. Enjoy!
1840 Farm http://1840farm.com/
Comments
comments