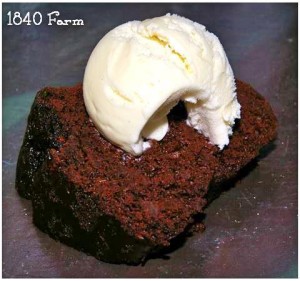 During gardening season, we celebrate every piece of fresh fruit and vegetable grown at 1840 Farm.  We eat as much as we can while it is at its fresh best.  We also can, pickle, and freeze our garden harvest so that we can enjoy the fruits of our labor during the long, cold winter.  It's a constant race against time trying to make sure that not a single morsel goes to waste.
During summers that include a bumper harvest of zucchini, I like to find ways to include it in savory and sweet dishes.  Incorporating shredded zucchini into baked goods isn't anything new.  My mother made zucchini bread every summer when I was a child.  Making a zucchini cake with chocolate and mocha flavor puts a new spin on an old favorite.
Zucchini adds an unbelievable moist texture to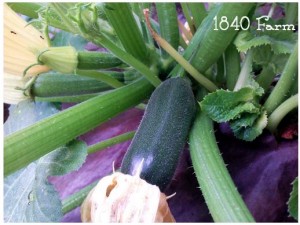 baked goods without altering the flavor.  It can be used as a substitute for oil in cakes and breads with excellent, delicious results.  This cake is no exception.  The flavor is rich, full of chocolate and espresso flavor.  The texture is moist and evenly dense.
Chocolate Mocha Zucchini Cake is  delicious served warm with a small scoop of vanilla bean ice cream.  When fresh berries are available, I love to serve it topped with whipped cream and fresh berries straight from our garden.  No matter how you serve it, this cake is sure to be a hit with the chocolate lovers at your family table.
Chocolate Mocha Zucchini Cake
makes 12 servings
I like to use espresso powder in this recipe to deliver a wonderfully rich coffee flavor.  If you don't have espresso powder on hand, you can substitute 4 ounces of strong coffee for part of the milk called for in the recipe.
The water content in zucchini can vary wildly, so the baking time for this recipe is a guideline.  You may find that your cake needs 10-15 minutes of additional time in the oven if your zucchini was particularly moist.  If you use frozen zucchini, I have found that defrosting the zucchini and draining it before adding it to the recipe yields more consistent results.
I like to use my silicone bundt pan when baking this recipe.  I find that it helps the cake to remain moist as it bakes and cools.  A metal bundt pan or a standard cake pan could also be used.  If using a different pan, simply adjust the cooking time as needed, removing the cake from the oven as soon as a toothpick inserted in the middle comes out cleanly.
2 ounces (1/2 stick) butter, melted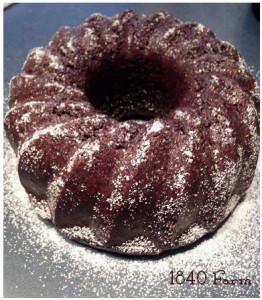 2 ounces oil
2 ounces plain yogurt
1/2 cup (96 grams) granulated sugar
1/2 cup (96 grams) brown sugar
1 1/2 cups (120 grams) unsweetened cocoa powder
1 Tablespoon espresso powder
1 Tablespoon vanilla extract
8 ounces shredded zucchini (see note above)
3 large eggs
1 1/2 cups (180 grams) All-purpose flour
1 teaspoon baking soda
1 teaspoon baking powder
1/2 teaspoon sea salt
7 1/2 ounces (1 cup minus 1 Tablespoon) milk
1 Tablespoon apple cider vinegar
Preheat the oven to 350 degrees Fahrenheit and prepare a bundt pan by spraying lightly with pan spray or brushing with melted butter.  Place the bundt pan on a baking sheet and set aside as you prepare the batter.
In a large mixing bowl, combine the melted butter, oil, yogurt, sugar, and brown sugar.  Mix until  smooth before adding cocoa powder, vanilla, espresso powder, eggs, and zucchini.  Stir until the zucchini and cocoa are fully incorporated and the batter is smooth.  Add the flour, baking soda, baking, powder, and sea salt and stir until just combined.  Add the milk and vinegar and mix until the batter is completely smooth.
Transfer the batter to the prepared bundt pan.  Place the cake in the middle of the oven and bake for 50 to 60 minutes, adjusting baking time as needed .  The cake is done when a toothpick inserted into the middle of the cake comes out clean or with small crumbs attached.
Allow the cake to cool at least 10 minutes in the pan before inverting on a wire rack to cool completely.  Serve warm or at room temperature.
---
To make sure that you don't miss any of our original content or favorite recipes, DIY projects, and homesteading advice from around the web, subscribe to The 1840 Farm Community Newsletter. Visit our subscription form to become the newest member of The 1840 Farm Community.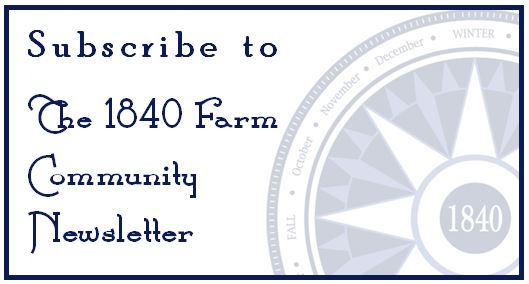 Our newsletter isn't the only way to follow what's happening here at 1840 Farm.
You're always welcome at 1840 Farm and at The 1840 Farm Mercantile Shop on Etsy.
You can also find 1840 Farm throughout the social media universe on
Facebook, Twitter, Pinterest, Flickr, and Bloglovin'.
We even created a new 1840 Farm Community Newsletter Pinterest board to catalog
our newsletter content so that you could easily pin your favorites to your own boards.
Come add your voice to our conversation!
We'll hope to see you there!
---
Comments
comments