It was many years ago that a peanut allergy came home to roost at 1840 Farm. Since then, we've become a nut free house. We've been creative and learned how to modify some of our family's favorite recipes to exclude nuts and still include great flavor. This take on our old recipe for peanut brittle does just that with amazing results.
By substituting Wheat Nuts for peanuts, we can safely enjoy the taste of peanut brittle while leaving the nuts behind. The taste is still that wonderful mixture of crunchy burnt sugar with a lovely nutty flavor and hint of salt.
This brittle recipe is foolproof and tastes delicious. Best of all, it allows us to enjoy the taste of great peanut brittle without the peanuts. If you don't live with nut allergies, you could easily use peanuts instead.
If you'd like to learn more about the ingredients and tools I use when making this recipe, you can find them right here: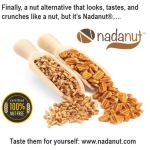 Peanut-less Brittle
Take care when making this or any other candy that involves boiled sugar. Use a large, microwave safe bowl that will allow the mixture to come to a full boil without boiling over. Do not touch the mixture as it will be incredibly hot and could easily burn your skin.
Ingredients
96

grams

(1/2 cup) granulated sugar

96

grams

(1/2 cup) brown sugar

4

ounces

light corn syrup

1

cup

Wheat Nuts

1

teaspoon

butter

1

teaspoon

vanilla extract

1

teaspoon

baking soda
Instructions
Line a baking tray with a Silpat liner or parchment paper. Set aside.

Combine both sugars with corn syrup in a large microwave safe bowl. Stir gently to combine and microwave on high for 4 minutes.

Carefully add the Wheat Nuts and stir to combine. Microwave on high for 3 1/2 minutes.

Add the butter and vanilla to the mixture. The sugar will bubble violently. Stir gently until the butter is completely melted and the mixture is smooth. Microwave on high for 1 1/2 minutes.

Add the baking soda to the hot sugar mixture. It will bubble and expand rapidly as the soda is incorporated. Cautiously stir the mixture until it bubbles and lightens in color. Do not overmix as this will lead to a very dense brittle if all of the air bubbles created by the baking soda are allowed to escape.

Immediately transfer the mixture onto the prepared baking tray and spread it slightly, taking care not to deflate the mixture completely. Allow the mixture to cool to room temperature before breaking it into small pieces. Brittle can be stored in an airtight container at room temperature for several days.
Recipe Notes
Our family lives and bakes around nut allergies, so our farmhouse kitchen is nut free. This recipe uses one of our nut free favorites: Nadanut Nut Free Snacks. You can learn all about them at www.nadanut.com.
Comments
comments