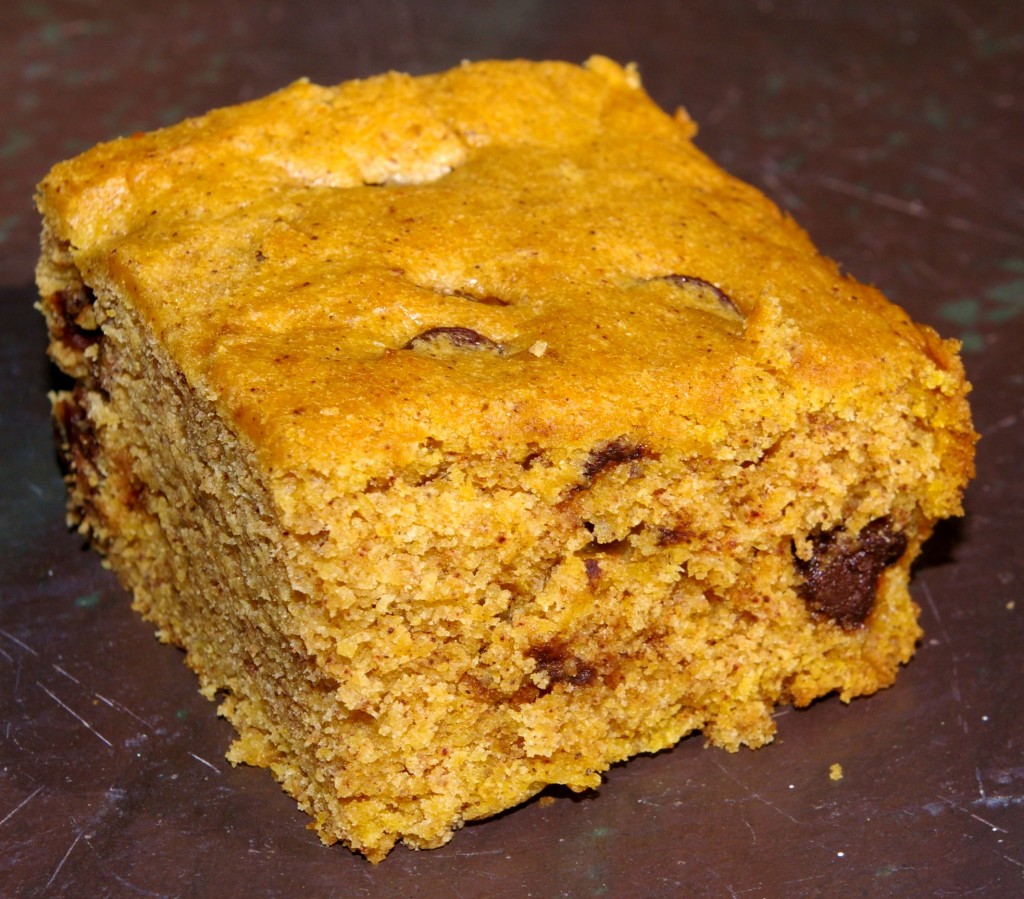 Every year, we celebrate the arrival of autumn by bringing our favorite fall foods back into the regular rotation on our kitchen menu board.  Mushrooms, sweet potatoes, and New England Cheese squash begin to dominate the dinner recipes.  Pumpkin takes center stage where desserts are concerned.
As a child, I didn't eat pumpkin very often.  I loved pumpkin pie and it was ever-present at fall family gatherings.  It was guaranteed to be part of any Thanksgiving celebration, especially if my paternal grandmother had anything to do about it.  Other than pumpkin pie, we didn't eat many pumpkin baked goods.  Instead, our desserts tended to lean towards the chocolate end of the dessert scale.
Then I met my husband, a man who loves all things pumpkin.  Since he also loves chocolate, this recipe was the perfect combination.  Once I started making these pumpkin bars with dark chocolate chips, we were both happy to see fall arrive at 1840 Farm.
Pumpkin Bars with Dark Chocolate Chips
serves 18
3/4 cup (6 ounces)  butter, melted
1 cup granulated sugar
1 teaspoon vanilla extract
1 cup pumpkin puree
1/4 cup (2 ounces) plain yogurt
1 large egg
2 cups (240 grams) All-purpose flour
1 teaspoon baking soda
1/2 teaspoon sea salt
1 1/2 teaspoons ground cinnamon
1 cup dark chocolate chips
Preheat oven to 350 degrees Fahrenheit. Position an oven racks in the middle of the oven. Line a 9×9 baking pan with parchment paper.  Set aside.
In a large bowl, combine the melted butter and sugar, stirring to combine.  Add vanilla extract, pumpkin puree, yogurt, and egg and stir until completely smooth.  Add the remaining ingredients and stir just until fully incorporated.  Resist the urge to over mix.
Transfer the batter to the prepared baking pan, spreading evenly.  Place the pan in the oven and bake for 35—40 minutes, rotating the pan after the first 20 minutes.  The bars are done when a toothpick inserted in the middle comes out clean with small crumbs attached.
Serve warm or at room temperature.
To view a printable copy of this recipe, click the link below to open the PDF file.
1840 Farm Pumpkin Bars with Dark Chocolate Chips
This recipe is part of the Farm Girl Blog Fest #5 on Fresh Eggs Daily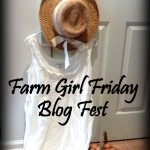 Pin It

Comments
comments