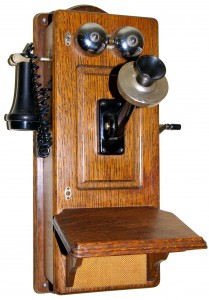 Visitors to 1840 Farm often comment on the family heirlooms we have on display throughout the farmhouse.  The collection ranges from an antique oak wall phone and century old canister set in the kitchen to the handmade quilts that decorate the bedrooms and keep us warm during the cold winter months.
The collection isn't limited to the farmhouse.  Our circa 1840 barn holds tools from grandfathers and great grandfathers alike as well as an antique garden spade that my grandmother used when planting her garden.  I have vivid memories of her well into her seventies with spade in hand, tending her tiny garden.  Now I find myself using it to do the same, producing food for my family's table.
I also spend my mornings much like my great grandfather did, milking in the quiet of the barn.  True, he milked cows and we have dairy goats, but the task and reward are the same.  Spending a few moments at the milk stand provides my family with fresh milk and all the delicious recipes that follow.
Some of these heirlooms were given to me from family members after decades of use.  Others were handmade and given as gifts.  It doesn't matter to me how they ended up here.  Somehow, they all seem to fit together.  They transform this house into our home and surround us with sweet memories of a time and place that might otherwise be forgotten.
My most treasured of these possessions have a few defining traits in common.  They have a meaningful purpose, they bear the imperfections that are the signature of a handmade item, and they have a history.  To me, their imperfections and past are what makes them so dear.
I've always had a love for the handmade.  Maybe it stems from the fact that I grew up with a mother who made me handmade items.  She would turn the smallest scrap of fabric into new clothes for a doll or part of a handmade costume.  While some people looked at these homemade items with disdain, I felt proud that she would make them for me.  Today, if she's seated at her sewing machine I can be sure that she is hard at work making something that will make my children feel just as important as I always did.
My paternal grandmother sewed as a means of survival.  She had nine children and was a farmer's wife.  Buying new clothes was not an option.  Instead, she used saved scraps of parchment to fashion her own patterns and make clothes for her family.  Later in life, she sewed for craft instead of utility.
She made each of her grandchildren a handmade quilt.  They were each made using scraps of fabric.  She hand stitched each square and embroidered each child's name on the top with the date.
The quilt she made for me was completed during the year of America's Bicentennial in 1976. The American celebration was certainly her inspiration for designing my quilt with a red, white, and blue theme.
Almost forty years later, I treasure that quilt because she made it with her own hands.  The stitches aren't perfectly even.  The squares aren't perfectly square.  Yet, to me, it is the imperfection, the proof of its handmade construction, and its history that make it irreplaceable.
My maternal grandmother was a seamstress by trade.  She worked in a dress factory adding beautifully fancy collars to dresses that her salary didn't afford her the ability to purchase.  Instead, she also found herself sewing at home in order to make clothes for my mother's wardrobe.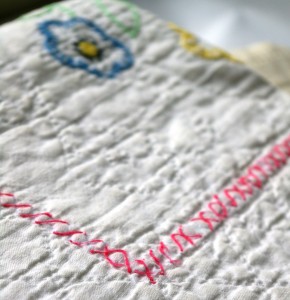 Later in life, she sewed as a hobby.  She made beautiful garments for me and doll clothes that showed the same precision and skill as a wedding dress.  Her stitches were even and the results were impeccable.  My daughter has enjoyed playing with her dolls and using the doll clothes that were made for me when I was her age.  I know that my Grandmother would have been proud to have her great granddaughter enjoying her handiwork three decades later.
I was incredibly lucky to be given another grandmother by marriage.  She embraced me as her own granddaughter and my life was made so much richer by having that experience.  On the occasion of the birth of my first child, she gave me the handmade quilt that had kept her babies warm decades earlier.
The nursery rhyme quilt shows the telltale signs of a blanket that was used instead of displayed, but is no less beautiful in my eyes.  Some of the stitching has worn from years of use, but that increases its value to me.  I can literally see the love in each worn, handmade stitch.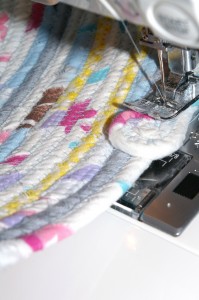 My great grandmother sewed in order to clothe her daughter and four sons.  She used a treadle machine and must have made countless repairs to the boy's clothing through the years.  She was a dairy farmer's wife and worked hard not to let anything go to waste.
In fact, she used bits of fabric to make coiled rugs for their farmhouse.  I can only imagine that she spent countless hours during the long New England winters wrapping the fabric and coiling it together before stitching it by hand.  It was a productive way to pass the time as my great grandfather read his farm journal and they listened to the radio.  Through hours of hard work, she turned hand me downs into something useful and necessary.  Those rugs kept the family's feet off of the cold wooden floor of the farmhouse and gave purpose to fabric that would have otherwise been discarded.
These days, I find myself sitting at my sewing machine, wrapping strips of repurposed fabric around cotton cording before coiling the wrapped cord into a handmade basket.  It's a tradition that connects me to my mother and grandmothers and all the generations of my family that came before me.  I can't help but think of them as I listen to the hum of the sewing machine and watch each basket take shape.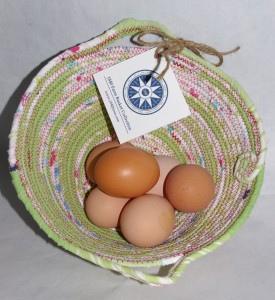 There is something about taking discarded fabric and breathing new life into it that feeds my soul.  As I tear the strips by hand and carefully wrap them around the cotton cording, I am carrying on the tradition of my great grandmother.  I am giving my past a purpose and creating something that can serve a meaningful purpose in someone else's life.
Some may think that a simple piece of fabric held together with a strand of thread can't possibly hold such immense power.  I disagree.  My bicentennial quilt is priceless to me in the same way that the tailored doll clothes are priceless to my daughter.  While they are merely fabric and thread, they are an intimate connection to a loved one that lives on in our hearts and is kept close at hand every time we feel the fabric between our fingers.
The generations of my family past and present hold together the fabric of my life.  They inspire and encourage me each day to continue living and writing at the intersection of family, food, and farming at 1840 Farm.  Together, we are stitching together the memories that make our handmade life.
Comments
comments