Yesterday was a special day at 1840 Farm.  Without getting into too much detail, I will tell you that we found ourselves in the midst of a birthday.  A birthday that involves a child and the celebration of a decade gone by.
I'm not sure where the time went.  I won't allow myself to wallow in sentimentality or triteness here.  I'm already doing that in my head.  In any case, it has happened.  The days led to weeks, then months, then years.  And here we stand, looking back on the last decade wondering how we got here.
Birthdays are all about throwing caution to the wind and celebrating the moment, even more so when a child is involved.  This one seemed like the perfect opportunity to head into the kitchen with my kids in tow to bake something.  The birthday girl likes vanilla bean cupcakes, so they came up the winner.
I stood in the kitchen and watched as my children cracked eggs, creamed butter and sugar, and reveled in the excitement that is a child's birthday.  I didn't see birthday excitement on the ingredient listing for the recipe, but I can assure you that a heaping cup full went into these cupcakes.  They laughed as they measured and mixed.  Yes, flour became airborne and dusted the counter.  No, I didn't care.  This wasn't an activity meant for neatness.   It's almost impossible to truly celebrate the moment while tidying up the kitchen counters as if Martha Stewart might be dropping by.
As the cupcakes baked in the oven, we moved on to frosting.  My daughter requested a cream cheese version.  My son insisted that it be pink in honor of his sister's favorite color.  A very big concession from a boy whose favorite colors are anything dark without so much as a hint of a "girly" color.
And so it was.  Pink cream cheese frosting along with a few other colors including dark chocolate brown.  As soon as they were finished being used, the beaters were licked until they were shiny and bare.  Cupcakes cooled on their racks while I cleaned up the last remnants of our baking celebration.  In short order, it was time to frost the cupcakes and taste them just to make sure that they were worthy of our big birthday celebration.
The cupcakes received the seal of approval from the birthday girl.  As my children ate their cupcakes, my daughter marveled at how pretty the frosting was.  My son predictably ate the top half of the cupcake with its frosting and then announced that he was too full to finish the plain cake.  Then he told me, as only a young boy could, that, "Cupcakes taste better when you make them with someone and for someone."
I couldn't agree more.  Today reinforced what I knew before the last decade had even begun.  The kitchen is simply a room in your house unless you fill it with the people who matter most to you.  Baking and cooking can be transformed from a daily chore into a true labor of love if done correctly.  And by correctly, I don't mean precise measurements and intricate preparations.  I mean music playing overhead mixing with laughter in the air while you and yours plan, discuss, prepare, and enjoy food together.  Over the years, I have found creative ways to substitute and modify countless recipes, but there is no substitute for the experience that is cooking and eating together.
It is a mystery what the next decade will bring for my family or yours.  What I do know is that time is always ticking and it won't be long until we will all be looking back on another ten years gone by.  I'll blink and another decade will need to be celebrated.
I don't know who originally stated that "time flies when you are having fun."  Whoever they were, they were right.  Maybe that's why these last ten years have passed by so quickly.  I am having fun.  I'm in the kitchen with my family.
I have to agree with the sage wisdom of a five-year old on this topic.  Food does taste better when you make it with someone and for someone.  Try it yourself.  Gather together in your kitchen with someone near and dear to you and make something.  Anything.  You won't be sorry.
Vanilla Bean Cupcakes
makes 24 cupcakes
These cupcakes are moist and dense, perfect for providing a place for your favorite frosting to land.  If you have buttermilk on hand, it can be substituted for the skim milk and apple cider vinegar mixture.  These cupcakes are not overly sweet.  That is my preference when I know that sweet frosting will accompany them.  If you prefer a sweet cupcake, the amount of sugar called for in the recipe can be doubled without adversely affecting the cake's texture.
12 ounces butter or margarine, room temperature
1 cup sugar
5 large eggs, room temperature
1 Tablespoon vanilla extract
2 cups King Arthur white wheat flour
1 cup All-purpose flour
1 teaspoon baking powder
1/2 teaspoon baking soda
1/2 teaspoon sea salt
7 1/2 ounces skim milk
1 Tablespoon apple cider vinegar
Preheat oven to 325 degrees Fahrenheit.  Line a muffin tin with paper liners or arrange silicone cupcake liners on baking sheets.  In medium bowl, combine dry ingredients: flours, baking powder, baking soda, and salt.  In small bowl, combine milk and apple cider vinegar.
In large bowl, cream sugar and butter using stand or handheld mixer on medium speed until light and fluffy, 3-5 minutes.  Reduce mixer speed to low and add eggs one at a time, beating after each addition until completely incorporated.  Add the vanilla extract and mix to combine.  Add the combined dry ingredients and milk mixture  alternately, beginning and ending with the dry.  Mix until just combined.
Fill each cupcake liner 2/3 full with batter.  Bake for 25 minutes or until the tops are lightly golden brown and a toothpick inserted into the center of the cupcakes comes out clean.  Allow to cool completely before embellishing with frosting.
Cream Cheese Frosting
makes 3 cups

This frosting is a delicious addition to cupcakes or cakes.  It is firm enough to hold its place on baked goods and lends a creamy texture to anything it is served with.  The cream cheese allows it to stay slightly softer than a traditional buttercream, making it less than ideal for detailed piping work.
8 ounces cream cheese, room temperature
6 ounces butter or margarine sticks, room temperature
4 ounces Spectrum organic non-hydrogenated shortening
1 Tablespoon vanilla extract
16 ounces powdered sugar
Combine cream cheese, butter or margarine, and shortening in a large bowl.  Using a mixer on medium speed, cream the ingredients together until smooth.  Add vanilla extract and mix to combine.  Reduce speed to low and gradually add the powdered sugar.  Mix until frosting is completely smooth.
Color frosting as desired and decorate cupcakes.  Unused frosting can be stored covered in the refrigerator for 7 days.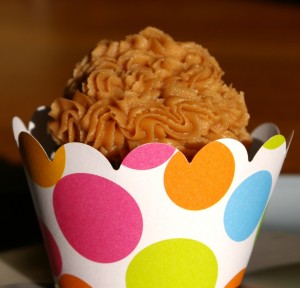 Download the free 1840 Farm Cupcake Wrapper Template to help dress up your beautiful cupcakes!
Comments
comments