Bah, humbug.  It just hasn't seemed like the holidays here at 1840 Farm this year.  First, there is not a single flake of snow on the ground.  Not one.  The practical side of me is not upset about our lack of winter precipitation.  I'm quite content to try to keep warm by the fire inside our perpetually cold farmhouse without having to shovel snow outside.  I'm happy that the children's new snow boots still have the tags firmly attached to them.  That being said,  I can usually count on a fresh blanket of white snow to set my holiday mood.  I mean, we live in New England don't we?
So, here I sat the week after Thanksgiving trying to convince myself to get into a more festive holiday mood while failing miserably to do so.  I felt like a humbug myself.  A holiday hoax, if you will.  My children were happily buzzing with the mere thought of the holidays and I just couldn't muster an ounce of spirit to join them.  Then the unthinkable happened.  We lost a close family member unexpectedly.  Their passing has left a sizable hole in our daily family life.  During a time of year that we're supposed to be jolly and bright, we are all falling well short.
Something had to be done. We listened to the holiday playlist on my iPod.  Nothing, nada.  Next?  We tried decorating the tree.  That didn't help either.  As I unwrapped ornaments and passed them to my children to hang on our tree, I found so many that had been given to us by grandmas and grandpas that would only be celebrating the holidays with us in spirit.  For me, it has been quite some time since the holidays ceased to be about the shiny packages under the tree.  They are now marked by the people I celebrate with and the shared traditions that we continue to practice year after year.  During this season, I am reminded of those people who helped make the holidays seem like, well, the holidays in my life.  It normally leaves me feeling both joy and sadness.  Joy for the good memories and sadness for my loss.  After hanging the last ornament on the tree my humbug mood didn't seem to be going anywhere anytime soon.
I can usually count on baking to improve my mood no matter the reason.  So I set about doing what a mother of two young children who are incredibly excited about the impending holiday had to do.  I made myself select an unmistakably holiday recipe and bake it.  But what to make?  A bouche de Noel was a bit more than I was bargaining for during the first week of December.  Gingerbread cookies require for me to already be deep in the holiday mood.  Gingerbread houses are my Mother's domain.  I find it nearly unbearable to spend hours working on something that while being totally edible, will never be eaten.
Luckily, I had just flipped through the December issue of Martha Stewart Living and remembered a beautiful photo of peppermint meringue cookies with chocolate ganache centers.  I hedged my bets.  Even if making them didn't improve my mood, I was fairly certain that they would be good for our afternoon snack.
As soon as I started, I ran into my first problem.  If you've read much of this blog, you already know that my son has food allergies.  Food allergies require me to be a very resourceful baker.  For years, I needed to use egg substitutes of every variety.  Thankfully, we can now use eggs in our baked goods.  However, I have not been able to find flavored extracts that are not made in facilities that also produce nut extracts.  So, I would need to invent my own method of infusing our meringue cookies with peppermint flavor.  Move over Martha, we don't use bottled extracts here at 1840 Farm.
My first thought was to attempt to make a highly reduced peppermint simple syrup.  I used 2 ounces of water and a crushed  Spangler candy cane in a small saucepan over medium-high heat.  I allowed the mixture to boil for about 12 minutes.  It smelled and looked exactly as I had hoped.  Unfortunately, as it cooled the power of candy's hard crack stage was too strong.  Instead of the thickened syrup that I was looking for, it turned into peppermint toffee.  Maybe Martha had tried this herself and thought the better of it.  Maybe I should know better than to question Martha.  Oh well, back to the drawing board.
The original recipe calls for a ganache filling to be piped onto the cooled meringue and then sprinkled with crushed candy canes.  That gave me my next idea.  I decided to try crushing another candy cane until it was a fine powder and then added it to my meringue batter after I had whipped it to stiff peaks.  After striping the inside of the pastry bags with red food paste, I filled each with meringue and proceeded to pipe them into the recommended shape.
Enter my next challenge.  I had two enthusiastic bakers helping me with the piping and they were a five-year old and a nine-year old.  This was not a time to stick to Martha's strict instructions about piping each meringue into a perfectly round circle exactly 1 3/4 inches wide.  Yes, I had done as she had suggested and marked perfectly round circles underneath our parchment paper, but we were soon ignoring them.  Our cookies were not being made to grace the pages of a magazine.  With any luck, they would be so delicious that they wouldn't last until tomorrow.
I took a deep breath and decided to let the meringues fall where they may.  We piped shapes that were a bit more oblong than circular, but they were red and white mounds nonetheless.  Due to our irregular shapes, our yield was not quite the 32 cookies that the original recipe calls for.  We were willing to accept this and move on to the eating.
We decided to taste them as soon as they had cooled.  No, we hadn't yet topped them with ganache, but when your holiday spirit is at stake, you eat the cookie with or without ganache.  I was willing to take one for the team.  I was so glad that I had.  The cookies were peppermint perfection.  It was as if a candy cane had been crossed with a toasted marshmallow.  They were moist and chewy in the center while delicately crisp on the outside.  Add this to the fact that they were perfectly infused with the essence of a candy cane, and they were pronounced a new holiday family favorite.
It only took one cookie for the entire family to make a decision.  There would be no ganache on our peppermint meringue cookies.  I should mention that we all love ganache.  We commonly have a jar of homemade ganache in the refrigerator for topping cookies, cakes, or vanilla ice cream.  In this case, topping the meringue with ganache seemed like gilding a perfectly beautiful lily.  We decided not to.
As we sat down to enjoy our snack, we all remarked at just how deliciously simple these cookies were.  They made a perfect accompaniment with Peet's Holiday Blend coffee and the kid's cups of hot chocolate.  When my son unhappily realized that he would not have enough of these cookies to last him a few days, he looked at me with a hot chocolate mustache and said, "As soon as these are gone, will you promise to make me more?"
And just like that, my holiday spirit was restored.  Leave it to a five-year old and his cookie to propel me into a better mood.  Unknowingly, I had baked a cookie that combined two of his favorite things:  bravery and Christmas.  Nothing fills my heart with more joy than that.
Did I lose you?  The bravery is simple.  Last year, the mere sight of an egg made him nervous as he was supposed to be avoiding them at all costs because of his egg allergy.  Now he was eating an egg white cookie and loving every bite.  And what says childhood and Christmas more simply than a candy cane?  Here he sat, eating at the intersection of food bravery and Christmas.  Suddenly the emptiness I was trying to reconcile this holiday season was a little smaller.
Our cookies were far from perfect.  Martha's are prettier and I'm sure that hers are perfectly round, perfectly sized, and perfectly perfect.  In the end, none of us minded the imperfections in our cookies.  I guess that a good homemade cookie is a lot like the people who are most important in your life.  You accept them as they are, and once they are gone, you miss them almost instantly.
Once our cookies were gone, I no longer felt like a humbug, but I was sure that this cookie would become part of our new holiday tradition.  Next year, I hope that I won't need a cookie to propel me into a holiday mood.  Instead, I'm hoping to skip to the happy family gathered around our farmhouse table and hear my family exclaim, "Ah, humbugs!"

Peppermint Humbugs
adapted from Martha Stewart Living December 2010
This recipe is the perfect opportunity to break out your oven thermometer.  If your oven is too cool, the meringue will not dry adequately.  If the oven is too warm, the beautiful white and red cookie will brown and affect both the taste and appearance of the cookies.
3 large egg whites, room temperature
3/4 cup sugar
1 large candy cane, crushed finely
1.  Preheat oven to 175 degrees.  Line 2 baking sheets with parchment paper.
2.  Combine egg whites and sugar in a heatproof mixing bowl over a pan of simmering water.  Stir constantly until the sugar has completely dissolved and the mixture is warm to the touch.  Remove from heat and whisk on medium-high speed with whisk attachment until stiff peaks form.  Use a spatula to gently fold the crushed candy cane into the mixture.
3. Fit pastry bag with a plain 1/4 inch round tip.   Using a small pastry brush, paint 3 or 4 stripes of red paste food coloring inside a pastry bag from tip to end.  Carefully add meringue to pastry bag.  Pipe meringue into circles on prepared baking sheets.
4.  Bake meringue until crisp, but not browned, about 90 minutes.  The cookies should lift easily from the parchment paper when completely baked.  Move to a wire rack to cool completely.
---
This post was featured in The 1840 Farm Community Newsletter. To make sure that you don't miss any of our original content or favorite recipes, DIY projects, and homesteading advice from around the web, subscribe to The 1840 Farm Community Newsletter. Visit our subscription form to become the newest member of The 1840 Farm Community.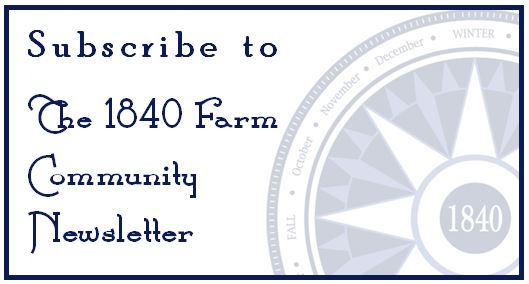 Our newsletter isn't the only way to follow what's happening here at 1840 Farm.
You're always welcome at 1840 Farm and at The 1840 Farm Mercantile Shop on Etsy.
You can also find 1840 Farm throughout the social media universe on
Facebook, Twitter, Pinterest, Instagram, Flickr, and Bloglovin'.
We even created a new 1840 Farm Community Newsletter Pinterest board to catalog
our newsletter content so that you could easily pin your favorites to your own boards.
Come add your voice to our conversation!
We'll hope to see you there!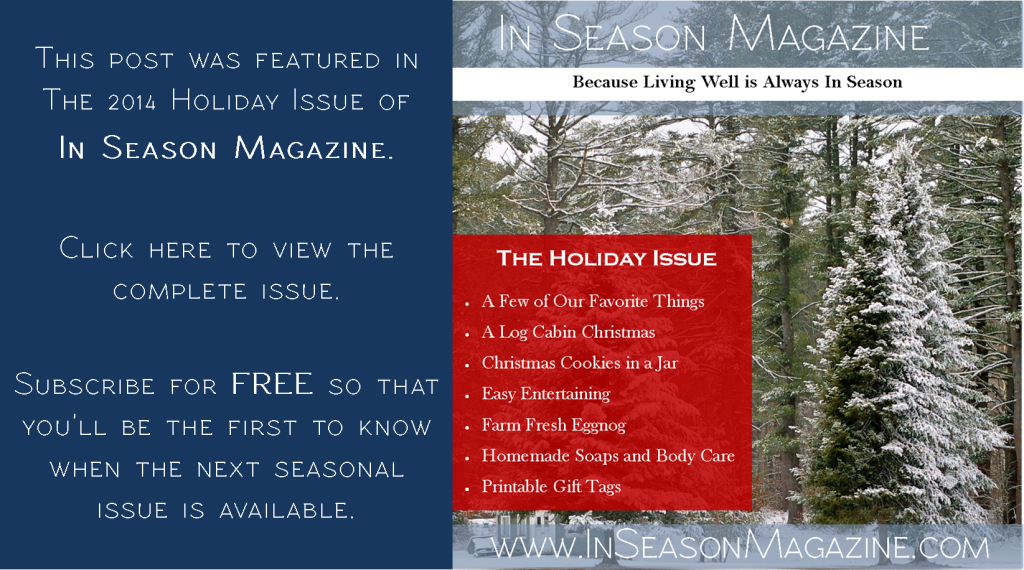 ---
Comments
comments