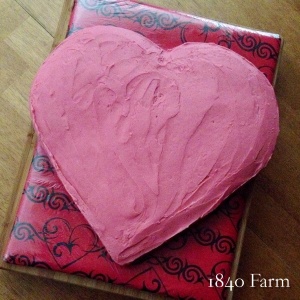 This time of year, everything seems to be heart-shaped.  From candies to baked goods and every sort of decorative item.  'Tis the season, I suppose.  Unfortunately, so many of these heart-shaped and Valentine's Day themed projects, crafts, and recipes involve detailed steps and specialty supplies that I don't have any use for until February 14th arrives again next year.
I prefer to celebrate Valentine's Day in a much simpler, rustic manner.  That rustic sensibility makes this method for creating a heart-shaped cake one of my favorite ways to make something delicious for my Valentines.  With standard baking pans and a knife, you'll have a beautifully shaped heart cake in moments.
The technique is amazingly simple and based much more on simple geometry than any special baking skills.  By dividing a round cake in half and joining it with a square-shaped cake turned on the diagonal, a heart is created.  It's simple and extraordinary all in the same motion.  You'll feel like a baking genius when the finished cake is presented in its perfect heart shape without anyone but you knowing the secret of its construction.
I like to use my cake recipe from our Chocolate Malt Cupcakes as the base for this cake.  It has a moist, dense crumb and a delicious flavor.  The malt flavor is subtle and pairs wonderfully with the chocolate.  It will be delicious frosted with our malted buttercream frosting, strawberry buttercream, or your favorite traditional buttercream.  I hope that you'll enjoy it as much as we do year after year!
1. Using your favorite cake recipe, bake one square cake and one round cake. They should be similar in size, but can be trimmed before frosting if necessary.
2. Once the cakes are completely cool, use a sharp knife to divide the round cake in half. I like to use a serrated knife to make a clean cut without creating too many crumbs.
3. Turn the square cake on the diagonal to represent a diamond. Place one half of the round cake on each of the top two sides of the diamond. Trim the cake if necessary to create the heart shape.

Frost and decorate the heart-shaped cake as you wish and marvel at your creation!