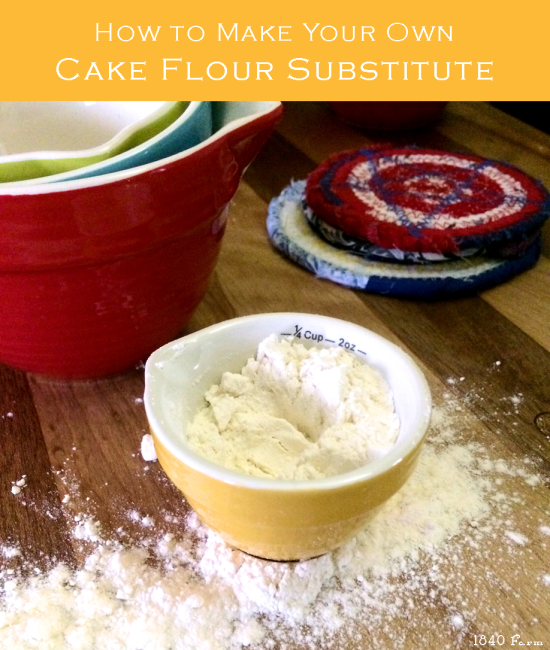 There I was, reading a recipe for what sounded like a delicious cake. I was inspired to head into the farmhouse kitchen to make one for my family. I scanned through the list of ingredients, mentally placing a check mark on each line, happy to see that I had each ingredient on hand. Then I came to cake flour and everything came to a screeching halt.
Cake flour is all but impossible for me to purchase at the grocery store. Each box seems to carry an allergy warning that prevents me from being able to invite the ingredient into our kitchen. We are completely peanut and tree nut free, so buying a box of cake flour that might contain both simply wasn't an option.
I knew that cake flour was designed specifically for cake baking. In fact, each type of flour is designed to deliver differing levels of protein, gluten, and density to recipes. Bread flour often promises a protein content in excess of 12%. All-purpose flour typically has a protein content in the range of 11% while cake flour comes in at between 6-8%, A lower protein content helps to create a cake that is tender, airy, and light.
After a bit of reading, I found that I could indeed make my own cake flour substitute using two ingredients that I always have on hand in the pantry: All-purpose flour and cornstarch. By combining the two, I can create a flour that has a reduced protein content with less gluten, a silky texture, and the density that cake flour is known for. I could also sidestep peanuts and tree nuts, keeping our kitchen safe for the whole family.
This substitution is simple and I have used it with great success to bake light and delicious cakes. I hope that you'll find that it works just as well for you in your favorite recipes calling for cake flour.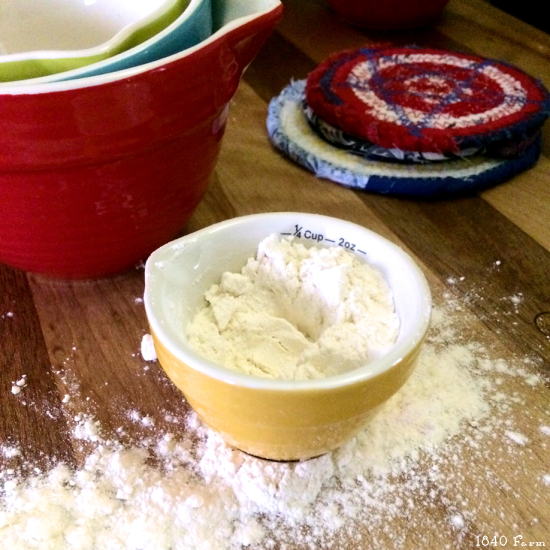 Homemade Cake Flour Substitute
2016-06-07 09:23:39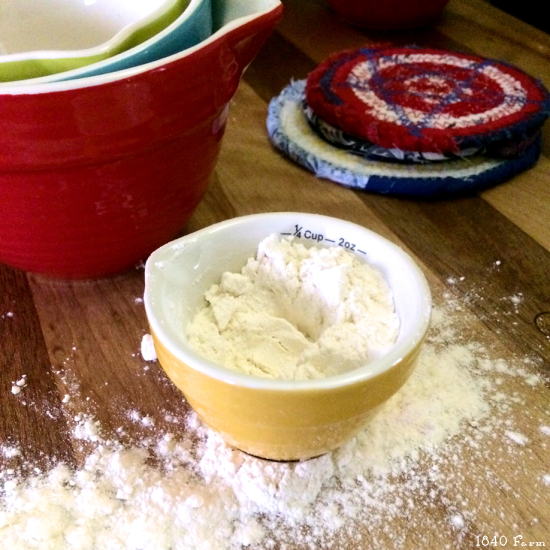 Our food allergies prevent me from purchasing cake flour at the grocery store, but they don't keep me from making recipes that call for cake flour. This homemade cake flour substitute works well, I can control the allergens, and I can use ingredients that I already have on hand. Now you can too!
Ingredients
1 cup All-purpose flour
2 Tablespoons cornstarch
Instructions
For each cup of cake flour called for in a recipe, you can easily create your own substitute. This substitute can be used in any recipe that calls for cake flour. There's no need to adjust the amount of flour used.
Measure 1 cup of All-purpose flour into a small bowl. Remove 2 Tablespoons of the flour. Add 2 Tablespoons of cornstarch to the bowl and whisk lightly to combine.
1840 Farm http://1840farm.com/
Comments
comments