I love a perfectly poached egg. The texture is unlike any other egg preparation, firm enough to hold together yet delicate and smooth as velvet. The perfectly poached yolk is thick and fluid, imparting an earthy richness to anything it is served with.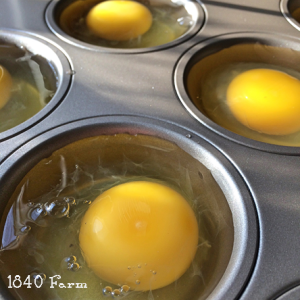 I first came to know poached eggs watching Julia Child on PBS as a teenager. She waxed poetic about the luscious taste of a poached egg. I remember her talking specifically about fresh eggs versus store bought eggs. She belabored the point that eggs from the grocery store were in her words "unpoachable" due to their age. She then went on to demonstrate several methods for poaching an egg, turning out lovely oval shaped specimens that were cooked to perfection.
At that point in my life, I didn't have access to eggs fresh from the coop, so I was determined to make do with the eggs we had in the refrigerator. I tried and tried, learning firsthand that Julia (of course) was right. Those store bought eggs simply didn't have the ability to stay tightly together when plunged into the hot water. The results were a shaggy and disappointing mess.
Years later, but long before I became a chicken keeper, we purchased fresh eggs at our local farmer's market. I did poach those eggs using Julia's instructions to guide me. They were delicious. Unfortunately, the process was time consuming and my kitchen looked like a war zone once we were finished. There was the poaching pot, the double boiler used to make the Hollandaise, and all the implements used to make one meal for two people.
I was thrilled with the results, but left wishing that there was an easier way to poach eggs. I tried several methods with differing results, but was left with the conclusion that I was happy enough with a perfectly fried egg to just serve those when I wanted that lovely runny egg yolk and softly cooked white.
Now that we are chicken keepers, I find myself always on the lookout for a new way to prepare the eggs we collect fresh from the coop. The time had come for me to revisit the poached egg and find a simple, foolproof method for creating them for the whole family.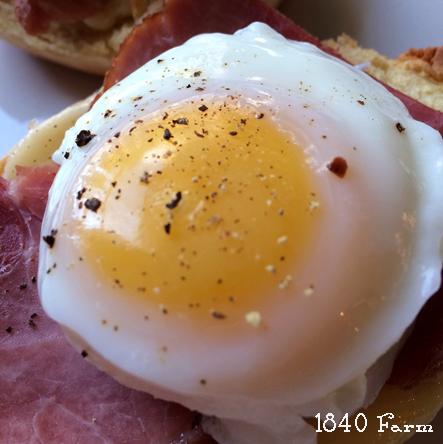 I had read about oven poaching eggs but was skeptical about the process. It seemed too easy, too simple. Yet, I couldn't wait to give it a try. I loved the thought of being able to poach dozens of eggs at once. If I could perfect the timing, poached eggs would be making a regular appearance at our farmhouse table.
It took a few attempts for me to pin down the timing of oven poached eggs. Once I did, I couldn't believe how simple they were to make. Not only were the eggs beautiful and delicious, but the process was so easy and forgiving. When served on a homemade English muffin, the resulting feast was fit for a king.
It's egg season here right now. Our heritage breed hens are producing an abundance of delicious fresh eggs. With a steady supply of fresh eggs and the garden harvest so far away, these poached eggs are a simple and comforting homegrown meal that my family requests time and time again. They're a regular feature on our breakfast, lunch, and dinner plates and always a welcome sight.
This method certainly isn't Julia's way of poaching eggs, but I don't think that she'd mind me finding an easy way to serve perfectly poached eggs to my family. In fact, I think that she'd approve wholeheartedly.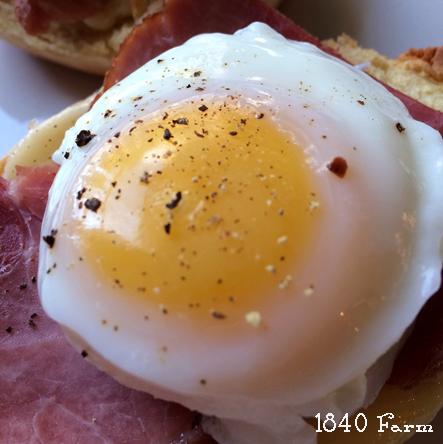 Oven Poached Eggs with Hollandaise Style Sauce
2016-04-23 08:33:43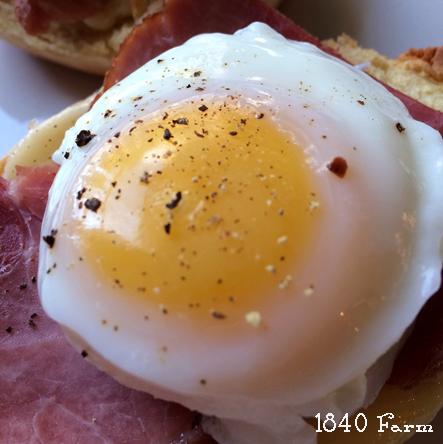 I find that room temperature eggs work best in this preparation. I reach for the eggs in our egg basket on the kitchen counter when making them. Choosing eggs that are similar in size will result in evenly cooked eggs and make the process of timing much easier. I choose eggs that would be considered large in size (approximately 60 grams in weight). Eggs of smaller or larger sizes can certainly be poached by adjusting the baking time slightly.
For the Poached Eggs
Large Eggs, room temperature
Standard Sized Muffin Pan
water
For the Hollandaise Style Sauce (Makes enough for four eggs)
2 Tablespoons mayonnaise
1 teaspoon lemon juice
hot sauce to taste
1 Tablespoon warm water
salt and pepper or chives to garnish
Instructions
Preheat the oven to 350 degrees Fahrenheit. Position an oven rack in the middle of the oven. Gather a standard sized muffin pan and the number of eggs you would like to poach.
Add one Tablespoon of water to each compartment of the muffin tin that will be used for poaching. Crack a large egg into each of the water filled compartments. Transfer the pan to the preheated oven.
Bake the eggs for 14 – 16 minutes, rotating the pan halfway through that time. The whites should be softly set and the surface of the egg should remain glossy. Remove the pan from the oven.
Using a slotted spoon, remove each poached egg from the pan. Serve with a sprinkling of salt and pepper, chives, or your favorite egg topping. I like to serve them with an easy hollandaise style sauce made by stirring together mayonnaise, lemon juice, and a few dashes of hot sauce. I add the warm water to loosen the sauce and spoon it over the poached eggs before garnishing with a bit of salt and pepper or chopped chives.
1840 Farm http://1840farm.com/
Comments
comments