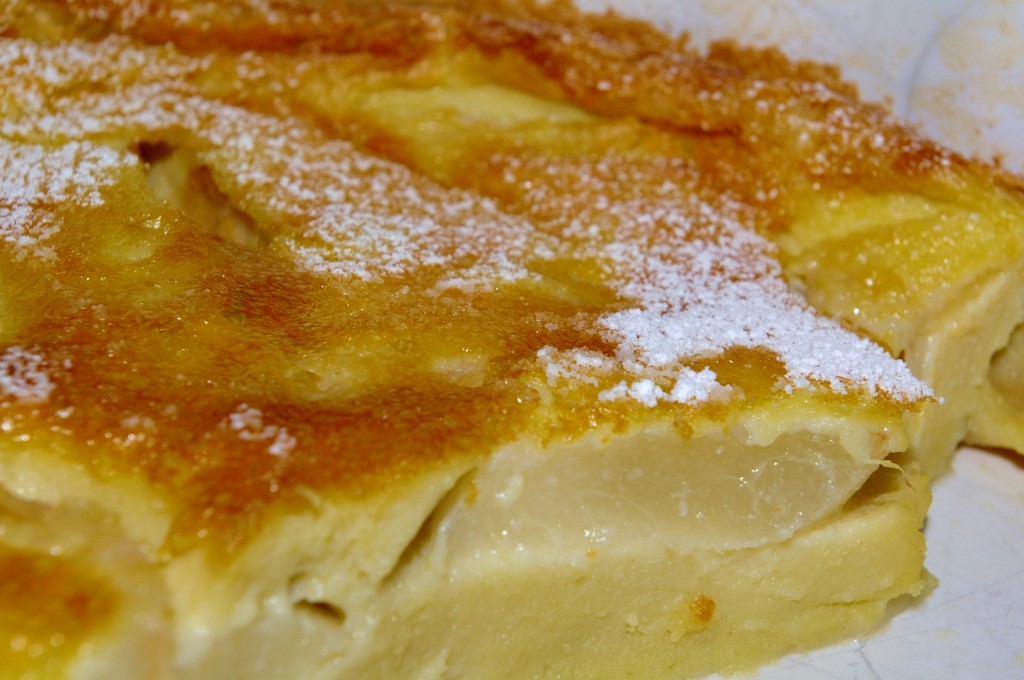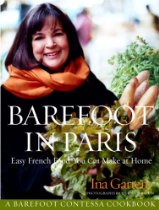 I adapted this recipe from one of my favorite cookbooks:  Barefoot in Paris by Ina Garten.  I have only made a few minor adjustments to the ingredients and it comes out perfectly every time.  Ripe, aromatic pears surrounded by eggy custard is always a welcome sight at our family table.
We enjoyed this delicious dessert last night and the leftovers will be fantastic when warmed slightly and topped with a small scoop of vanilla bean ice cream tonight.  Then we'll be on to our Kentucky Derby Day Celebration and Bourbon Peach Pie with Streusel Topping.
Pear Clafouti
adapted from Barefoot in Paris by Ina Garten
serves 6 – 8
1 teaspoon butter, melted
1 Tablespoon granulated sugar
3 large eggs
3 Tablespoons granulated sugar
1 Tablespoon vanilla extract
1/4 teaspoon sea salt
2 Tablespoons brandy
8 ounces heavy cream
4 ounces half and half or whole milk
1/2 cup All-purpose flour
3 firm, ripe pears
powdered sugar
Preheat the oven to 375 degrees Fahrenheit.  Prepare an oven proof baking dish by coating the bottom with the melted butter.  Sprinkle 1 Tablespoon of granulated sugar over the melted butter.  Set aside.
In a large bowl, whisk the eggs and granulated sugar until light and fluffy, approximately 3-4 minutes.  Add the vanilla, sea salt, brandy, heavy cream, and half and half and whisk to blend.  Add the flour and mix until smooth.
Peel and core the ripe pears.  Slice the pears and arrange the slices in a single layer in the bottom of the prepared casserole dish.  Pour the batter over the sliced pears, distributing evenly.
Bake the clafouti in the preheated oven for 35 to 40 minutes, until the custard is firm and golden brown.  Remove from the oven and allow to cool slightly before topping with sifted powdered sugar.  Serve warm.
Comments
comments