I have been making Caramelized Onion and Red Wine Jam for several years.  It makes a lovely accompaniment to a cheese course or topping for a gourmet grilled cheese sandwich.  It is also perfect for gift giving and one of my most requested recipes.
Once you have made the jam, you'll start finding uses for it everywhere you look.  This is one of our favorite ways to enjoy the jam, paired with our favorite blue cheese and grilled to perfection.
Red, Wine, and Blue All Over Grilled Cheese Sandwich
makes two sandwiches
This sandwich is the perfect excuse to splurge on the highest quality blue cheese you can find.  I can't help but hope that your local cheese shop offers Bayley Hazen Blue.  If not, feel free to substitute your favorite creamy blue cheese.
1 teaspoon butter
4 slices of your favorite sandwich bread
2 ounces Bayley Hazen Blue cheese
2 Tablespoons caramelized onion and red wine jam
Crumble half of the blue cheese and divide evenly among two slices of bread.  Top the cheese covered slices with equal amounts of the caramelized onion and red wine jam.  Crumble the remaining blue cheese and place on top of the onion jam.  Top each sandwich with one of the remaining slices of bread.
Warm a grill pan over medium high heat.  Once the pan is hot, add the butter and melt completely.  Add the prepared sandwich to the hot pan and reduce the heat to medium.  Grill for two minutes before turning one-quarter turn to create perpendicular grill marks.  After another two minutes, flip the sandwich and repeat the process on the other side.
Carefully lift a corner of the sandwich to confirm that the cheese has melted and the onion mixture is warm.  Allow extra time if necessary to melt the cheese and warm the onion jam.
Once the cheese and onions are ready, remove the sandwich from the pan and allow to cool for one minute.  Slice the grilled sandwich in half and serve warm.  Enjoy!
---
To make sure that you don't miss any of our original content or favorite recipes, DIY projects, and homesteading advice from around the web, subscribe to The 1840 Farm Community Newsletter. Visit our subscription form to become the newest member of The 1840 Farm Community.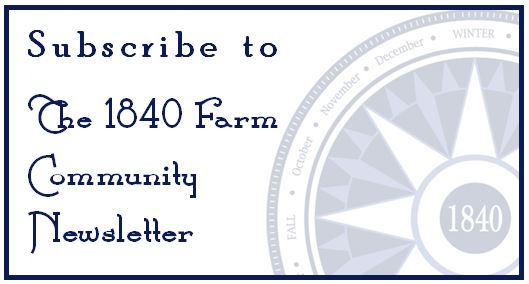 Our newsletter isn't the only way to follow what's happening here at 1840 Farm.
You're always welcome at 1840 Farm and at The 1840 Farm Mercantile Shop on Etsy.
You can also find 1840 Farm throughout the social media universe on
Facebook, Twitter, Pinterest, Flickr, and Bloglovin'.
We even created a new 1840 Farm Community Newsletter Pinterest board to catalog
our newsletter content so that you could easily pin your favorites to your own boards.
Come add your voice to our conversation!
We'll hope to see you there!
---
Comments
comments