I think that by now it may be painfully obvious that I love to cook and bake. What may not be so obvious is my extreme tendency to try and make something less than ordinary into something extraordinary. My complete inability to leave well enough alone. It's true. Sometimes I just can't bear to leave a recipe the way it was written.
I've never mentioned my inclination to alter any and every thing that finds itself in less than perpetual motion on our farm. I also have grown to enjoy the challenge of finding a use for what we have on hand. I find myself wondering if there is something I could do with the chaff left over from roasting coffee beans before I come to the conclusion that sending them to the compost pile is good enough.
Every week, I happily haul twice as much recycling to the curb as I do garbage. We recycle all that our town will accept, we compost, and we feed healthy food scraps to our chickens and goats. In fact, we're left with only coffee grounds and eggshells in the compost bin now that we can feed orange peels and banana peels to our dairy goats as a morning treat.
I've turned old closet doors inside the farmhouse into re-purposed desks. I've taken a reciprocating saw to a kitchen cabinet in order to reassemble it and relocate it within our farmhouse kitchen. I might as well admit that this habit also spills over into my cooking and baking.
One day as I was making a batch of our whole wheat bread for the following morning's breakfast, I decided to tinker. I find it difficult not to. I adjust seasonings, I change ingredients in the hope that I might improve on an already great recipe. Sometimes I succeed. Sometimes my family looks at me inquisitively and then poses the inevitable question. "Why didn't you just make it the same way you did last time?"
As I was mixing up the batch of bread dough, I wondered if substituting brewed coffee for a portion of the water the recipe called for would give this bread a little more depth of flavor. I happened to have a little brewed coffee languishing in the morning's pot, so I had nothing to lose by giving it a try. My latest recipe experiment was underway.
My family never questions why I chose to play mad scientist with this recipe. They're too busy enjoying it. While the original wheat bread was good, this new version is great. It is a family favorite toasted with butter and fresh strawberry jam. My success with this recipe doesn't do much to stifle my desire to tweak recipes. In fact, it makes me wonder. What recipe could I experiment with today?
Mocha Bread
makes enough dough for two generous loaves
I adapted this recipe from the Whole Wheat Sandwich Bread loaf in Artisan Bread in Five Minutes a Day by Jeff Hertzberg and Zoe Francois. If you haven't tried making bread using their method, do yourself a favor and give it a try. You'll be glad that you did and your family will soon be enjoying fresh bread every day!
16 ounces (2 cups) brewed coffee, room temperature
10 ounces warm water
2 Tablespoons (18 grams) granulated yeast
1 Tablespoon sea salt
5 Tablespoons unsweetened cocoa powder
2 teaspoons instant espresso powder
2 Tablespoons apple cider vinegar
2 Tablespoons honey
6 1/2 cups (780 grams) All-purpose flour
Place all ingredients in a container with a lid (not airtight) that will hold at least 5 quarts. Mix using a wooden spoon or spatula until well incorporated. Cover and set aside to rise for 2 to 3 hours. The dough will rise and then collapse to create a flattened top.
At this point, the dough may be used immediately or refrigerated until ready to use. Unrefrigerated dough will rise quickly but can prove to be very sticky and difficult to work with. Refrigerated dough is much easier to handle but requires additional rising time in order to come up to room temperature.
When you are ready to form a loaf, prepare a loaf pan by lightly greasing with your preferred method. I like to use a silicone pan placed inside a standard loaf pan. The silicone prevents the loaf from sticking and yields a loaf that has a softer crust. The standard metal loaf pan makes the silicone liner sturdy enough to move easily without causing the dough to fall.
Remove half of the dough from the container with damp hands. Shape the dough into a ball by stretching and turning the dough while pulling the edges to the bottom of the ball. Elongate the round dough into a loaf shape and place it in the prepared loaf pan.
Dip a serrated knife in water and use it to score the top of the loaf several times to allow for more even rising. Allow the loaf to rise until it reaches the top of the pan. Unrefrigerated dough can achieve this in about an hour's time. Refrigerated dough may require a rise of several hours depending on the temperature of your kitchen.
When the dough has risen sufficiently, place it on a rack in the middle of your oven. If you have a baking stone or pizza stone, this is a great time to put it to good use. Using a stone will ensure even heat and yield a more consistent loaf.
Set the oven to 350 degrees Fahrenheit and bake the loaf for 40 minutes. Remove the loaf from the pan and return it to the oven for 5-10 minutes. You can test the loaf for doneness by tapping it on the bottom. If it makes a hollow sound, the loaf is fully baked.
Remove the baked loaf from the oven and place it on a clean kitchen towel. Wrap the loaf in the towel and allow it to cool completely. Cooling the loaf in this manner allows the escaping steam to produce a softer crust. If you prefer a firmer crust, simply allow the loaf to cool unwrapped on a wire rack.
Once the loaf is cool, store it in a paper bag at room temperature for up to four days. The remaining dough can be kept in the refrigerator for up to one week. In our house, it never lasts that long!
---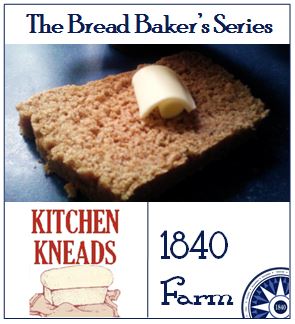 This recipe is part of The Bread Baker's Series, a collaborative series of posts from Kitchen Kneads and 1840Farm. It's easy to make sure that you don't miss a single post in The Bread Baker's Series. Subscribe to The 1840 Farm Community Newsletter or join The 1840 Farm Community on Facebook, Twitter, or Pinterest. Be sure to subscribe to Kitchen Kneads Email updates and follow them on Facebook and Pinterest.
By following Kitchen Kneads and 1840 Farm, you'll be the first to see each post in our collaborative Bread Baker's Series. If you have a great bread baking tip or recipe to share, we invite you to leave a comment and add your voice to the conversation!
Comments
comments