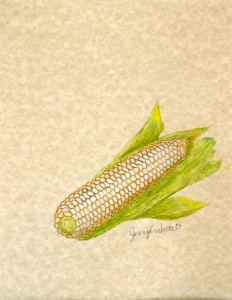 Biting into a perfectly ripe ear of sweet corn is a summer rite of passage.  There's just something about the sweet, juicy flavor of sweet corn that instantly transports me back to my childhood.  When I watch my children enjoying an ear of corn grown in our garden, I know that they are building a memory that will stay with them for years to come.
Stowell's Evergreen is an heirloom variety that dates back to the mid 1800s.  Nathaniel Stowell lovingly crafted this sweet corn by crossing Menomony Soft Corn and Northern Sugar Corn.  The resulting corn combined the best traits from both.
In 1855, Nathaniel agreed to sell two ears of seed corn to a friend with the understanding that they would only be used in his family garden.  They settled on a price of $4.00.  Unfortunately for Mr. Stowell, his friend promptly sold those two ears to an established seed company for an incredible $20,000!  In 1856, Thoburn and Company Seed offered Stowell's seed for sale to their customers.
More than 150 years have passed since Nathaniel watched as his beloved sweet corn's future slipped between his fingers.  Somehow, I feel like I'm helping to right a wrong when I plant these heirloom seeds in our family garden.  I can only imagine that Mr. Stowell hoped that generations of family farmers and gardeners would lovingly grow his corn for their family.  I hope that you will join me in growing Stowell's Evergreen Heirloom Sweet Corn for your family' table.
Stowell's Evergreen Heirloom Sweet Corn is a member of The 1840 Farm Heirloom Seed Collection as part of our Three Sisters Garden Collection.  All of the varieties in our collection are accompanied by plant profiles and planting instructions so that you can enjoy growing these varieties in your garden as much as we do here at 1840 Farm.

The original illustrations for our collection were created by Jennifer Sartell of Iron Oak Farm.  They are available for purchase in the Iron Oak Farm Shop on Etsy.  The heirloom, non-GMO seeds in our collection are from family owned seed purveyor Baker Creek Heirloom Seed Company.
We hope that you will enjoy growing these heirlooms for your family's table as much as we do.  We invite you to share updates and photos from your garden, your animals, and your harvest with other members of The 1840 Farm Community on Facebook and Flickr.