Every year, cookies grace our family table on Christmas Eve.  The tradition started out simply enough.  My children would ask to help me make the cookies that would be left for Santa when they went to bed that evening.  Now that they are older and a little wiser, the fun of making the cookies has become an integral part of the holiday festivities.
We spend time in our farmhouse kitchen making my Grandmother's Chocolate Crinkles, our Candy Cane Meringues, and the other delicious favorites that have come to be tied to our holiday celebration.  With each bite, we're reminded of the memory of holidays past.  With each moment spent together in the kitchen, we're making new memories that I hope will last a lifetime.
In case you are looking for a few good cookie recipes to add to your holiday baking collection, you'll find links to the recipes for our favorites below.  It warms my heart to think that you might use one of our favorite recipes to make a memory with your friends and family this year.  Enjoy!
---
---
This post was featured in The 1840 Farm Community Newsletter. To make sure that you don't miss any of our original content or favorite recipes, DIY projects, and homesteading advice from around the web, subscribe to The 1840 Farm Community Newsletter. Visit our subscription form to become the newest member of The 1840 Farm Community.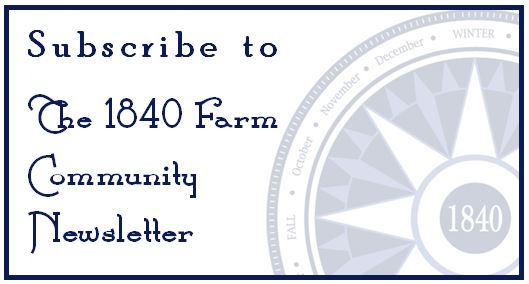 Our newsletter isn't the only way to follow what's happening here at 1840 Farm.
You're always welcome at 1840 Farm and at The 1840 Farm Mercantile Shop on Etsy.
You can also find 1840 Farm throughout the social media universe on
Facebook, Twitter, Pinterest, Instagram, Flickr, and Bloglovin'.
We even created a new 1840 Farm Community Newsletter Pinterest board to catalog
our newsletter content so that you could easily pin your favorites to your own boards.
Come add your voice to our conversation!
We'll hope to see you there!
---
This post was shared on the: