As a child, every Thanksgiving and Christmas was celebrated with my paternal grandmother's homemade pies. She always had a collection of them fresh out of the oven, ready to mark the end of another family meal. I could always count on finding some sort of seasonal pie along with pecan and her famous schwatzenberry.
Those warm memories have stayed with me over the years. They've also ensured that we mark Thanksgiving and Christmas celebrations with homemade pies at our farmhouse table.   Because of the food allergies we cook and bake around, we haven't always been able to enjoy the flavor of a pecan pie at our family table. I missed the earthy, nutty flavor of pecan pie, but there was simply no safe way to enjoy the flavor without worry of cross contamination and allergic reactions.
It was almost five years ago that I first discovered that I could create completely nut free baked goods in our farmhouse kitchen that had the delicious nutty flavor we were missing due to nut allergies.  Wheat Nuts® became a pantry staple, allowing me to bring back a few flavors from my past without introducing nuts into our home.
Sadly, Wheat Nuts® products disappeared from the market in 2013, leaving us without the ingredient and snack we loved so much. Earlier this year, I received the wonderful news that these nut free and tasty snacks were being produced and were available to purchase. It was a moment worth celebrating in our nut free kitchen. When we discovered that there was an entirely new collection of nut free snacks and ingredients being offered, I couldn't wait to place my order and start creating new recipes to enjoy during the holiday season and beyond.
You can order the following varieties which are all manufactured in a 100% nut free facility: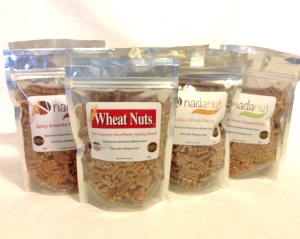 Wheat Nuts®
Nadanut® Salted Pecans
Nadanut® Unsalted Pecans
Nadanut® Salted Cashews
Nadanut® small chopped pecan pieces
Nadanut® medium chopped pecan pieces
Nadanut® small chopped walnut pieces
Nadanut® small chopped pistachio pieces
For the first time in far too many years, I will be serving this nut free pecan pie at our Thanksgiving table.  I hope that you will join us in serving this delicious pie to your friends and family and that they will enjoy it as much as we do.
Chocolate Bourbon Pecan Pie
In our nut free home, we use Nadanut® snacks to add the flavor of pecans without any worry of allergens paying a visit to our family table. If you aren't baking with nut allergies in mind, you can easily substitute 2 cups of pecans in this recipe with delicious results. If you find yourself struggling when making homemade pie crust, read my simple pie crust tips and make flaky, delicious pie crust like a pro.
1 ½ cups (180 grams) All-purpose flour
¼ teaspoon salt
4 ounces (1 stick) butter, grated
4-6 Tablespoons ice water
2 Tablespoons butter
¾ cup bittersweet chocolate chips or chunks
2 Tablespoons heavy cream
2 large eggs
1 cup (120 grams) dark brown sugar
¼ cup maple syrup
2 Tablespoons bourbon
1 Tablespoon vanilla extract
¼ teaspoon salt
1 cup Nadanut® small chopped pecan pieces
½ cup Nadanut® Unsalted Pecans
½ cup Nadanut® medium chopped pecan pieces
To make the crust, place flour and salt in the bowl of a food processor.  Pulse the dry ingredients to combine.  Add the grated butter and pulse until the butter has begun to incorporate into the flour and resembles small grains of rice.
With the motor running, add ice water one Tablespoon at a time until the dough forms a ball.  Take care not to over process the dough.  Over processing will help to develop the gluten in the flour and lead to a crust that is chewy and tough.  Less is more when it comes to working pie crust and will result in a flaky, light crust.
Transfer the pie crust dough to a pie plate.  Using your fingers, press the dough into shape gently until it is a uniform thickness and completely covers the bottom and sides of the pie plate. Work around the plate, rolling any excess crust underneath to form a thick ridge along the edge of the pie.  Using your fingers, flute the edge of the crust or use a fork to crimp along the edge.  Continue until the entire perimeter has been sealed. Transfer the pie plate to the refrigerator to chill while the oven warms and the filling is prepared.
Preheat the oven to 325 degrees Fahrenheit.  Line a baking sheet with aluminum foil to catch any pie filling that may bubble over during baking.  Set aside.
In a small pan set over low heat, warm the butter and chocolate until melted and smooth, stirring often to prevent scorching. Remove the pan from the heat and add the heavy cream, stirring until completely smooth.
In a large mixing bowl, combine the eggs, sugar, and maple syrup. Whisk until smooth. Add the bourbon, vanilla, and salt. Stir to combine before adding the Nadanut® pieces (or pecans). Add the melted chocolate mixture to the bowl and stir until the filling is well combined.
Remove the pie plate from the refrigerator. Transfer the filling to the pie plate, spreading evenly. Place the pie on top of the prepared baking sheet and transfer it to the preheated oven.  Bake for 55 minutes or until the top of the filling has developed a crisp golden brown shell and the pie crust is evenly brown.  Rotating the pie midway through the baking time will help to ensure that your pie is evenly baked.
Remove the pie from the oven and place on a wire rack to cool.  Serve warm or at room temperature.  Top with vanilla ice cream or freshly whipped cream if desired.
---
This post is included in our 1840 Farmhouse Thanksgiving Gallery.
You'll find our favorite Thanksgiving recipes and crafts all gathered in one place so that you can easily include them in your family's celebration.  I'll be adding new recipes and DIY projects right up until the big day, so check back to see even more delicious and fabulous Thanksgiving posts.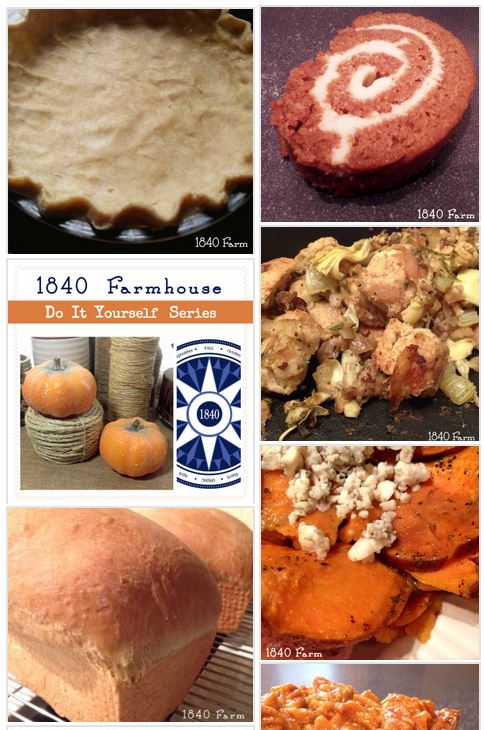 ---
To make sure that you don't miss any of our original content or favorite recipes, DIY projects, and homesteading advice from around the web, subscribe to The 1840 Farm Community Newsletter. Visit our subscription form to become the newest member of The 1840 Farm Community.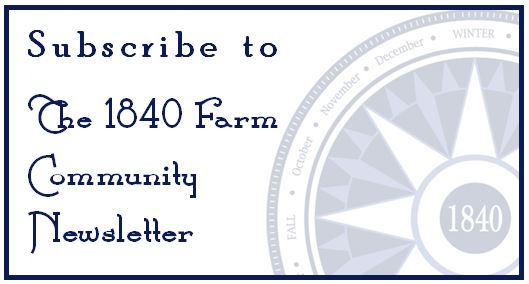 Our newsletter isn't the only way to follow what's happening here at 1840 Farm.
You're always welcome at 1840 Farm and at The 1840 Farm Mercantile Shop on Etsy.
You can also find 1840 Farm throughout the social media universe on
Facebook, Twitter, Pinterest, Flickr, and Bloglovin'.
We even created a new 1840 Farm Community Newsletter Pinterest board to catalog
our newsletter content so that you could easily pin your favorites to your own boards.
Come add your voice to our conversation!
We'll hope to see you there!
---