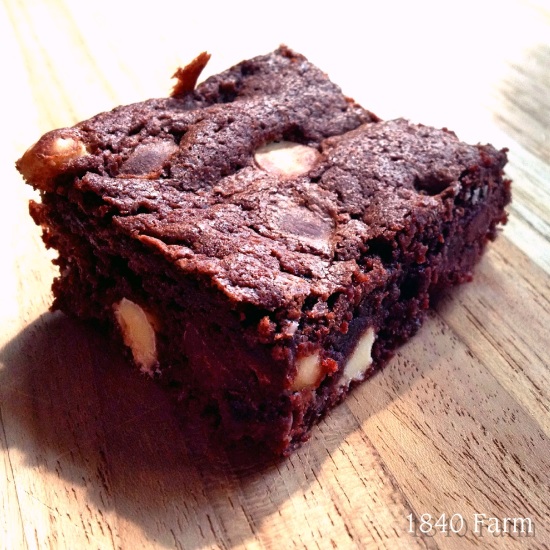 When we need a warm and comforting dessert, this brownie recipe immediately comes to mind. I'd love to take credit for baking them, but these are my daughter's triumph. She began making them a few years ago and quickly became the brownie baker in our family.
We enjoy these amazing brownies all year long, but they're especially popular during the deep, dark New England winter. When the snow is falling outside and the temperatures are cruel, comfort food is needed. A warm brownie packed with chocolate is just what the doctor ordered on those dark days.
This recipe is simple to follow and the results are delicious. The brownies are fudgy and packed with chocolate flavor. They can easily be adapted to include different types of additions, making the possibilities nearly endless.
No matter what you choose to add to this recipe, I can promise that the results will be delicious. Your family and friends will come to request these fabulous brownies as much as our family and my daughter's friends do. Prepare to become the brownie baker in your family once they've had a taste of these delicious brownies!
Deep and Dark Chocolate Brownies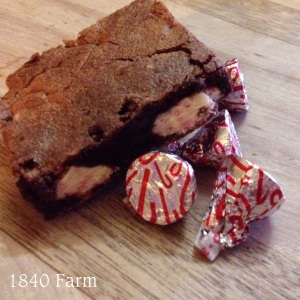 We keep this brownie recipe interesting by including a variety of different additions. You can add in 2 cups of your favorite brownie mix-ins from chocolate chips to flavored baking chips, nuts, or even coarsely chopped candies that bake well. This holiday season, we found ourselves using 1 cup of bittersweet chocolate chips and 1 cup of chopped Hershey's Candy Cane KISSES. The results were festive, beautiful, and delicious!
4 ounces (1 stick) butter, softened and cubed
192 grams (1 cup) granulated sugar
1 Tablespoon homemade vanilla extract
2 large eggs
60 grams (1/2 cup) All-purpose flour
40 grams (1/2 cup) cocoa powder
¼ teaspoon baking soda
¼ teaspoon sea salt
2 cups chocolate chips, flavored baking chips, or other delicious additions
Preheat oven to 350 degrees Fahrenheit. Line a 9×9 baking pan with parchment paper to prevent the brownies from sticking to the pan as they bake.
Combine the softened butter and sugar in a large mixing bowl. Using a mixer, beat until the mixture is smooth and creamy before adding the vanilla extract. Add the eggs and beat to fully incorporate.
In a small bowl, combine the flour, cocoa powder, baking soda, and salt. Add your chosen chocolate chips or other additions and stir lightly to evenly distribute them throughout the dry ingredients.
Add the dry ingredients in a single addition to the butter mixture. Beat just long enough to fully incorporate the dry ingredients. Take care not to overmix.
Using a spatula, transfer the batter to the prepared baking pan. The batter will be very thick. Spread the batter to evenly cover the bottom of the pan.
Bake in the preheated oven for 25-30 minutes or until just set. Because of their fudgy texture and high chocolate content, the brownies can seem underbaked. Once they have cooled to room temperature, they will set up nicely. Resist the urge to overbake them and you'll be rewarded with delicious fudge like brownies.
Allow the brownies to cool to room temperature. If desired, sprinkle lightly with powdered sugar or top with a scoop of vanilla ice cream before serving. Enjoy!
---
To make sure that you don't miss any of our original content or favorite recipes, DIY projects, and homesteading advice from around the web, subscribe to The 1840 Farm Community Newsletter. Visit our subscription form to become the newest member of The 1840 Farm Community.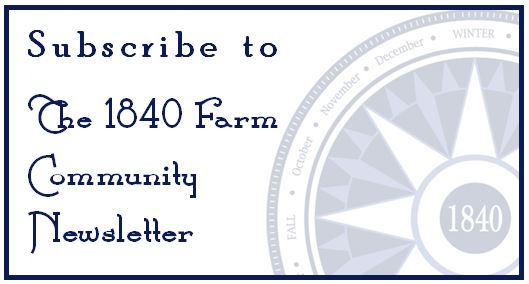 Our newsletter isn't the only way to follow what's happening here at 1840 Farm.
You're always welcome at 1840 Farm and at The 1840 Farm Mercantile Shop on Etsy.
You can also find 1840 Farm throughout the social media universe on
Facebook, Twitter, Pinterest, Flickr, and Bloglovin'.
We even created a new 1840 Farm Community Newsletter Pinterest board to catalog
our newsletter content so that you could easily pin your favorites to your own boards.
Come add your voice to our conversation!
We'll hope to see you there!
---