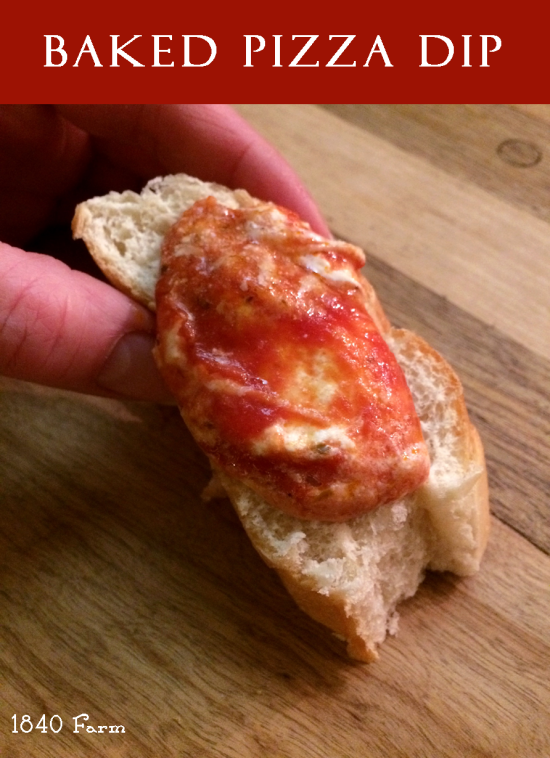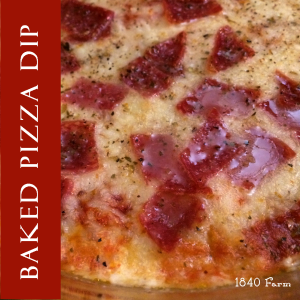 Who doesn't love pizza? It's difficult to top the combination of gooey cheese, savory tomato sauce, and your favorite toppings. Pizza is always a hit here whether it is of the homemade, local pizzeria, or takeout variety. I knew that a bubbly, gooey baked pizza dip would be something that we would all love.
After a little experimenting with cheeses, sauces, and toppings, we settled on our favorites and started assembling our dip. It was simple to put together and ready to bake in about twenty minutes. After another twenty minutes in the oven, it was bubbling and ready to serve. It smelled delicious and filled the entire farmhouse with its intoxicating aroma.
I served the dip with slices of warm Italian bread and garlic bread. It was delicious on both. The combination of the smooth cheese and tangy tomato sauce were perfect. Everyone came back for more. It was so good that we were talking about making it again before we had even finished it.
This recipe would be perfect for a comforting snack on a snowy afternoon, a get together with friends, or an easy party appetizer. On Super Bowl weekend, it may come in handy!
Baked Pizza Dip
2016-02-05 08:18:20
This dip deconstructs pizza, allowing you to bake up a bubbly, gooey dish of the cheese and sauce normally found on your favorite pizza. It is delicious served with sliced bread, garlic bread, or your favorite thick crackers or pita chips. Because the bread or crackers are served on the side, this would be the perfect pizza treat for families that avoid gluten when served with your favorite gluten free bread. It can also be tossed with freshly cooked pasta for a delicious, comforting meal. I like to make my own tomato sauce for this recipe. You can use one to one and a half cups of your favorite tomato sauce with equally delicious results.
For the sauce
1 Tablespoon olive oil
2 cloves garlic, minced
2 Tablespoons tomato paste
14 ounces tomato sauce/puree
For the dip
8 ounces cream cheese, softened
8 ounces ricotta cheese
8 ounces mozzarella cheese, shredded
1 ounce Parmesan cheese, grated
assorted pizza toppings if desired
dried oregano
Italian bread, garlic bread, or your favorite crackers for serving
Instructions
Preheat the oven to 400 degrees Fahrenheit.
In a small pan over medium heat, sauté the garlic for one minute. Add the tomato paste and stir to cook briefly, approximately one to two minutes. Add the tomato sauce and stir to combine. Reduce the heat to low and simmer to thicken slightly, stirring occasionally. Taste for seasoning, adding salt and pepper as needed.
In a medium bowl, combine the softened cream cheese and ricotta. Stir until the mixture is smooth. Transfer to an oven safe casserole dish, spreading to evenly cover the bottom. Sprinkle half of the mozzarella cheese over the ricotta mixture.
Top the cheesy layer with the tomato sauce, distributing it evenly. Sprinkle the remaining mozzarella over the tomato sauce. Top with the Parmesan cheese and your favorite pizza toppings. Sprinkle a bit of dried oregano over the top.
Transfer the dish to the oven and bake for 15-20 minutes. The mixture will become bubbly and slightly browned on top. Your bread can be warmed for a few minutes in the same warm oven.
Remove the bubbly dip from the oven. Allow to cool slightly as you slice and plate the bread. The dip can be served family style from the casserole dish or in small bowls or ramekins for dipping. Enjoy!
Notes
©1840 Farm. All content and images are copyright protected. Recipes and images are not to be used or republished without prior permission. If you adapt this recipe, please re-write the recipe in your own words, and link back to this post for the original recipe.
1840farm.com http://1840farm.com/
---
To make sure that you don't miss any of our original content or favorite recipes, DIY projects, and homesteading advice from around the web, subscribe to The 1840 Farm Community Newsletter. Visit our subscription form to become the newest member of The 1840 Farm Community.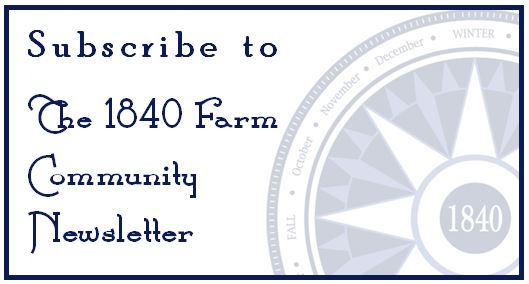 Our newsletter isn't the only way to follow what's happening here at 1840 Farm.
You're always welcome at 1840 Farm and at The 1840 Farm Mercantile Shop on Etsy.
You can also find 1840 Farm throughout the social media universe on
Facebook, Twitter, Pinterest, Flickr, and Bloglovin'.
We even created a new 1840 Farm Community Newsletter Pinterest board to catalog
our newsletter content so that you could easily pin your favorites to your own boards.
Come add your voice to our conversation!
We'll hope to see you there!
---