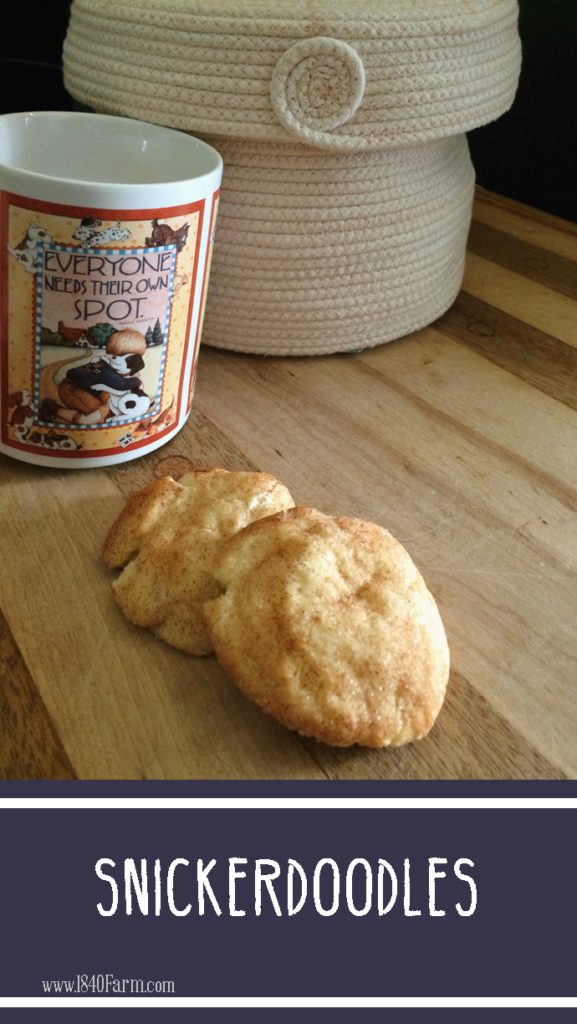 It's cookie season here at the farmhouse. It happens every year between Thanksgiving and Christmas. I start making up batches of our favorite cookie doughs, baking some to nibble right away and storing more away in the freezer for easy baking during the holidays and beyond.
We have a wide variety of cookies that appear on our holiday cookie platter, but a homemade snickerdoodle was missing. I had made them before, but never settled on a recipe that was just right. This year, I set about to change that.
A snickerdoodle is a delicious marriage of cinnamon, sugar, and a buttery cookie hidden underneath. The delicious smell of cinnamon permeates the entire farmhouse while they're baking. One of these cookies warm from the oven is a delicious, homey accompaniment to a warm cup of tea, hot cocoa, or coffee.
The first batch was good. The next batch was better. Batch three was a step backwards, but I redeemed myself with the fourth version of the recipe. They were just the sort of flavor and texture I had hoped for. They earned a solid vote of approval from each family member and everyone agreed that these cookies were ready to be added to our holiday celebration.
Quite by accident, I discovered that this dough also bakes up deliciously as a soft sugar cookie. Instead of rolling the ball of dough in cinnamon sugar to make a snickerdoodle, simply roll it in plain granulated sugar and bake as directed. The result is a soft and delicious sugar cookie. I was thrilled to discover that I could make one batch of dough and create two different and delicious cookies.
I've made two batches of this final recipe with the intention of stocking the freezer with dough to be enjoyed later. Then the requests started flowing in for a few snickerdoodles to snack on, a few to have for dessert after dinner. Suddenly, the freezer's stock of snickerdoodle dough had been depleted. So, I'll be heading back to my mixer this afternoon to make up another batch. I want to be ready when the next request comes rolling in!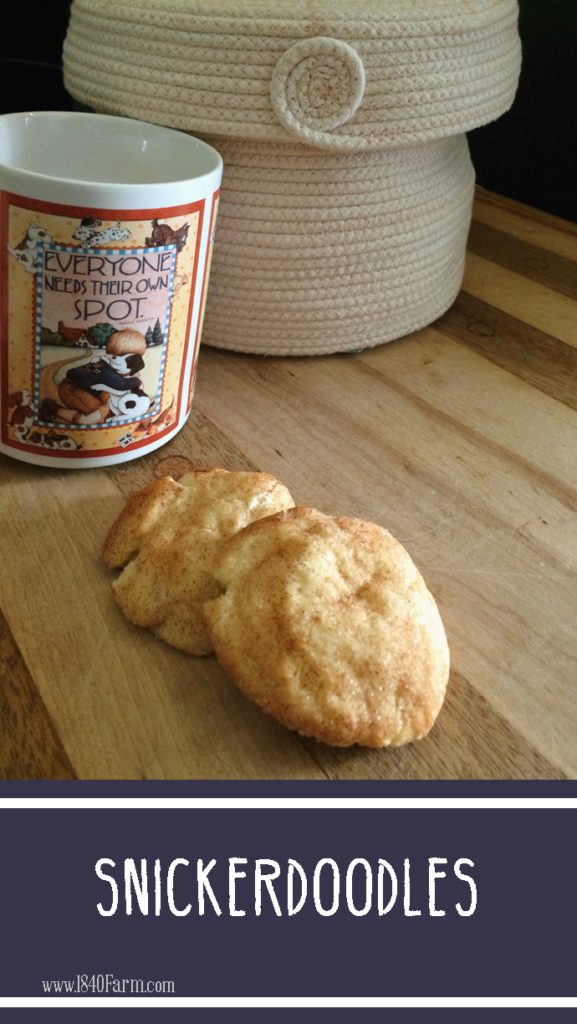 Snickerdoodles
2017-12-21 13:25:39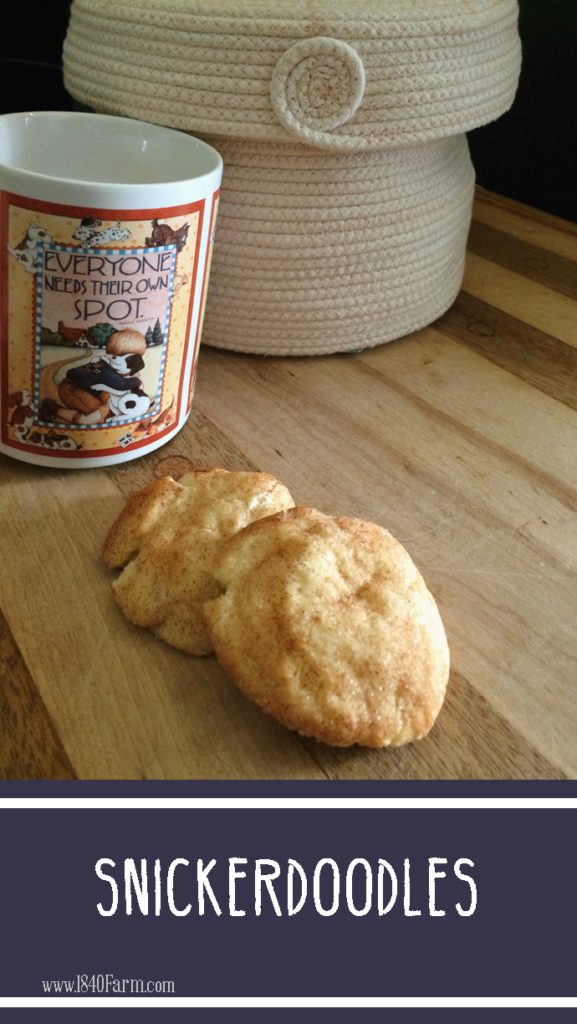 After several attempts to create the perfect snickerdoodle, I realized that I could take my knowledge from a few of our favorite recipes to improve it. By substituting a bit of cornstarch for the flour, I reduced the protein content of the dough which makes a more tender cookie. By using a bit of powdered sugar, the baked cookie stays moist and doesn't overbrown when baking. The result is a delicious snickerdoodle that you'll find yourself baking year after year. If you roll the dough in granulated sugar and bake as directed, you'll end up with a delicious, soft baked sugar cookie.
Ingredients
8 ounces (2 sticks) butter, softened
1 cup granulated sugar
¼ cup powdered sugar
1 Tablespoon vanilla extract
1 egg
2 ½ cups All-purpose flour
½ cup cornstarch
1 ½ teaspoon baking powder
¼ teaspoon salt
2 Tablespoons granulated sugar
1 Tablespoon ground cinnamon
Instructions
Place the softened butter in the bowl of your mixer fitted with a paddle or dough beaters. Mix on medium speed for 30 seconds, until the butter begins to smooth out a bit. Add the 1 cup granulated sugar and ¼ cup powdered sugar before beating on medium speed until the mixture is completely smooth, approximately 2-4 minutes.
Add the vanilla and egg to the bowl and beat on low for a 10-20 seconds, just until combined. The batter may break up a bit, but don't worry. It will come together when the dry ingredients are worked into the mix. Scrape down the bowl and beaters if necessary to gather the batter together before continuing.
In a medium bowl, combine the flour, cornstarch, baking powder, and salt. Add the dry ingredients in one addition to the mixer bowl. Mix on low speed until the dry ingredients have completely integrated into the dough. The dough may initially seem dry, but continue mixing until it comes together. Take great care not to overmix the dough. Mixing develops the gluten in the flour and overmixing will encourage the dough to become tough.
Transfer the dough to a covered container for storage in the refrigerator. Allow the dough to chill for a few hours. I often make a batch of dough and keep it in the refrigerator, baking a single evening's cookies each night. Portioned balls of dough can also be frozen on a small tray and then transferred to a freezer bag for long term storage. Frozen dough can be baked by simply adding a few minutes to the baking time.
When you are ready to bake a batch of the cookies, preheat the oven to 350 degrees Fahrenheit and position the oven racks to the top and bottom third of your oven. Line two baking sheets with parchment or a Silpat style liner. In a small bowl, combine the granulated sugar and cinnamon.
Create balls of dough about 2 Tablespoons (approximately 1 ounce or so) in size. Shape the dough into a ball and roll in the sugar and cinnamon mixture. Place six balls on each baking sheet, spacing evenly to prevent the cookies from touching as they bake. Flatten each ball of dough slightly. Bake for 14 minutes, rotating the baking sheets halfway through the baking time to help to ensure that the cookies are evenly baked.
Remove the cookies from the oven, allowing them to cool for a few minutes. As with any cookie, these are even more delicious when eaten while still warm with a cup of coffee or cold glass of milk.
Notes
Baked cookies can be stored in an airtight container at room temperature for several days. Dough can be refrigerated for one week and frozen for several months. Frozen balls of dough can be rolled in cinnamon sugar (or plain sugar) and baked directly from their frozen state. Simply bake the frozen dough for a few extra minutes. They'll taste just as delicious as a fresh baked cookie.
1840 Farm http://1840farm.com/
Comments
comments