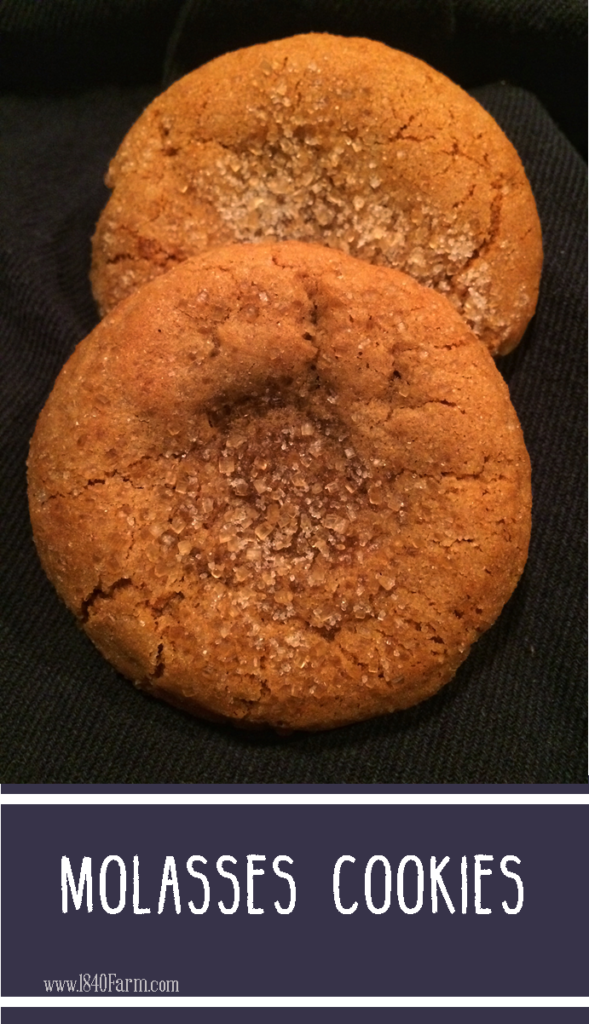 Molasses. It's a flavor beloved or reviled. I adore it. I love it in bread, barbecue sauce, baked beans, and the old fashioned molasses cookies that I have been trying to perfect a recipe for this holiday season.
Molasses cookies seem to take as many forms as the bakers who make them. From thin and crispy to soft and pillowy, every recipe seems to yield a unique result. Add to that the varying degrees of molasses flavor in each recipe and it was difficult to know where to begin.
So, I did what any baker would do. I started baking. I was hoping for a molasses cookie with a cracked exterior, soft inside with a slight sugary crunch on the outside. I wanted to make a dough that would deliver enough of that trademark molasses flavor without completely overpowering the other ingredients. After a few attempts, I had just the right combination of textures and flavors.
My family has grown to love these cookies as much as I do. They're a welcome addition to our collection of holiday favorites. I'm a sucker for an old fashioned recipe, one that tells a story or gives a sweet nod to the history of the era in which this farmhouse was built. These cookies are the perfect way to incorporate that history and enjoy a delicious old fashioned cookie with the same bite.
(You'll find the recipe for the ginger syrup I used in this cookie dough right here. It's a delicious way to flavor baked goods, lemonade, and iced tea all year long.)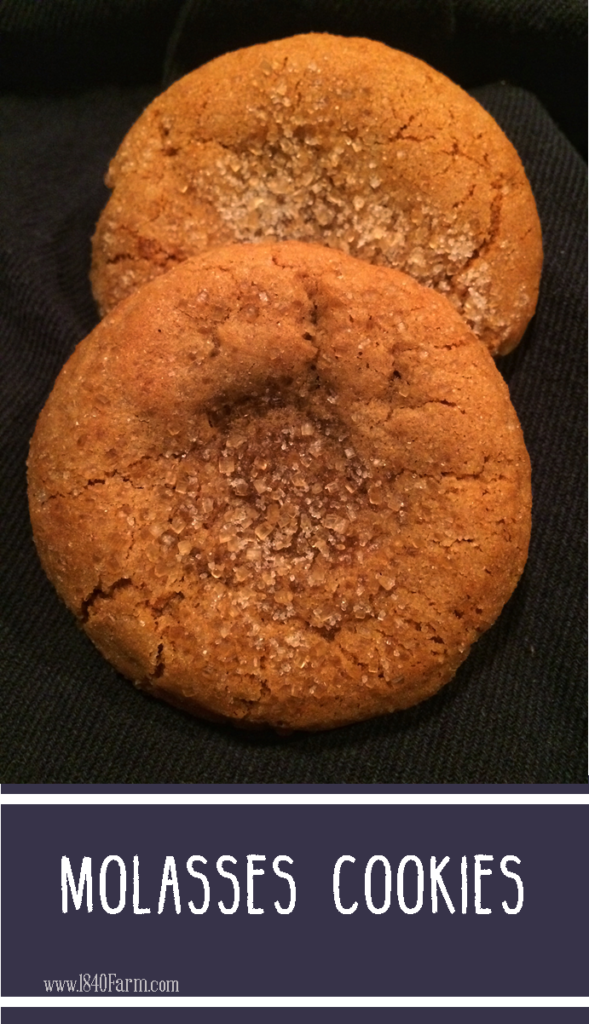 Molasses Cookies
2017-12-23 15:09:12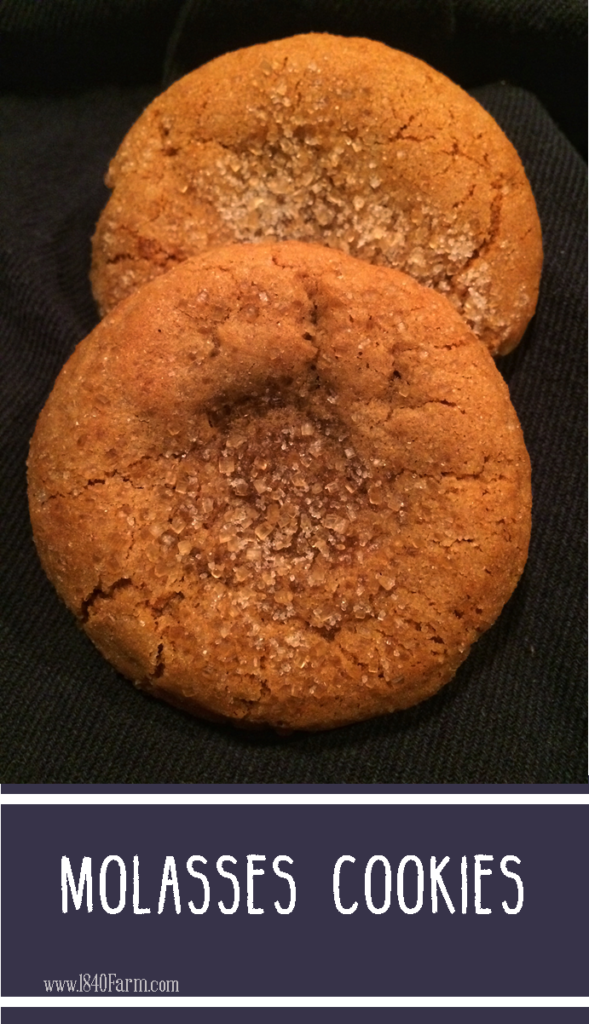 This molasses cookie combines a soft center with a lightly crispy exterior. It has a lovely mild molasses flavor that should convince even those who haven't loved molasses in the past to give it a second try. I always have homemade ginger syrup on hand in the refrigerator, so I like to use it to add ginger flavor to a recipe. You can substitute ½ teaspoon ground ginger with equally delicious results. Using cornstarch with the flour reduces the protein content of the dry ingredients and creates a more tender cookie. You can simply use 4 cups of All-purpose flour if you prefer.
Ingredients
8 ounces (2 sticks) butter, softened
1 cup granulated sugar
½ cup molasses
1 teaspoon ground cinnamon
1 teaspoon ginger syrup or ¼ teaspoon ground ginger
1 Tablespoon vanilla extract
2 eggs
3 ½ cups All-purpose flour
½ cup cornstarch
1 Tablespoon baking soda
½ teaspoon salt
2 Tablespoons granulated sugar
2 Tablespoons turbinado sugar
Instructions
Place the softened butter in the bowl of your mixer fitted with a paddle or dough beaters. Mix on medium speed for 30 seconds, until the butter begins to smooth out a bit. Add the 1 cup granulated sugar, molasses, cinnamon, ginger, and vanilla before beating on medium speed until the mixture is completely smooth, approximately 2-4 minutes.
Add the eggs to the bowl and beat on low for a 10-20 seconds, just until combined. The batter may break up a bit, but don't worry. It will come together when the dry ingredients are worked into the mix. Scrape down the bowl and beaters if necessary to gather the batter together before continuing.
In a medium bowl, combine the flour, cornstarch, baking soda, and salt. Add the dry ingredients in one addition to the mixer bowl. Mix on low speed until the dry ingredients have completely integrated into the dough. The dough may initially seem dry, but continue mixing until it comes together. Take great care not to overmix the dough. Mixing develops the gluten in the flour and overmixing will encourage the dough to become tough.
Transfer the dough to a covered container for storage in the refrigerator. Allow the dough to chill for a few hours or overnight. I often make a batch of dough and keep it in the refrigerator, baking a single evening's cookies each night. Portioned balls of dough can also be frozen on a small tray and then transferred to a freezer bag for long term storage. Frozen dough can be baked by simply adding a few minutes to the baking time.
When you are ready to bake a batch of the cookies, preheat the oven to 375 degrees Fahrenheit and position the oven racks to the top and bottom third of your oven. Line two baking sheets with parchment or a Silpat style liner. In a small bowl, combine the granulated sugar and turbinado sugar.
Create balls of dough about 2 Tablespoons (approximately 1 ounce or so) in size. Shape the dough into a ball and roll in the sugars. Place six balls on each baking sheet, spacing evenly to prevent the cookies from touching as they bake. Flatten each ball of dough slightly. I often sprinkle just a bit of the sugars on top for good measure. Bake for 10 minutes, rotating the baking sheets halfway through the baking time to help to ensure that the cookies are evenly baked. They will be soft in the middle. If you prefer a firmer cookie, simply bake another 2-4 minutes.
Remove the cookies from the oven, allowing them to cool for a few minutes. As with any cookie, these are even more delicious when eaten while still warm with a cup of coffee or cold glass of milk.
Notes
Baked cookies can be stored in an airtight container at room temperature for several days. Dough can be refrigerated for one week and frozen for several months. Frozen balls of dough can be rolled in cinnamon sugar and baked directly from their frozen state. Simply bake the frozen dough for a few extra minutes. They'll taste just as delicious as a fresh baked cookie.
1840 Farm http://1840farm.com/
Comments
comments