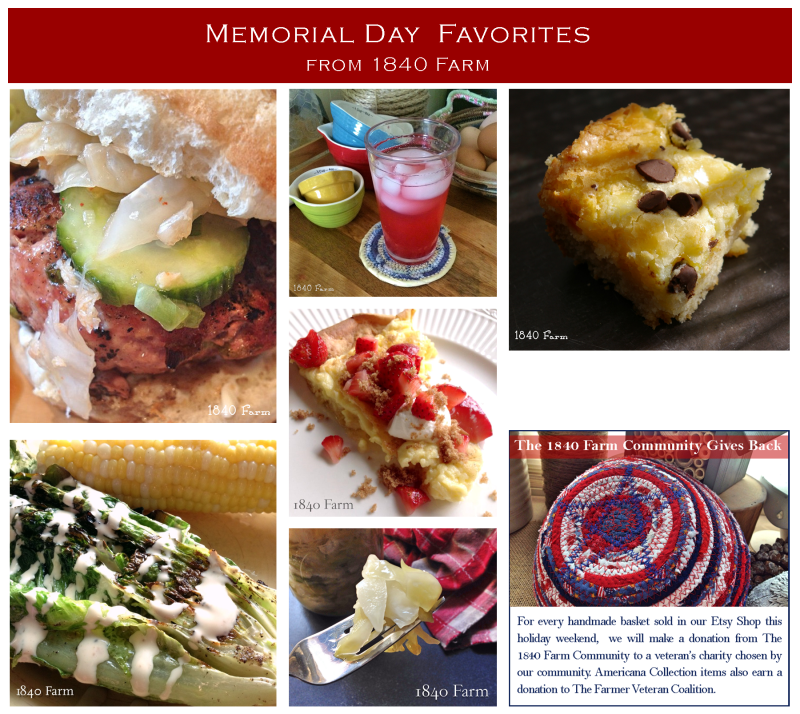 Memorial Day is the official kickoff to Summer and we feel like celebrating! We'll be enjoying a few of our favorite warm weather recipes with family and friends this weekend. The temperatures are predicted to hit 90 degrees tomorrow, so we'll be ready for a cold refreshing Franklin Cooler made with our homemade Raspberry and Rhubarb Syrup by midday!
Monday morning will start off with a Strawberry Puff Pancake using the bounty of fresh eggs our hens are providing. For dinner, we'll be grilling burgers and local sausages and topping them with Spicy Ginger & Garlic Quick Pickles and Classic Sauerkraut. A Grilled Romaine Salad will be perfect as a side or as a main course for our friends that live a vegetarian lifestyle. Add in a square of Chocolate Chip Gooey Butter Cake and everyone will leave our farmhouse table full and happy.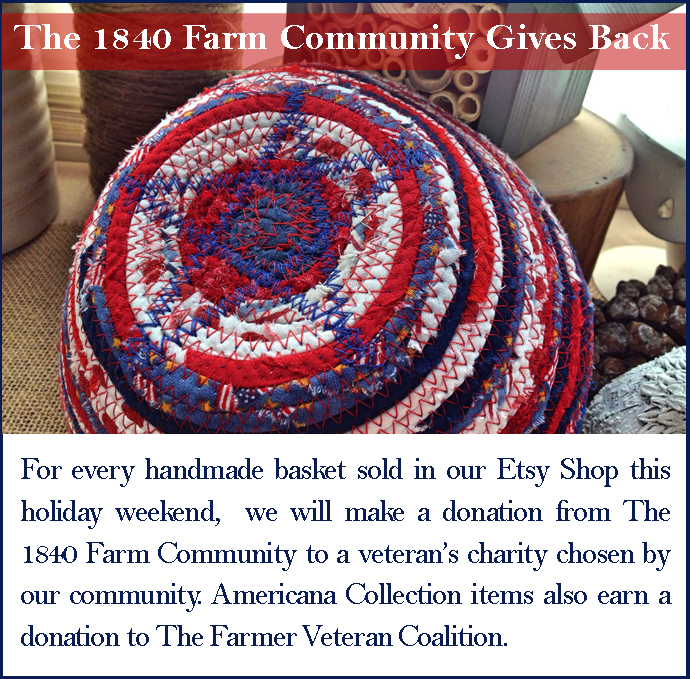 Each year, we choose to commemorate Memorial Day by making a donation from our 1840 Farm Community to a veteran's charity for every handmade basket sold in our Etsy Shop. It's our small way of showing our deep appreciation for the sacrifices made by those who serve in our military and the families that support them.
This year, I want to give you the opportunity to help select the charity that will receive that donation. If you have a favorite charity that focuses on those who serve our nation, please visit our Facebook page and join in our discussion. Together, we'll choose the charity that receives our donation. Then we'll repeat the nomination process for Independence Day, Labor Day, and Veteran's Day.
For all of you who have served in the military or are on active duty, please accept my heartfelt thanks for your service to our country. To the families and friends who support those who serve, thank you for the sacrifices you make to support the bravest Americans among us. As the flag flaps on our farmer's porch, I am forever reminded that we owe a debt of gratitude to all who serve that can never be repaid.
I hope that you have a holiday weekend spent with friends and family filled to the brim with laughter, delicious food and drink, and memories in the making.
Warmly,
You can access any of the recipes by clicking on the photos below.
Comments
comments