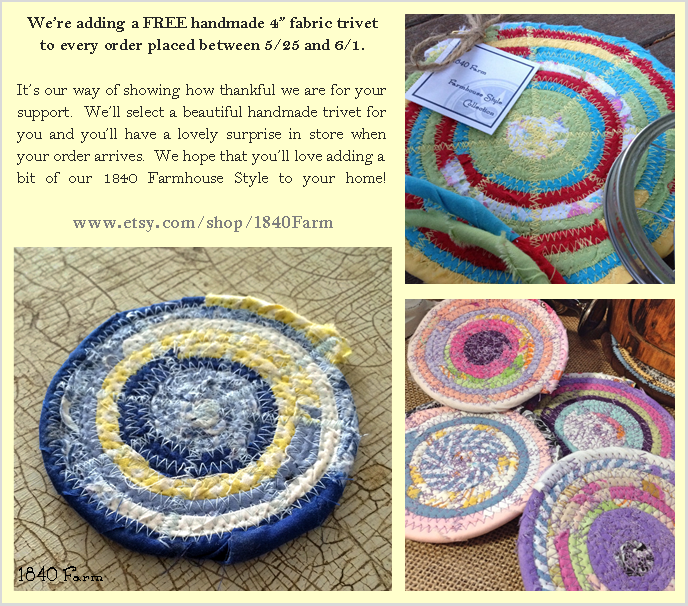 Memorial Day is the official kickoff to Summer and we feel like celebrating!
As a special way of saying thank you to our customers, we're adding a FREE handmade 4" fabric trivet to every order we receive in The 1840 Farm Mercantile Shop on Etsy from now until next Wednesday (6/1/16). We'll choose a beautiful handmade trivet just for you when packing up your order to begin its journey to you. Our trivets have been so popular that they are usually sold out and out of stock, so this is the first opportunity we've had to share them with you in many months.
We're also thanking our nation's veterans by making a donation to a veteran's charity for every basket sold. We hope that you will visit our Facebook page to share your favorite veteran's charity with us. Simply click on the graphic and join in our discussion on our Facebook page.
We have our fingers crossed that we'll sell a lot of our handmade baskets this holiday weekend so that we can make our largest donation yet!
We're hoping that you'll enjoy our gift and that you'll love discovering a surprise when your order arrives. Our shop has a lovely selection of baskets, heirloom seed collections, fabrics, and gift certificates to choose from. I hope that you'll find just what you're hoping for!
Comments
comments