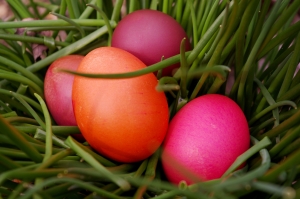 Easter weekend is upon us and spring is beginning to show itself here on the farm. We've seen glimpses of the season already this year, with a few glorious days marked by sunshine and temperatures in the 70s. We're grateful for the gift of beautiful weather from Mother Nature, but know full well that this is New England and there's still plenty of time to wait for warmer weather to permanently arrive.

As Easter approaches, my mind drifts to spring planting, seed starting, and thinking about finally building that duck house we've been discussing for a few years. While it's impossible to know what this spring and summer have in store for our farm, I can guarantee that we'll be enjoying our favorite seasonal recipes while we take in the very best of each season.
I hope that you'll enjoy those seasonal recipes right along with us. The recipes in this issue are perfect for adding to your Easter weekend plans or for welcoming spring to your family table. You can begin by learning how we color beautiful jewel toned Easter eggs every year and move on to the recipe for French Toast Bread Pudding to serve for Easter breakfast or brunch.
Sweet Potato Gnocchi with Brown Butter and Sage is a show stopping recipe, perfect for Easter dinner or a Saturday night. Spring Pasta with Green Peas and Prosciutto is so simple to make and gorgeous on the plate. Both recipes will amaze your family and friends. They're beautiful and delicious. As you're enjoying the last bite, you'll be making plans to make them the next time.
On the sweeter side, you can't go wrong with my Great Grandma's Daffodil Cake. This cake combines the best of airy angel food cake and rich pound cake. It's the perfect way to celebrate your flock producing more eggs as the days grow longer each week. For a quick and lovely bite, my Lemon Drop Cookies with Lemon Buttercream are tough to beat. They're delicious with a cup of tea or served after dinner when the bright taste of lemon will be a welcome treat.

Whatever you cook, bake, and enjoy this weekend, I hope that you have a lovely weekend through and through. Happy Easter from all of us here at 1840 Farm!
---
Here's a peek at a few of the recipes that we love to include in our Easter celebration.

You can click on any of the photos to visit the original post so that you can print our recipes and add them to your celebration.
Comments
comments