The other day, my son mentioned that he would love to have jelly donuts for breakfast over the weekend. It's a seemingly simple request with a delicious treat for the whole family. Unfortunately, his food request isn't quite that simple here at our house.
With food allergies to contend with, certain foods are incredibly difficult for us to purchase. We're incredibly fortunate to have discovered what I think are the most delicious donuts on earth at Holy Donut. We're even luckier that they don't use any peanuts or other nuts in their bakery, so we can safely enjoy their amazing donuts here at home. Of course, it isn't always possible for us to take a two and a half hour road trip to pick up donuts. If Portland, Maine was a little closer to home, their donuts might be on our breakfast table every weekend.
I have made homemade donuts before, but this time I decided to move in a different direction. I remembered having an old recipe from Fine Cooking Magazine for a doughnut muffin from Downtown Bakery & Creamery in California. I had been holding on to that recipe for several years. These muffins are often talked about in food magazines and television shows. I've seen them chosen as the "favorite" bite of many famous foodies. Now it was my turn to try them.
Everything I read mentioned that these muffins had the taste and texture of a great cinnamon sugar cake doughnut without the need for me to roll out the dough, cut out the doughnuts, and fry them in oil before serving. Better yet, the batter could be prepared and stored in the refrigerator for several days, allowing me to bake fresh muffins for days to come.
I reasoned that the muffins could only be made better by adding a spoonful of homemade jelly inside before serving. My son would enjoy the flavor of jelly donuts and we'd get to try out a recipe for a muffin that is so beloved by those who line up to buy them at Downtown Bakery.
The recipe was simple to prepare. I baked them each day for four days. The fresh muffins on the fourth day were every bit as delicious as those prepared on day one. Each morning, my family couldn't stop commenting about how amazing they were. Without jelly, they taste like the world's best coffeecake in muffin form. With a bit of our homemade jelly, jam, or marmalade spooned into the center, they deliver jelly doughnut flavor with every single bite.
My son loved these muffins as much as I hoped he would. This recipe is definitely the path to a sweeter weekend for the whole family and an easy treat for me to add to our farmhouse table at breakfast time. Because the batter can be made ahead of time, I can prepare the batter on Friday and then bake them each weekend morning for our breakfast. While they bake in the oven, I can accomplish my morning farm chores and start enjoying my first cup of coffee. As they cool on the counter, I'll struggle to decide what sort of filling I want to enjoy. No matter what I chose, they're bound to be delicious!
Jelly Doughnut Muffins
2016-02-01 10:50:31
I love to bake these muffins in my extra-large muffin pan. The large, fluffy muffins are beautiful and perfect for filling with our favorite homemade jam, jelly, or marmalade. I bake enough for the crowd and serve them with a full array of our homemade preserves, allowing each person to choose their favorite filling. If you prefer, you could bake your muffins in a standard sized muffin pan. Simply reduce the baking time, checking the muffins after fifteen minutes to ensure that they don't overbake.
For the muffins
8 ounces (2 sticks) butter, softened and cubed
1 ¾ cup granulated sugar
4 ounces (1/2 cup) oil (any neutral tasting oil will do)
1 Tablespoon vanilla extract
4 large eggs
6 cups All-purpose flour
5 teaspoons baking powder
½ teaspoon baking soda
1 ¾ teaspoon salt
1 teaspoon ground cinnamon
1/3 cup buttermilk
1 2/3 cup whole milk
For the topping
melted butter for brushing on warm muffins
½ cup granulated sugar
1-2 teaspoons ground cinnamon
Instructions
Preheat the oven to 350 degrees Fahrenheit. Line the cavities of a muffin tin with paper liners. You can also use silicone cupcake liners if you prefer. Set aside as you prepare the batter.
Using a mixer, beat the butter and sugar in a large bowl until creamy. Add the oil and vanilla extract, mixing briefly to incorporate. Add the eggs and beat until the mixture is smooth.
In a medium bowl, combine the flour, baking powder, baking soda, salt, and cinnamon. Use a whisk to blend and aerate the dry ingredients.
In a small bowl or measuring cup, combine the buttermilk and whole milk.
Add approximately one third of the dry ingredients to the butter mixture. Slowly mix to incorporate. Add half of the milk/buttermilk and mix gently. Repeat until all of the dry and wet ingredients have been fully incorporated. Take care not to overmix. Stop the mixer as soon as the batter is smooth. Overmixing will encourage the gluten in the flour to develop, creating a chewy muffin rather than the flaky, light muffin we're trying to create.
Scoop around ½ to 2/3 cup batter into each lined muffin tin. I use an ice cream scoop, adding two scoops of batter to each liner. The batter should be almost even with the top of the liner.
Transfer the muffin pan to the preheated oven. Bake for 30-40 minutes, until the muffins are firm to the touch and a toothpick inserted into the middle of the muffin comes out with small crumbs attached.
Remove the baked muffins from the oven. Allow them to cool for a few minutes as you prepare the cinnamon sugar topping.
In a small bowl, melt a few tablespoons of butter. In a second small bowl, combine the granulated sugar and cinnamon, adjusting the amount of cinnamon based on your preferences.
Brush or dip each warm muffin in the melted butter. Dip the butter topped muffins in the cinnamon sugar or spoon the cinnamon sugar on top, allowing the cinnamon sugar to adhere to the top of each muffin. Set the muffins aside to cool slightly.
At this point, the muffins can be allowed to cool to room temperature and stored in an airtight container before serving. The batter can also be held for several days in the refrigerator, baking fresh muffins for breakfast each morning.
Right before serving, use a small paring knife or apple corer to remove a small portion of the center of the muffin. Spoon a teaspoon of your favorite jam, jelly, or marmalade into the cavity before serving your Jelly Doughnut Muffins. Enjoy!
Adapted from Fine Cooking Magazine
1840 Farm http://1840farm.com/
---
To make sure that you don't miss any of our original content or favorite recipes, DIY projects, and homesteading advice from around the web, subscribe to The 1840 Farm Community Newsletter. Visit our subscription form to become the newest member of The 1840 Farm Community.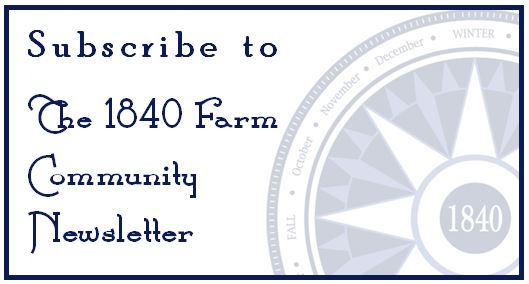 Our newsletter isn't the only way to follow what's happening here at 1840 Farm.
You're always welcome at 1840 Farm and at The 1840 Farm Mercantile Shop on Etsy.
You can also find 1840 Farm throughout the social media universe on
Facebook, Twitter, Pinterest, Instagram, Flickr, and Bloglovin'.
We even created a new 1840 Farm Community Newsletter Pinterest board to catalog
our newsletter content so that you could easily pin your favorites to your own boards.
Come add your voice to our conversation!
We'll hope to see you there!
---
Comments
comments