It was almost five years ago that I first discovered that I could create completely nut free baked goods in our farmhouse kitchen that had the delicious nutty flavor we were missing due to nut allergies. Our home has been nut free for nearly a decade since we discovered that our son has food allergies. Suddenly, the peanuts and tree nuts that we had turned to as nutritious snacks and baking ingredients were off limits.
I learned to enjoy brownies and cookies that didn't contain nuts. I even experimented until I found a peanut butter replacement that could be used to create a tasty substitute for peanut butter cookies. But there were a few recipes that I just couldn't seem to create nut free versions of. Pecan pie, peanut brittle, and trail mix were eventually written off as something that we just couldn't make in our kitchen.
Then I discovered a product called Wheat Nuts®. I doubted that they would have the nutty flavor we missed so much, but I couldn't help but give them a hopeful taste. I was so happy to be wrong after taking the first bite and enjoying the flavor of nuts all over again.
I came to learn that Wheat Nuts® had been developed in the late 1970s, well before nut allergies became such a common issue for so many families. I was so grateful to be able to keep our pantry stocked with them and set to work on recipes for the elusive pecan pie and peanut brittle.
As I was working to perfect my pecan pie filling in time for Thanksgiving that year, I decided to try my hand at creating a recipe for a nut free pecan pie bar. The recipe became an immediate hit with our family and was a staple in our farmhouse kitchen during the colder months of the year when fresh berries for pies and crumbles weren't being harvested from our gardens.
Sadly, Wheat Nuts® were pulled from the market in 2013, leaving us to meter out our remaining supply until it was gone. We used the last of our stash to make a pan of these bars and then returned to the reality of not being able to enjoy the flavor of nuts in our nut free home.
Since that time, I have received countless messages and comments from nut free families just like ours who were desperate to find Wheat Nuts® again. We shared in the disappointment of not being able to enjoy their delicious flavor in our homes without worry of cross contamination or allergic reactions.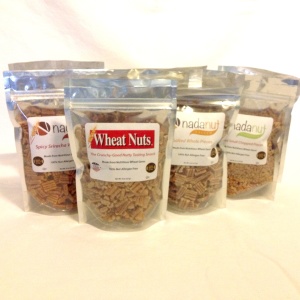 On a morning a few months ago, I received a comment that changed my disappointment into sheer excitement. Imagine my surprise when I read a message sharing the happy news that the product we loved was back! Even better, there were several new products to try that were also nut free.
You can order the following varieties which are all manufactured in a 100% nut free facility:
Wheat Nuts®
Nadanut® Salted Pecans
Nadanut® Unsalted Pecans
Nadanut® Salted Cashews
Nadanut® small chopped pecan pieces
Nadanut® medium chopped pecan pieces
Nadanut® small chopped walnut pieces
Nadanut® small chopped pistachio pieces
For the first time in far too many years, we will be enjoying the flavor of pecan pie at our Thanksgiving table. We couldn't bear to wait until Thanksgiving dinner to enjoy the flavor that we have missed so much, so a celebratory batch of these completely nut free pecanless pie bars is definitely in order!
Nut Free Pecanless Pie Bars
makes 24 bars

Shortbread Crust
240 grams (2 cups) All-purpose flour
72 grams (6 Tablespoons) brown sugar
6 ounces butter, cubed
Preheat the oven to 350 degrees. Line a 13 x 9 inch pan with parchment paper.
Place all ingredients in food processor. Process using on/off turns until the mixture has just formed small clumps. Do not over process. Sprinkle mixture over the bottom of prepared pan. Lightly press the mixture evenly into the bottom of the pan. Bake for 20 minutes until light golden brown. Prepare filling as the crust is baking.
Nut Free Pecanless Pie Filling
168 grams (2 cups) Nadanut® medium chopped pecan pieces
144 grams (3/4 cup) brown sugar
4 ounces butter
63 grams (3 Tablespoons) honey
1 ounce (2 Tablespoons) half and half
Melt butter in heavy saucepan over medium heat. Stir in brown sugar, honey, and half and half. Bring to a gentle simmer and cook for 1 minute, stirring constantly. Remove from heat and stir in chopped Wheat Nuts.
When the shortbread crust is finished baking, remove it from the oven and immediately pour warm filling over the top. If necessary, spread filling evenly over the crust. Return pan to the oven and bake for 20 minutes. Remove from the oven and cool completely.
Run a sharp knife or spatula around the edges of the pan to loosen the cooled bars. Use the edges of the parchment paper to lift cooled bars from the pan to a cutting board. Using serrated knife, cut into bars. Serve warm or at room temperature.
Our family lives and bakes around nut allergies, so our farmhouse kitchen is nut free. This recipe uses one of our nut free favorites: Nadanut Nut Free Snacks. You can learn all about them at www.nadanut.com.
---
This post is included in our 1840 Farmhouse Thanksgiving Gallery.
You'll find our favorite Thanksgiving recipes all gathered in one place so that you can easily include them in your family's celebration. I'll be adding new recipes right up until the big day, so check back to see even more delicious and fabulous Thanksgiving posts.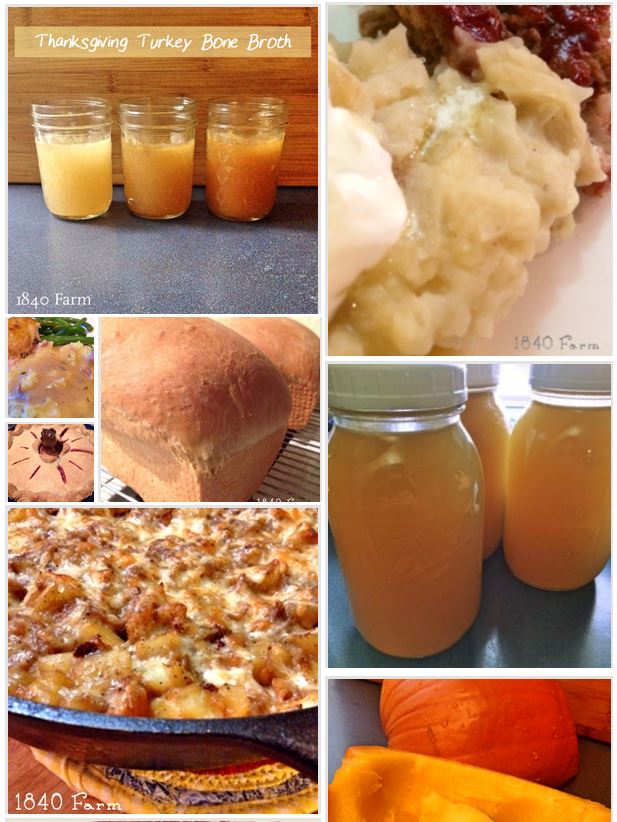 ---
Comments
comments