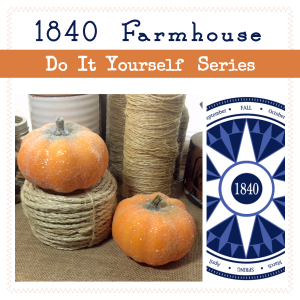 A few weeks ago, I promised to share a few simple projects to help decorate your Thanksgiving table. First up are these glittery pumpkins.  Our Thanksgiving holiday just wouldn't seem complete without them.
We have been using these glittery pumpkins to decorate the farmhouse for years. They are on display from late September until we put away the fall decor to decorate for Christmas. These pumpkins are ideally suited for decorating your home for fall and bringing a little sparkle to your Thanksgiving table. We have a pair in the farmhouse kitchen, a few in the dining room, and I love to keep a couple in my studio.  They catch the sunlight shining in through the window behind my sewing machine and brighten up my space.
This is a simple project that the kids will love helping with. My daughter helped me make these many years ago. The steps are simple to follow, don't require any potentially dangerous tools, and the active time needed to complete them is short. Add in the fun of painting with glue and liberally applying sparkly glitter, and it's easy to see why kids will love helping to create these fabulous pumpkins.
While it was many years ago when my young daughter helped me to make our glittery little pumpkins, I think of that moment in time every time I see them. It's really no wonder that I look forward to decorating the farmhouse with them every year.  I hope that you will making and decorating your home with these glittery little pumpkins as much as we do here at 1840 Farm!
Glittery Decorative Pumpkins
Craft pumpkins are available in a variety of shapes and sizes.  I find that they are deeply discounted as soon as Halloween has passed. When selecting glue, choose one that dries clear in order to allow the color of the pumpkin to be visible. While any color of glitter can be used, I prefer to use clear glitter in order to allow the color of the pumpkin to shine through.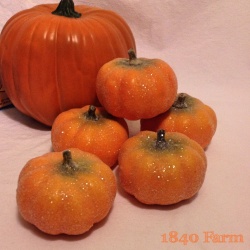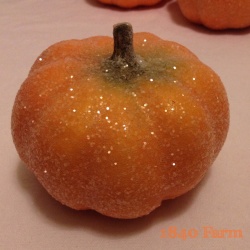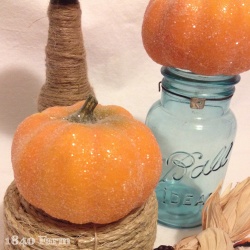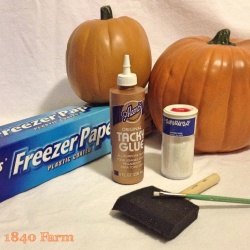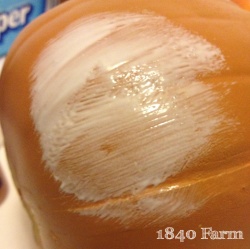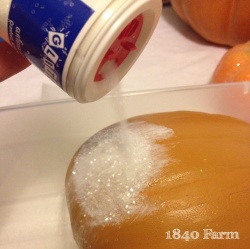 Materials and Tools Needed
Craft pumpkins
Clear drying glue
Brush for applying glue
Glitter
I like to cover my work surface with freezer paper before beginning a project that involves paint or glue.  The nonstick surface makes cleanup a breeze.  I also like to apply the glitter over a large plastic container.  The large container will catch any excess glitter.  This way, no glitter goes to waste as I can reuse that glitter to apply to the next pumpkin or return it to the container of glitter for my next project.
Remove any labels from the craft pumpkins as the clear drying glue and clear glitter will allow them to show through.  Apply an even layer of glue to the bottom of a pumpkin.  Sprinkle glitter over the glue, shaking the pumpkin lightly to remove any excess glitter.  Set the pumpkin upside down to dry fully.  Repeat with other pumpkins until they have all had glitter applied to their bottom surface.  When dry, the glue will be clear.
After the bottoms of the pumpkins are completely dry and no longer tacky, apply glue to the remaining surface of each pumpkin.  Sprinkle glitter liberally over the glue, shaking lightly to remove excess glitter.  Repeat with the other pumpkins and set aside until the pumpkins are completely dry.  Touch up any bare spots if needed, adding more glue and glitter to fully cover the surface of the pumpkins.
We have used our glittery pumpkins for many years and find that they have retained their fabulous glittery appearance.  When fall gives way to Christmas, we wrap each pumpkin in a sheet of tissue paper and pack them away until the next year.
---
This post is included in our 1840 Farmhouse Thanksgiving Gallery.
You'll find our favorite Thanksgiving recipes and crafts all gathered in one place so that you can easily include them in your family's celebration.  I'll be adding new recipes and DIY projects right up until the big day, so check back to see even more delicious and fabulous Thanksgiving posts.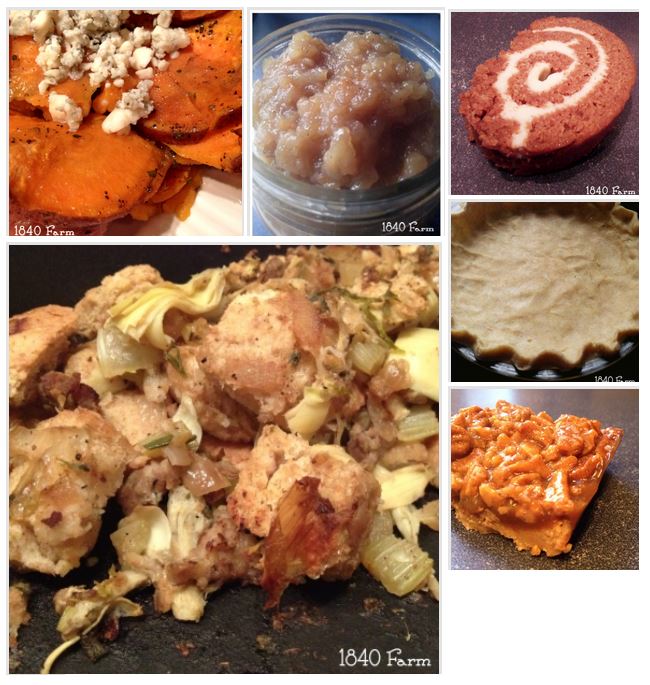 ---
To make sure that you don't miss any of our original content or favorite recipes, DIY projects, and homesteading advice from around the web, subscribe to The 1840 Farm Community Newsletter. Visit our subscription form to become the newest member of The 1840 Farm Community.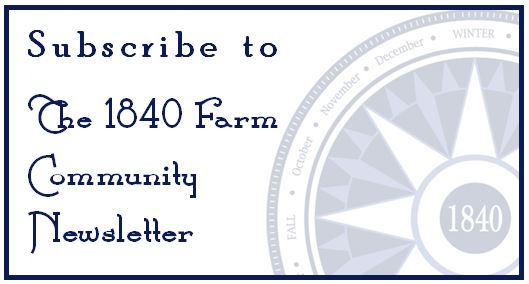 Our newsletter isn't the only way to follow what's happening here at 1840 Farm.
You're always welcome at 1840 Farm and at The 1840 Farm Mercantile Shop on Etsy.
You can also find 1840 Farm throughout the social media universe on
Facebook, Twitter, Pinterest, Flickr, and Bloglovin'.
We even created a new 1840 Farm Community Newsletter Pinterest board to catalog
our newsletter content so that you could easily pin your favorites to your own boards.
Come add your voice to our conversation!
We'll hope to see you there!
---
Comments
comments