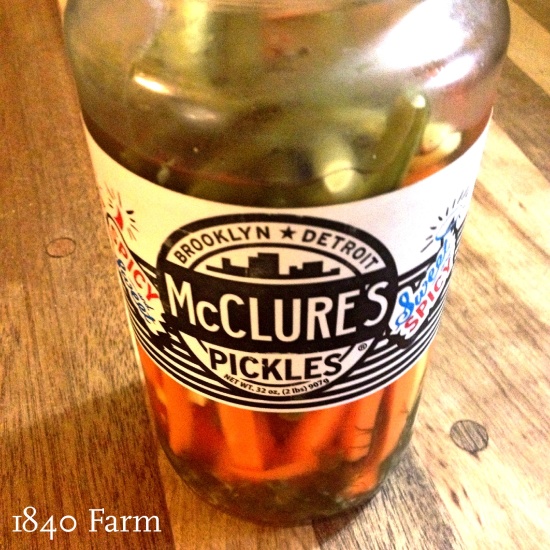 Have you ever re-pickled?  I'm happy to say that I have.  A few weeks ago, I found myself at the bottom of as amazing jar of McClure's Sweet & Spicy Pickles.  As I stared at the remaining brine, I wondered:  could I add fresh vegetables to the brine and create a refrigerator pickle?
Each summer, I make several batches of refrigerator dill pickles using heirloom cucumbers from our garden.  I use the brine a few times, making delicious batches of fresh, crispy pickles.  By the time the brine has been used a few times, I need to start a new batch of brine.  The cucumbers release enough liquid as they sit in the brine to eventually dilute the brine to a point that it is not strong enough to be used.
Knowing that a cucumber dilutes the brine as it pickles, I decided to create a different type of pickle for my first re-pickling experiment.  I used fresh green and yellow beans and beautiful carrots from our local farmer's market. I quick blanched the vegetables to preserve their color, adding them warm to the cold jar of brine.  I hoped that the warmth of the vegetables would speed up the pickling process and help each piece of vegetable to take on more of the brine's flavor.
Within hours, I tasted the first carrot and was amazed at the flavor.  It tasted as though I had spent hours creating a delicious brine and preparing the vegetables.  Knowing that I had instead spent a few minutes made each bite taste even more delicious.
Here's how I achieved re-pickling perfection.  First, I selected a brine that has an intense flavor.  I also chose vegetables with a lower moisture content than cucumbers, knowing that they would release less water into the brine and allow me to continue re-pickling through several batches. Since then, I have attempted to re-pickle using a more moderately flavored brine with cucumbers and found the results to be disappointing.  Select a strong brine and the low moisture vegetables for the most flavorful pickles.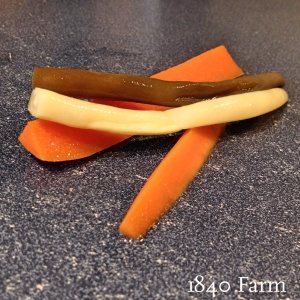 To prepare the beans and carrots, bring a large pot of water to a roiling boil over high heat.  Once the water is boiling, add a generous Tablespoon or two of salt.  Wash the beans and snap to remove the ends.  Trim any beans that are too long to fit into the pickle jar.  Peel the carrots before cutting them into long spears.
Add the carrots to the boiling pot of salted water.  Once the water has come back to a boil, blanch the carrots very briefly, 1-2 minutes.  Remove the carrots from the boiling water while they are still crisp and shock them by placing them in the cold jar of pickle brine.  Repeat this process with the beans.
Shocking the blanched vegetables in the cold brine will stop the cooking process, set their bright color, and help the vegetables to develop a delicious flavor.  At this point, the jar of vegetables and brine can be stored in the refrigerator until ready to use.  These pickles must be refrigerated.  They are not intended for long-term pantry storage.
I can't wait to try this re-pickling method with other fresh vegetables.  I have my sights set on a batch of dilled cauliflower florets.  I hope that you'll give re-pickling a try especially if you've been hesitant to attempt making your own pickles!
---
To make sure that you don't miss any of our original content or favorite recipes, DIY projects, and homesteading advice, subscribe to The 1840 Farm Community Newsletter. Visit our subscription form to become the newest member of The 1840 Farm Community.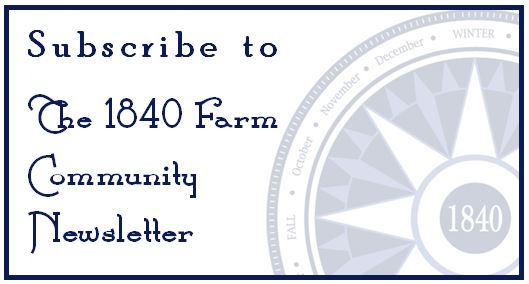 Our newsletter isn't the only way to follow what's happening here at 1840 Farm.
You're always welcome at 1840 Farm and at The 1840 Farm Mercantile Shop on Etsy.
You can also find 1840 Farm throughout the social media universe on
Facebook, Twitter, Pinterest, Instagram, Flickr, and Bloglovin'.
We even created a new 1840 Farm Community Newsletter Pinterest board to catalog
our newsletter content so that you could easily pin your favorites to your own boards.
Come add your voice to our conversation!
We'll hope to see you there!
---
Comments
comments