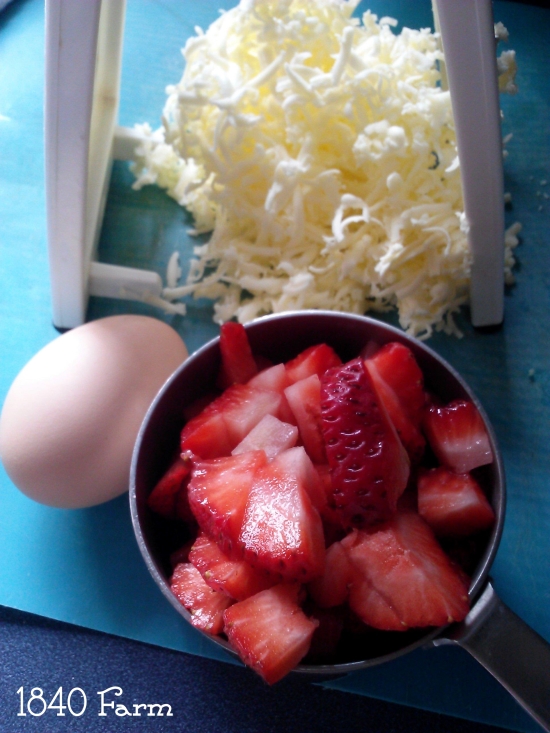 When fresh strawberries are in season, we take full advantage and work them into a variety of baking recipes and canned goods.  These Oat Scones studded with chunks of juicy, fresh strawberries find their way to our breakfast table every year.  They're delicious and a reminder of why we love strawberry season so much.  While the scones are always best if eaten the day they are baked, I find that any leftovers are great when used as a base for a strawberry shortcake dessert that evening.  Enjoy!
Oat Scones with Fresh Strawberries
makes 8 scones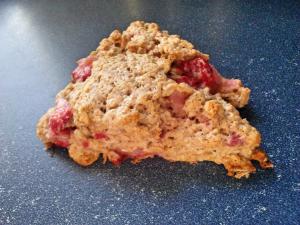 I was inspired to add fresh strawberries to my family's favorite scone recipe after reading Honey & Oats: Everyday Favorites Baked with Whole Grains and Natural Sweeteners by Jennifer Katzinger. The results were delicious. In fact, these scones were such a hit that they have become our favorite scone recipe.
I like to grate the butter for recipes that require butter to be cut into the flour. Using tiny grated bits of butter makes mixing the dough a breeze. It also yields an incredibly tender scone as much less mixing is needed.
2 cups (160 grams) old fashioned oats
1 cup (80 grams) oat flour
½ cup (60 grams) whole wheat flour
¼ cup (30 grams) All-purpose flour
¼ cup (48 grams) brown sugar
4 teaspoons baking powder
½ teaspoon salt
8 Tablespoons (4 ounces) butter, grated
¼ cup (2 ounces) heavy cream
1 large egg
1 cup chopped strawberries
1 Tablespoon granulated sugar
Preheat the oven to 400 degrees Fahrenheit. Line a baking sheet with parchment paper or a Silpat liner.
Combine the dry ingredients in a large bowl. Add the grated butter and gently toss with your hands to fully coat the butter and evenly distribute it throughout the dry ingredients.
In a small bowl, combine the cream and egg and whisk to combine. Add the cream and egg to the bowl with the flour and stir gently to moisten the dry ingredients. Reserve the small bowl as the remnants from the cream and egg mixture can be used to brush the scones before they are transferred to the oven. Add the chopped strawberries to the batter and fold gently to combine.
Transfer the dough to a lightly floured surface. Gently pat the dough into a circle approximately 8 inches in diameter. Cut the dough into eight wedges. Transfer each wedge to the prepared baking sheet. Using a pastry brush, gently brush each scone with the remaining cream and egg mixture. Sprinkle a bit of the granulated sugar on top of each scone.
Transfer the baking sheet to the preheated oven. Bake the scones 18 to 20 minutes, rotating the baking sheet halfway through the baking time. When fully baked, the scones will be lightly browned and firm to the touch.
Remove the baking sheet from the oven to a wire rack to cool. Scones are most delicious served the day they are made, so serve them immediately and enjoy every last bite!
---
To make sure that you don't miss any of our original content or favorite recipes, DIY projects, and homesteading advice, subscribe to The 1840 Farm Community Newsletter. Visit our subscription form to become the newest member of The 1840 Farm Community.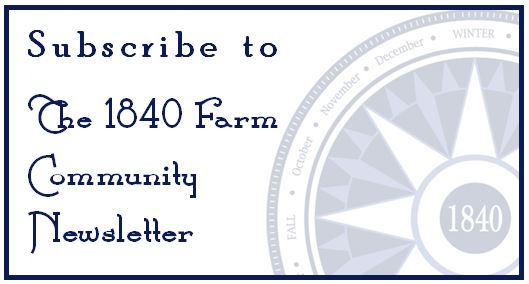 Our newsletter isn't the only way to follow what's happening here at 1840 Farm.
You're always welcome at 1840 Farm and at The 1840 Farm Mercantile Shop on Etsy.
You can also find 1840 Farm throughout the social media universe on
Facebook, Twitter, Pinterest, Instagram, Flickr, and Bloglovin'.
We even created a new 1840 Farm Community Newsletter Pinterest board to catalog
our newsletter content so that you could easily pin your favorites to your own boards.
Come add your voice to our conversation!
We'll hope to see you there!
---
Comments
comments