My family knows all too well the depth of my love of paper and ink.  They indulge me in this lifelong love, following along as I meander through fine stationery and paper shops like other women browse in jewelry stores.  They know that I love to look at every type of paper, feeling the thickness and gazing at the colors before selecting something to bring home and add to my stash of papers and pens.
I have loved putting pen or pencil to paper since I was a very young girl.  I love to write.  I always have.  As a child, I used to sit with a pencil and a notebook and watch as the words filled page after page with stories and poems.  When I paused to search for the words to continue, I often found myself doodling some sort of small drawing.  That habit has continued to the present, with most of my notes and lists including a few drawings and doodles.
I also love to send a handwritten card or note to friends and family.  There's something magical about sending my heart and soul anywhere in the world for the cost of a postage stamp.  I love being on the receiving end of that equation every bit as much as I enjoy sending warm heartfelt wishes to someone I love.
My love for paper, ink, and embracing the art of handwritten correspondence have all played a role in providing the inspiration for our newest line of handmade products for The 1840 Farm Mercantile Shop.  It's time for me to introduce you to 1840 Farm Paper & Ink.  I hope that you will enjoy using these products as much as I have loved creating them.
The items in our Paper & Ink line will feature my original drawings and celebrate the seasonality of life here at 1840 Farm.  From the fresh produce we harvest from our gardens during the warmer months to the activities that keep us busy inside the farmhouse during the long New England winter, these paper products will reflect the beauty of every month and season.
The first member of our Paper & Ink Collection celebrates Strawberry Season. I worked with my original paper and pencil drawing of a berry basket filled with fresh ripe strawberries,  transforming each curve and line into a digital file.  That digital artwork was used to create both the signature drawing featured on the front of each card and the pattern used to line the envelopes. Each card and notecard will be printed to order and cut by hand.  Each envelope will be embellished by hand with a custom paper liner.
Look for the Paper & Ink Collection to be added to The 1840 Farm Mercantile Shop in the coming days.  In July, we'll be adding a new design to the collection.  We can't wait to share and celebrate each season of our lives here at 1840 Farm with you through this new Paper & Ink Collection!
---
To make sure that you don't miss any of our original content or favorite recipes, DIY projects, and homesteading advice, subscribe to The 1840 Farm Community Newsletter. Visit our subscription form to become the newest member of The 1840 Farm Community.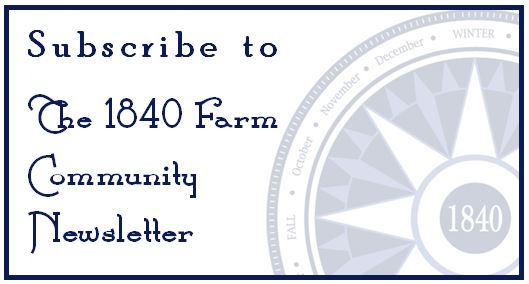 Our newsletter isn't the only way to follow what's happening here at 1840 Farm.
You're always welcome at 1840 Farm and at The 1840 Farm Mercantile Shop on Etsy.
You can also find 1840 Farm throughout the social media universe on
Facebook, Twitter, Pinterest, Instagram, Flickr, and Bloglovin'.
We even created a new 1840 Farm Community Newsletter Pinterest board to catalog
our newsletter content so that you could easily pin your favorites to your own boards.
Come add your voice to our conversation!
We'll hope to see you there!
---
Comments
comments