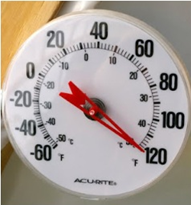 Here in New England, we spend more of our calendar days with frigid temperatures than intense heat. Yet, we can count on several days above 90 degrees each summer and seem to see more of them each year. Today, our temperature is predicted to exceed 90 degrees and summer won't officially begin for nearly a month.
On the first truly hot day of the year, we'll be employing strategies for helping our animals to cope with the heat. We'll make regular rounds to the coop, barn, hoop house and garden with fresh, cold water to help everyone and everything cope with the heat. We'll also utilize the design of our coop and share a few helpful, cooling treats with our flock. Together, these actions will help them to deal with the high temperatures.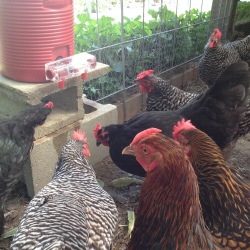 The hens spend their days outside in their shaded runs.  We take full advantage of the cross ventilation we built into the design of our coop.  The back vent will be opened to the full position, the front window opened wide, and the side door secured in the open position to capture any fresh, cooling breeze that might pass by. On a day with temperatures in the 90s, even the slightest breeze blowing through the nearby maple tree is helpful.
On my regular rounds, I will replace the water that has grown hot in the goat stall and top off the BriteTap Chicken Waterer that keeps our hen's water cool and fresh. On a hot day, the volume of water consumed by our animals is staggering. When I freshen the water, I can count on the chickens and goats to line up for a sip of cool refreshment. As they help themselves to a drink, I make sure that everyone is accounted for and not struggling too mightily with the conditions of the day.  When I visit the coop with frozen yogurt, fruit, and vegetables, the hens gather at my feet as if I am a rock star.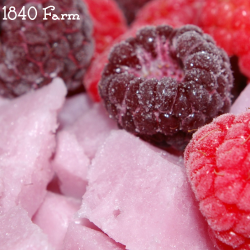 Several years ago, I discovered that these frozen treats could help our hens cope with the brutal heat. Since then, I keep a few freezer bags with frozen healthy treats in our barn's upright freezer. Small berries, tiny cherry tomatoes, diced vegetable scraps, and cubes of frozen yogurt are at the ready and make a welcome snack on days when the temperature is uncomfortably hot. When I have healthy kitchen scraps to share with the flock, I simply freeze them, add them to the bag, and keep them for the next hot day.
As soon as the frozen pieces hit their bowl, our hens clamber for a prime spot to grab a bite. The frozen treats only last a few seconds. The girls happily help themselves to a bit of cool refreshment and then return to the business of scratching at the ground, making happy hen sounds, and patrolling their run. Cooling them down from the inside out seems to bring them immediate relief from the heat.
Summer will officially be here in less than a month. It's time for me to restock my supply of berries, frozen vegetables, and yogurt cubes for the hens. If this spring is any indication, we're in for a hot summer and the hens are sure to be looking for their frozen afternoon treats!
---
To make sure that you don't miss any of our original content or favorite recipes, DIY projects, and homesteading advice from around the web, subscribe to The 1840 Farm Community Newsletter. Visit our subscription form to become the newest member of The 1840 Farm Community.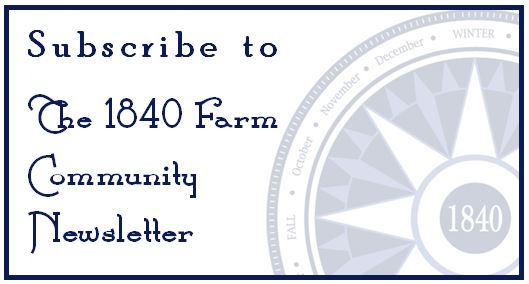 Our newsletter isn't the only way to follow what's happening here at 1840 Farm.
You're always welcome at 1840 Farm and at The 1840 Farm Mercantile Shop on Etsy.
You can also find 1840 Farm throughout the social media universe on
Facebook, Twitter, Pinterest, Instagram, Flickr, and Bloglovin'.
We even created a new 1840 Farm Community Newsletter Pinterest board to catalog
our newsletter content so that you could easily pin your favorites to your own boards.
Come add your voice to our conversation!
We'll hope to see you there!
---
Comments
comments