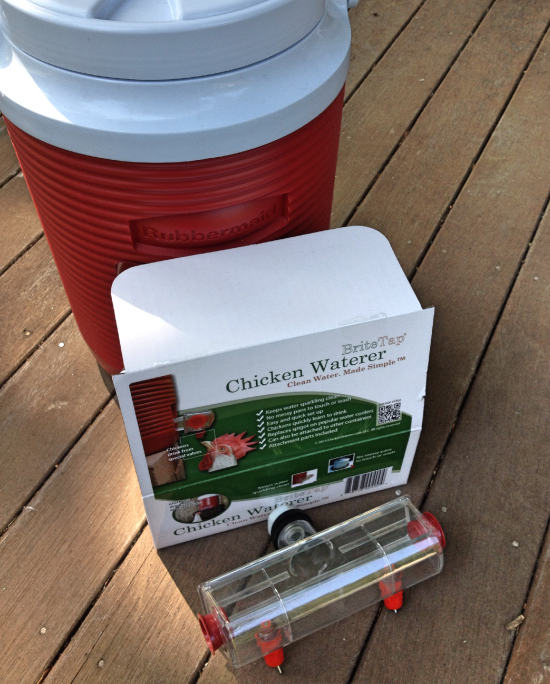 Spring has been slow to show itself this year.  In fact, we were beginning to believe that it might never arrive.  Then, without any gradual warm up, our temperature hit 90 degrees on Sunday.  While we were happy to have warmer temperatures, such a big leap in the temperature was very unexpected and certainly didn't give our animals time to acclimate to the change in weather.
In order to help our animals and pets deal with the sudden heat, we made sure that they all had shade to take refuge from the blistering sun and plenty of fresh water to drink.  We also brought our BriteTap Chicken Waterer out of its winter storage and reintroduced it to our flock.  As soon as they saw me placing the BriteTap in their run, they were gathering at its base to help themselves to a cold drink of water.
We first began using the BriteTap late last summer.  ChickenWaterer.com promised that their system would provide clean, cool water to our flock even on the warmest days.  I will admit that I was a bit skeptical that the water would remain cool and completely clean.  I also wondered if our four year old hens could learn a new trick and begin using the system after using standard tray waterers their entire lives.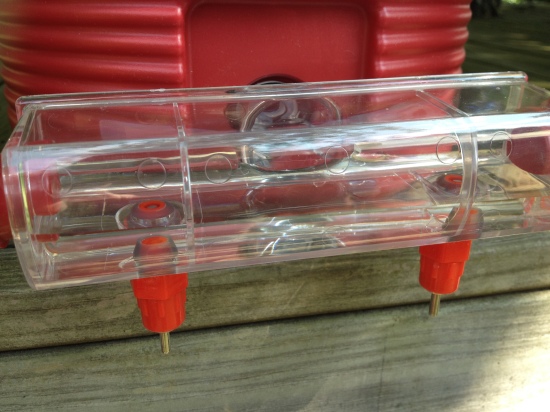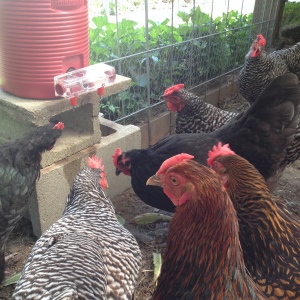 I was happily surprised on both counts.  The BriteTap did indeed deliver clean water even in the dry conditions of the outdoor run that is attached to our coop.  When dust covered the outside surface of the BriteTap, our girls were still enjoying crystal clear water thanks to the ingenious design that provides protection to the supply of water as it fills and is made available for drinking.  The BriteTap also kept the water cool even on very warm and humid days.  By employing a water cooler as its tank, the water remained cool instead of warming in the way our standard waterers do during the hot summer months.
My concern about our girls learning a new trick were completely unfounded.  Within minutes, their curiosity got the best of them and they were inspecting the red nipples attached to the BriteTap.  As soon as the first hen pecked at the silver protrusion and was rewarded with a cool drink, the girls lined up to have a go.  They stepped up one by one and even the most timid bird in our flock pecked fearlessly at the nipple and enjoyed a fresh drink.
The BriteTap is easy to assemble and simple to clean.  The waterer portion can be attached to a several different brands and sizes of water coolers.  For larger flocks, it can be installed on a cooler with a capacity of 10 gallons.  In our case, the 2 gallon cooler provides fresh water to our flock of twelve hens for several days even during the warmest weather.
We love using the BriteTap almost as much as our hens love helping themselves to a drink of fresh cold water.  Thanks to our sponsor ChickenWaterer.com, you can enter their "Everyone's a Winner Giveaway" for a chance to win a gift certificate valued at $100 to be used in the ChickenWaterer.com online store.  Better yet, they're offering the members of The 1840 Farm Community a special opportunity to win one BriteTap Waterer valued at $29.95.
To enter, simply click on the image below to visit Hobby Farms and enter the giveaway.  Be sure to tell them that you heard about the giveaway from 1840 Farm in order to be automatically entered into our 1840 Farm Community giveaway for the BriteTap waterer.  Once you've entered, you'll also receive a code that allows you to enjoy a 10% discount on any purchase in the ChickenWaterer.com online shop.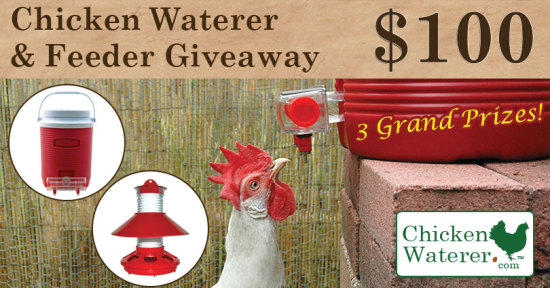 Everyone's a Winner with this contest, especially the birds in your flock who will be enjoying fresh clean water all summer long!  If you're lucky enough to win one of the $100 gift certificates, we recommend the BriteTap Automatic Feeder as highly as we do the BriteTap Waterer and Tank Combo Pack.  Good luck to all who enter!
Comments
comments