When asked to declare my favorite food to prepare and enjoy with my family, I don't have to ponder long.  The answer is simple:  pie.  I love to make pie almost as much as I love to eat a delicious, flaky pie crust filled to the brim with the best of what the season (or our panty and freezer) have to offer.
A homemade berry pie has the power to transport me to my paternal grandmother's humble kitchen.  My grandmother was a wonderful cook and baker, but pie was her specialty.  Her schwatzenberry pie was my favorite.  It would not be overstating its power to say that those berry pies forever changed my life.
My grandmother's homemade berry pie taught me that food had the ability to feed my soul. I now know that it also holds the incredible power of transcending time and space, bringing back memories of a grandmother long gone, but known fondly by my children who never had the opportunity to meet her in person.
Instead, they met her memory with the first bite of berry pie savored at our family table while listening to me share my fondest memories about her. Every summer, we carefully pick the schwatzenberries from our garden and look forward to the day when we have gathered enough to make the season's first pie.
Throughout the year, we enjoy pies of every sort.  Our annual Kentucky Derby Day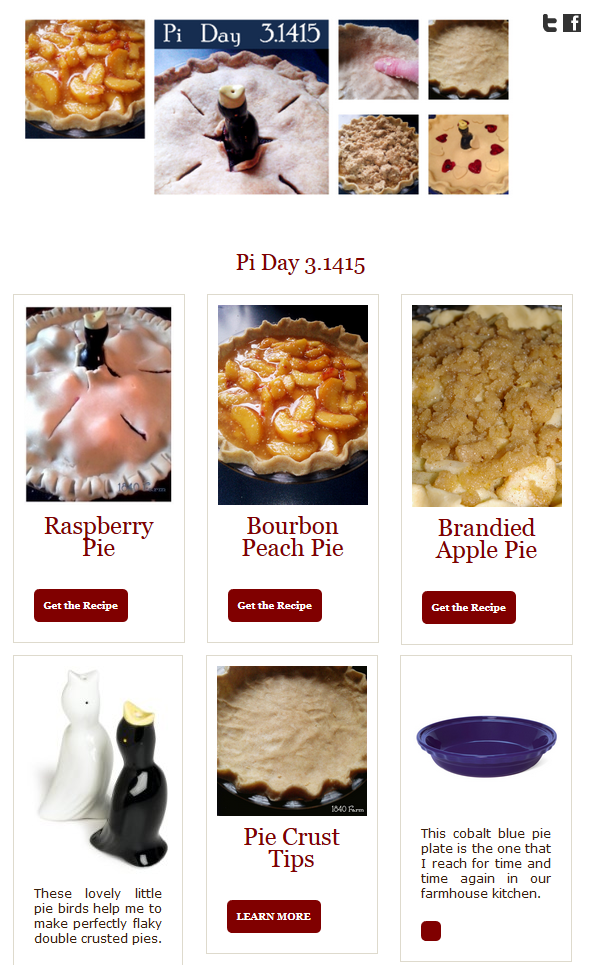 celebration would seem incomplete without a homemade Bourbon Peach Pie.  Summer would be much less sweet if raspberry season didn't include the promise of a Double Crusted Raspberry Pie.  When fall's apple season arrives at our local farmer's market, I find myself dreaming of a slice of Brandied Apple Pie topped with a generous scoop of vanilla ice cream.
Each year, we celebrate Pi Day on March 14th by making and enjoying a homemade pie together here at 1840 Farm.  The day is publicized in the hope of inviting us to all learn more about the mathematical significance of Pi and the importance of math in our daily lives.  I'm happy to extol the virtues of math, especially if I can do so by spending time in the farmhouse kitchen making my favorite dish for our family table.
This year, we're gearing up to celebrate a Pi Day of epic proportions.  In 2015, Pi Day falls on 3/14/15.  Given that Pi begins with "3.1415", it seems like this year's celebration should be extra special.  We're still debating which of our favorite pie recipes should be called into service for our celebration tomorrow.
I hope that you will join in the celebration and add one of these pie recipes to your weekend plans.  I've included a few pie crust making tips for good measure.  I receive so many messages from readers who are intimidated by the thought of making a homemade pie crust.  Using these tips, you will make a deliciously flaky pie crust that will delight your friends and family, I promise!
You can view our special Pi Day Newsletter and add your name to our thousands of subscribers.  Our newsletter is the best way to make sure that you don't miss our favorite seasonal recipes, giveaways, and posts.  You can subscribe in a few seconds and know that we will never share your Email address with anyone.
We have our biggest giveaway EVER coming to you in the next few weeks and our subscribers will be the first to know about it.  Believe me, you're not going to want to miss out on this one.  Well, at least not if you'd be happy to win a fantastic piece of kitchen equipment that was tested right here in the farmhouse kitchen and has a value of more than $350!
Happy Pi Day!
Comments
comments